Sports
Golf roundup: Scott captures Cadillac Championship for 2nd straight win
Sun., March 6, 2016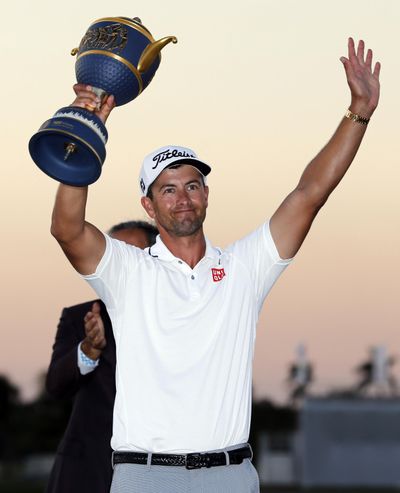 Adam Scott faced a daunting challenge, a six-shot deficit with 13 holes remaining on a course that was playing tougher than it had at any point this week.
And after overcoming that, he needed to survive two brushes with big trouble on the final hole to finish the job.
Scott won for the second straight week, shooting a final-round 69 to win the Cadillac Championship by one shot over Bubba Watson in Doral, Florida. It's the second win for Scott in a World Golf Championships event, his 13th career win on the PGA Tour and he now hasn't finished lower than second in any of his last three starts.
"Everything fell the right way for me today," Scott said.
Scott finished the week at 12-under 276. Watson (68) was alone in second, and Danny Willett (69) and Rory McIlroy (74) were tied for third, two shots back. Phil Mickelson (70) was alone in fifth at 9 under and Jimmy Walker shot the round of the day, a 6-under 66 to finish alone in sixth at 8 under.
With course owner Donald Trump popping in on Sunday, arriving by helicopter and greeting fans as he drove around in a cart, there was plenty of drama away from the fairways and greens.
Scott ensured there was a ton on the grass as well, after two double-bogeys in a three-hole span on the front side seemed to send his round into a tailspin. That is, until he got hot at just the right time with birdies on six of his next nine holes after the second double.
"It was such a challenge out there today," Scott said. "I knew if I could just get a couple before the turn, maybe I'll have a chance."
It's anyone's guess if Scott will get a chance to defend the title at Doral in 2017. General Motors' sponsorship agreement with the event ends this week and with no sponsor, there's no tournament.
"Our hope is that the future could allow us to stay here and continue to build the tournament," PGA Tour Commissioner Tim Finchem said Sunday afternoon, meeting with reporters before sitting down privately with Trump to talk about the tournament's future. "But we'll have more to say about that after we do a full evaluation of our performance this year."
Count Watson, who has been second or third at Doral four times in the last five years, among those who want Doral to stay on the schedule, as it has been since 1962.
"If they move it I'll be sad," Watson said, "because I'm pretty good around this place."
That he is, but Scott – despite walking a tightrope the last three holes – was a bit better.
He saved par on the par-4 16th, after his drive went over the green and nestled in a bunker. His second shot was dreadful, finding a patch of green-side rough. From there he popped a chip 8 feet past the hole, then made the putt for par.
The trouble only got worse from there.
His tee ball on 17 found a bunker while Watson, on the green ahead, made birdie to get within one. Scott eventually saved par, headed to the final hole with that one-shot lead – and put his tee shot in the right rough, a skinny palm tree impeding his path to the green. So he went left, around the tree but toward the water, and that shot somehow caught enough thick grass on a sharp slope to stop before getting wet.
"I was so lucky for it to stay up inside the hazard line," Scott said. "When you're that lucky, you better get them up and down."
That's exactly what he did. Scott chipped to 6 feet, made the par putt and moments later knew the win was his.
"I can't believe I've won back-to-back weeks," Scott said. "To win a World Golf Championship is huge again."
Watson made eagle at the par-5 8th to get into real contention Sunday, but his big mistake was a bogey on the par-4 14th. He couldn't get up-and-down from a green-side bunker, Scott made birdie on the same hole just a few minutes later, and that two-shot swing proved critical.
"I gave it a good effort," Watson said. "What I'm working on in my head is working out. Right now, I've got the energy and the mindset to play some decent golf, so very positive, very happy about the week and what took place."
Jang picks up another win
South Korea's Ha Na Jang enhanced her growing reputation as one of the hottest players on the LPGA Tour by winning the HSBC Women's Champions tournament by four strokes.
Playing like a seasoned veteran, the 23-year-old South Korean fired six birdies and an eagle in a brilliant final round of 7-under 65 to finish at 19-under at Singapore's Sentosa Golf Club.
Her playing partner, Thailand's Pornanong Phatlum, closed with a bogey-free 68 to take outright second at 15-under while South Korea's Amy Yang birdied the last hole for a 71 to take third place with 11-under, one shot clear of a group of five players.
Jang captured her maiden LPGA title at the Coates Golf Championship in Florida last month and has quickly made it two.
"I was very comfortable this week," Jang said. "My target in 2016 was two wins but right now I'm there so I'm going to change my target."
Not only is the South Korean emerging as one of the hottest players on the LPGA Tour but she's also developing a cult following with her elaborate celebrations.
When she won in Florida, she impersonated a samurai swordsman, and on Sunday, she provided her own rendition of Beyonce by dancing on the 18th green.
Jang said she had been thinking about copying some of Beyonce's moves after watching her perform at the Super Bowl and winning her second title seemed like the perfect time to break it out.
"I'm trying to be like Beyonce, the single lady. I'm single right now, too, I try the single lady," she explained.
Leading by a single stroke overnight, she immediately extended her advantage to two shots when she rolled in a 12-foot birdie putt on the opening hole on Sunday, offering a taste of what was to come.
She made a second birdie on the par-5 fifth when her bunker shot for eagle caught the edge of the hole and left her with a tap-in and then drained a long uphill putt for birdie on the ninth to lead by three at the turn.
Jang made her first bogey in 50 holes when she miscued her drive then hit a tree branch on the 11th but reeled off three birdies in a row from the 12th, including successive monster putts from 30 and 50 feet.
"I haven't seen that before. My putts today were really amazing," she said.
Jang went to the final hole with a commanding three-stroke lead but resisted the temptation to play safe, flirting with the water as she attacked the flag.
She landed her ball a few feet away from the hole, then stepped up and sank the eagle putt and broke into an impromptu jig.
"My nickname is HaNa-Gizer. I'm in a very strong and happy space, yeah," she said.
Local journalism is essential.
Give directly to The Spokesman-Review's Northwest Passages community forums series -- which helps to offset the costs of several reporter and editor positions at the newspaper -- by using the easy options below. Gifts processed in this system are not tax deductible, but are predominately used to help meet the local financial requirements needed to receive national matching-grant funds.
Subscribe to the sports newsletter
Get the day's top sports headlines and breaking news delivered to your inbox by subscribing here.
---