News > Obituaries
Obituary: Petersen, Loyd Eugene
Age 89
Tue., March 15, 2016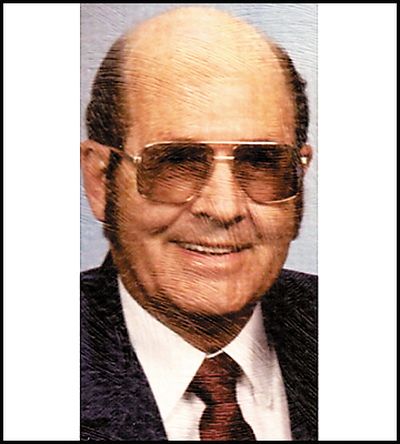 PETERSEN, Loyd Eugene

(Age 89)

Loyd Eugene Petersen, of University Place, WA, passed away Saturday March 12, 2016.
Loyd was born February 5, 1927 in Pullman, WA to Joseph Henry and Leola (Carson) Petersen.
Loyd graduated from Pullman High School in 1945 and entered the Army Air Corps that September.
He served in the Pacific until the end of WWII and received an honorable discharge.
He met Esther Frischknecht at a roller rink shortly after returning to Pullman.
They married a few months later on February 16, 1947.
Loyd and Esther farmed wheat and other crops on a ranch five miles north of Pullman for many years, and he also worked for the Whitman County Tax Assessors Office as a real estate appraiser.
A machine shed fire prompted the family to move to Lacey in 1961 where Loyd began a career with the State of Washington Dept.
of Highways in Olympia.

Upon raising their sons and retiring from the State, Loyd and Esther returned to eastern Washington and enjoyed many years in Spokane Valley with their cats.
While there, Loyd worked as an independent fee appraiser for ten years.
He was an active member of the group which advocated for the City of Spokane Valley to incorporate.
Loyd loved maintaining a beautiful garden, playing cards, and eating at Five Guys Burgers and Fries.
He and Esther were active roller-skaters and they were a common fixture at Roller Valley.
Loyd was proud of his military service and enjoyed reminiscing with other veterans.
Loyd moved to the Tacoma area in 2014 to be closer to family.
Loyd is survived by two sons, Gary D. Petersen and wife Carolyn of Midland, TX, and Duane K. Petersen and wife Carolyn of Fircrest, WA.
He is also survived by several grandchildren: Shary Tompkins and husband Christopher, Marsha Green and husband Charles, Andrew Petersen and wife Monica, Keith Petersen and wife Blair, and Nathan Petersen and wife Jenny.
Loyd is also survived by five great-grandchildren: Natalie Petersen, Noah Petersen, Josephine Petersen, Charlotte Petersen, and Alexandria Petersen.
He is preceded in death by his wife of nearly 65 years, Esther Elva Petersen, in 2012; and son Dale Nathan Petersen in 1975.
He is also preceded in death by his parents; his sister Geneva Iff and husband Hilton; and his brother Harold Petersen and wife Rosella.
Arrangements will be handled by Edwards Memorial Funeral Home, 3005 Bridgeport Way W., Tacoma, WA 98466.
Phone 253-566-1008.
A graveside service will be held Friday March 18th, at Pullman City Cemetery, Pullman, WA at 10:00 am.
Service will be offered by Pastor Chris Hayward.
Memorial donations may be made to Greenacres Christian Church, PO Box 489, 18010 E. Mission Ave., Spokane Valley, WA 99016.
Local journalism is essential.
Give directly to The Spokesman-Review's Northwest Passages community forums series -- which helps to offset the costs of several reporter and editor positions at the newspaper -- by using the easy options below. Gifts processed in this system are not tax deductible, but are predominately used to help meet the local financial requirements needed to receive national matching-grant funds.
Subscribe to the Coronavirus newsletter
Get the day's latest Coronavirus news delivered to your inbox by subscribing to our newsletter.
---