News > Obituaries
Obituary: Conklin, Francis James
Age 90
Wed., March 16, 2016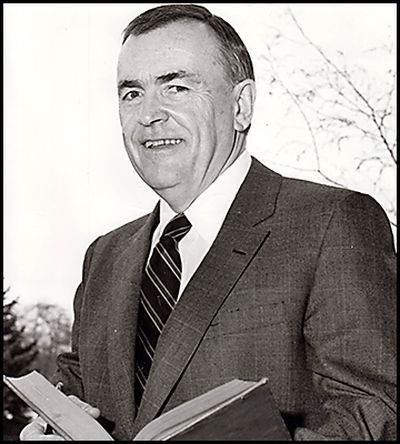 CONKLIN, Francis James

An extraordinary man passed peacefully from this life March 12, 2016.
Francis James Conklin was born to Hobart F. and Nellie (Burke) Conklin on June 3, 1925 in Butte, Montana.
He attended Butte schools and after graduating from Boys Central High in 1942, he entered the Jesuit Novitiate in Sheridan, Oregon, taking vows as a formal member of the Jesuit Order in 1944.
Five years later he received his Master's in Philosophy from Gonzaga University.
While teaching at GU Prep in the early '50s he coached an undefeated football team to two championships.
In 1956 he received a Licentiate of Theology, and another licentiate from the Sorbonne, Paris, France the following year.
He was first in his class and earned his Juris Doctor (LLB) from Georgetown University, Washington, D.C. in 1961, the same year he became the first Jesuit admitted to the Washington State Bar.
Master of Law (LLM) and Doctorate of Law degrees from Yale followed in 1962 and 1963 respectively.
He served as Dean of Gonzaga Law School from 1964-1966 and from 1973-1976, and was responsible for its accreditation from the ABA, beginning publication of the GU law review, and fostering the school's phenomenal growth through a variety of programs.
But Frank was much more than an impressive list of academic achievements.
He was a passionate defender of civil rights, marched on Selma, successfully argued for legal representation for all, and volunteered to argue appeals in the 5th Circuit Court of Appeals in New Orleans in the mid '60s.
He earned his private pilot license so he could serve in the 9th Circuit of Appeals and continue to teach at Gonzaga, and never missed a class.
Ever practical, he enjoyed running the backhoe that dug the ditches for the GU's buried power lines, so it was not unusual for his hard hat to decorate his lectern.
He began and administered GU's Work Study program so more students could enroll.
In more than 50 years of legal practice he never charged a former student or charitable organization for legal services, and did the majority of his work pro bono.
Though he demitted from the Jesuit Order more than thirty years after taking his vows, he remained committed to serving the underprivileged and impoverished.
He helped Goodwill Industries of the Inland Northwest grow from seven stores to twelve with the highest annual sales revenue.
Always more interested in the substantive and essential rather than appearances, "Read the Wall Street Journal," was his reply to a student who queried how to best understand our legal system.
He maintained his dry wit and laser sharp powers of observation to the end of his days.
He enjoyed fine wines, all things horticultural, especially orchids, and outrageous neckties.
He was a loving husband to his wife Audrey for the last thirty-five years.
A dear friend observed that if Frank were to have a family crest with a motto, it would be "esse, quam videre," meaning" to be, rather than to seem."
Services will be held at 11 Saturday morning, March 19 at the Cathedral of Our Lady of Lourdes.
Please direct memorials to your favorite charity.
Online condolences at www.hennesseyfuneralhomes.com.
Local journalism is essential.
Give directly to The Spokesman-Review's Northwest Passages community forums series -- which helps to offset the costs of several reporter and editor positions at the newspaper -- by using the easy options below. Gifts processed in this system are not tax deductible, but are predominately used to help meet the local financial requirements needed to receive national matching-grant funds.
Subscribe to the Coronavirus newsletter
Get the day's latest Coronavirus news delivered to your inbox by subscribing to our newsletter.
---