News > Obituaries
Obituary: Mccluskey, William R.
Age 63
Fri., March 18, 2016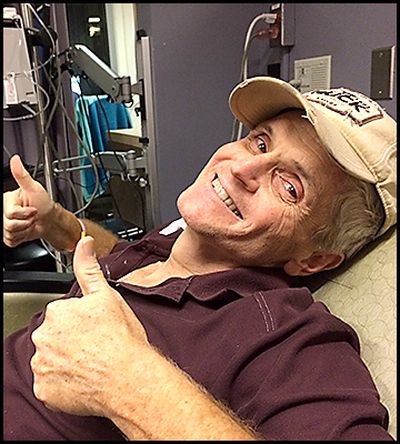 McCLUSKEY, William R.

William R. "Bill" McCluskey born in Perryopolis, PA on October 6, 1952 passed away following a long and valiant battle with cancer on March 16, 2016.
Bill was the only son of Bob and Frieda (Hagar) McCluskey.
He was a graduate of Frazier High School and West Virginia University.


After earning his degree Bill entered the US Navy and flight training as a Naval Flight Officer earning his first "Wings of Gold" in 1977.
Bill trained with Fighter Squadron 101 in Oceana, VA, as a Radar Intercept Officer in the F-14 Tomcat.
He then joined Fighter Squadron 84, the famous "Jolly Rogers" and made two full deployment cycles on the Nimitz participating in the feature film "The Final Countdown," culminating with action in the Indian Ocean in support of Iranian Hostage Rescue attempts in 1980.

Bill earned his second set of Gold Wings as a Naval Aviator in 1981 becoming a member of F-14 squadrons and made two more deployments during the final decade of the Cold War.
Bill served with Fighter Squadron 43, the east coast adversary unit equivalent to TOPGUN on the west coast.
Bill flew the Northrop F-5 and the Israeli Kafir during his tour.
Bill ended his military career in the Navy Reserve as a member of VC-12 where he flew A-4's and retired at the rank of Lt. Commander.

Bill joined FedEx as a line pilot in 1986 where he flew actively as a DC-10 First Officer and later Captain on the Airbus A-300 and the Boeing 777F.
Bill was an instructor, check captain and training captain on the B777.
Bill retired from FDX within days of his passing having accrued well over 10,000 hours of flight time and over 250 carrier landings.
He was an outstanding pilot, consummate professional and friend to all.

When not flying, Bill enjoyed time with his family.
Together they enjoyed many special times fishing, boating and entertaining at their Pend O'reille Riverhouse.
Baseball was a big part of Bill's life, including coaching.
He was also a huge fan of the Pirates and Steelers.
He is survived and missed by his wife Tracy, his son Connor, his daughter Kylie and many friends.

Fair Skies and Following Seas Bill.
All who knew you loved you.
You will be missed and never forgotten.

The family will be receiving guests during a visitation from 4pm to 6pm on Saturday, March 19, 2016, at Hazen & Jaeger Funeral Home, 1306 North Monroe Street in Spokane.


Bill's Memorial Service will be at 2pm on Sunday, March 20th at Hazen & Jaeger.
A committal ceremony with Military Honors will be at 10:30 am on Monday, March 21st at the Washington State Veterans Cemetery, 21702 West Espanola Road in Medical Lake, WA.

In lieu of flowers, please make a contribution to the charity of your choice.
Local journalism is essential.
Give directly to The Spokesman-Review's Northwest Passages community forums series -- which helps to offset the costs of several reporter and editor positions at the newspaper -- by using the easy options below. Gifts processed in this system are not tax deductible, but are predominately used to help meet the local financial requirements needed to receive national matching-grant funds.
Subscribe now to get breaking news alerts in your email inbox
Get breaking news delivered to your inbox as it happens.
---