Eastern needs inside strength against Nevada in Monday's CBI game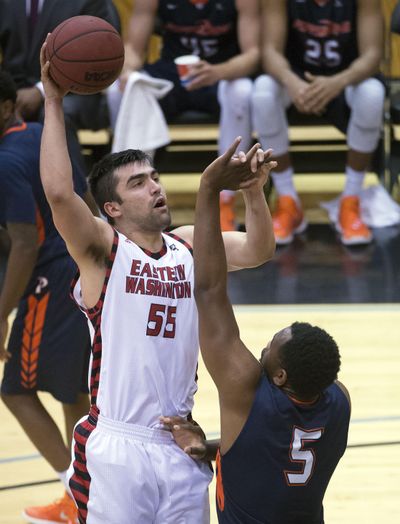 On one hand, Venky Jois' sore right knee couldn't come at a worse time for Eastern Washington.
The Eagles are at Nevada on Monday night in the quarterfinals of the College Basketball Invitational, a game that will test them inside – especially if Jois can't play.
On the other hand, Eastern's bench rose to the occasion in Wednesday's 79-72 first-round upset of Pepperdine, bringing energy and rebounding in a second-half rally without the services of their top rebounder and career scoring leader.
"I was very gratified by the way our bench responded," EWU coach Jim Hayford said of the Pepperdine win, which sends the Eagles back to Reno only 11 days after they lost to Idaho in the quarterfinals of the Big Sky Conference tournament.
Hayford said Jois' availability will be a game-time decision. He's been cleared by doctors, but the deciding factor will be how Jois is feeling during warmups, Hayford said.
No matter who's in the lineup, the Eagles will have to assert themselves on the offensive boards against the Wolf Pack, which holds opponents to 39 percent shooting and ranks seventh in the nation in blocks with 5.6 per game.
"They're a solid defensive team, with good rebounding (averaging plus-2 for the season) team and athletic." Hayford said.
Six-foot-8 freshman forward Cameron Oliver averages 8.8 boards, with four others getting at least four per game.
The Wolf Pack has been spotty on offense. Leading scorer Marqueze Coleman averages 15.9 points and almost four assists, but shoots just 28.6 percent from 3-point range.
In fact, Nevada is one of the worst 3-point shooting teams in the nation, ranking 348th out of 351 teams with an average of 28.7 percent. In contrast, EWU ranks seventh in 3-point attempts 27th in 3-point accuracy.
Home-court advantage could be a big factor – if the Eagles allow it.
In a first-round game last week, Montana held a double-digit lead in the second half but according to Hayford "blinked" in the face of a Nevada rally that was fueled partly by an enthusiastic crowd at the 11,536-seat Lawlor Events Center.
"Montana controlled that game until the final two minutes," Hayford said.
Instead, Nevada won 79-75 to improve to 20-13 under first-year coach Eric Musselman, whose varied career includes two head-coaching jobs in the NBA (Golden State from 2002-04) and Sacramento (2006-07), two stops in the D-League and several broadcasting stints.
In his first year as a collegiate head coach, Musselman inherited a 9-22 team and has doubled that win total.
If the Eagles win, they likely would host a semifinal game on Wednesday against Seattle or Vermont. Those teams play Monday at Seattle.
---