Sports
NFL notes: Browns give RG3 second chance
Thu., March 24, 2016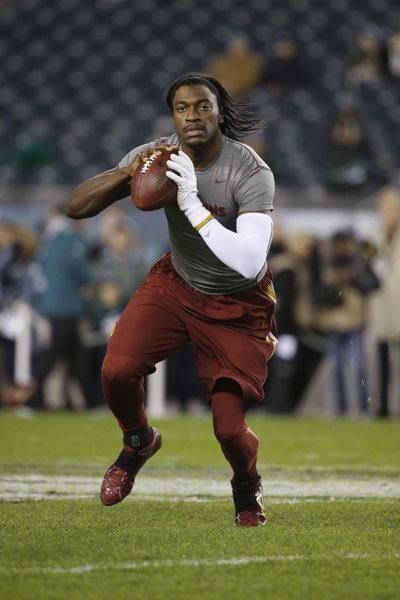 Back before he rocketed into the NFL as a freakish touchdown-maker, before the knee injury and his downfall in Washington, Robert Griffin III was convinced he'd play for the Browns.
Four long, trying years later, Griffin has a chance to revive a career that once seemed unstoppable.
No longer viewed as one of football's brightest and flashiest players but rather a reclamation project, Griffin signed a two-year, $15 million contract Thursday with the Browns, a team on a perpetual mission to find a franchise quarterback.
Griffin hasn't been the same since his dazzling rookie season in Washington in 2012, when the former Heisman Trophy winner – possessed with a rocket arm, a tailback's speed and endless swagger – took the league by storm. However, his next three seasons were curtailed by injury and clouded by controversy and the 26-year-old found himself without a team when the Redskins released him March 7.
The Browns, who tried unsuccessfully to trade so they could draft him in 2012, are giving him another shot.
He's been given no promises by the Browns, who have the No. 2 overall pick in this year's draft and are expected to take a quarterback – presumably California's Jared Goff or North Dakota State's Carson Wentz.
Pats sign veteran Washington
The Patriots have signed veteran receiver Nate Washington.
The 32-year-old played last season with the Texans and was an unrestricted free agent.
Wentz shines at workout
Highly touted NFL draft prospect Carson Wentz naturally owned the spotlight at North Dakota State University's pro day, completing all but two of his 65 passing attempts to receivers running a variety of routes.
Former NFL FB, Turner dies
Former NFL and Alabama fullback Kevin Turner died at the age of 46 after battling Lou Gehrig's disease.
Turner was drafted by the New England Patriots and went on to play for the Philadelphia Eagles from 1995-1999. He was diagnosed with the ALS in 2010.
Local journalism is essential.
Give directly to The Spokesman-Review's Northwest Passages community forums series -- which helps to offset the costs of several reporter and editor positions at the newspaper -- by using the easy options below. Gifts processed in this system are not tax deductible, but are predominately used to help meet the local financial requirements needed to receive national matching-grant funds.
Subscribe to the sports newsletter
Get the day's top sports headlines and breaking news delivered to your inbox by subscribing here.
---