Sports
Cougars prepare Andre Dillard as capable replacement to Joe Dahl at left tackle
Sat., March 26, 2016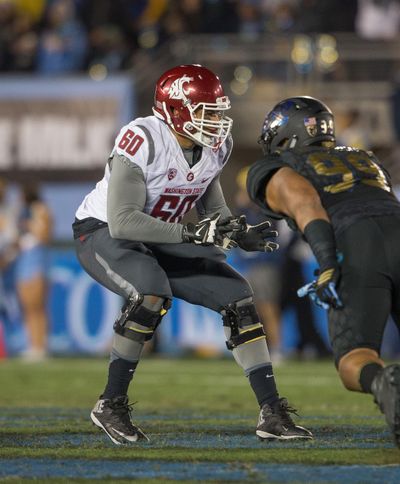 PULLMAN – While Andre Dillard is telling reporters after football practice how great Washington State's first two spring practices have been, how excited he is to compete for the starting left tackle spot and what an honor it is to be considered, a protein shake mysteriously appears in his left hand.
The culprit is Marco Candido, a strength coach who sidles up to Dillard and other players throughout the day to make sure they've eaten breakfast, eaten their snacks, aren't eating too much and are eating the right things.
Candido is just one member of a large team of coaches and support staff who has spent the last two years manufacturing WSU's next replacement for Joe Dahl at left tackle.
For the past three years, the position has been an area of obvious strength for the Cougars. Dahl, a Spokane native who will almost certainly be selected at some point in next month's NFL draft, is a first-team all-conference player who was big enough, athletic enough and smart enough to handle the Pac-12's best pass rushers.
A couple of years ago, the Cougars started planning for his departure by searching for his replacement. The coaches went to Woodinville, Washington, where they found a basketball player.
Even though his dad, Mitch Dillard, played football at WSU, the younger Dillard did not grow up assuming he'd follow his father's footsteps. He played football and basketball for the Falcons. At 6-foot-5 and less than 240 pounds, he looked more natural doing the former than the latter.
"I didn't even think that I would ever try to be a college player, when I was a junior," Dillard said. "I didn't think I would ever do it."
Even his senior year, when Dillard gave up basketball to focus on getting bigger, college coaches would call his high school coaches to sniff around for linemen, but pass when they were told about a kid with great feet who simply needed to add 50 or so pounds.
"I was very surprised that he didn't have more traffic," WSU head coach Mike Leach said. "Sometimes these guys are at high schools that are kind of out of the way and overlooked. That wasn't the case. He was right in the middle of the whole recruiting beltway over on the west side. I can't explain it."
When the Cougars finally saw Dillard, they thought his body could easily hold enough weight for him to survive in a college football game.
"We thought he had a good-looking frame on tape," offensive line coach Clay McGuire said. "He came to one of our games and we knew he'd be able to put weight on. He had broad shoulders, long arms. He wasn't just all torso and no legs, so the weight didn't scare us at all."
So, the coaches found a potential replacement tackle. Now they just had to go about making him 50 pounds heavier, while maintaining the quick feet and flexibility that had caught their eyes.
Because Dillard's body fat percentage was so low when he arrived at WSU, about 8 percent, WSU's strength staff and nutritionist Lindsay Brown have him eating 5,000 calories a day. It doesn't necessarily have to be health food.
For many people, such a caloric mandate would inspire envy among those who would love to meet a doctor who told them to eat more pizza, not less.
"That's how every linemen, except me, here feels," Dillard said. "I'm always saying stuff like, 'Dang, how'd I drop 2 pounds? I ate so much!' And they're like, 'I wish I had that problem.' "
But the constant gorging can be a strain on Dillard's stomach and his wallet, although the Cougars try to account for all his caloric needs within the team's nutrition budgets. That's why Candido hands him a protein shake whenever Dillard walks him into the weight room, has him drink another during his workout and gives him the behemoth – an 1,100-calorie gut-buster – when he's finished.
Candido talks to him every day – "what did you eat for breakfast? I know you hate eating after you wake up, Andre, wake up earlier." – and sometimes asks players to text him pictures of their plates to make sure they're taking enough helpings in the players' cafeteria, the Gray W Legends Lounge near the top of the still-new football operations building.
"Recently, I've been eating a lot, to the point where I feel a little sick," Dillard said. "It just became a thing I'm used to now, overeating, and I get hungrier fast. Just doing that for so long made my body kind of used to a lot of food."
The Cougars ask him to eat so much, because if Dillard doesn't he will quickly drop weight. He has a hefty metabolism – last spring he got sick for four weeks and lost 15 pounds. He's on a taxing strength and conditioning program on top of the normally strenuous practices a linemen goes through.
"He's going to burn a lot," Candido said. "He's got a high motor. He's got a high metabolism. We can't have him in a calorie deficit."
The Cougars are fine with Dillard gaining a little fat, but mostly they want him to put on muscle. He's up to 290 pounds and his body fat percentage is still only about 13 percent, low for an offensive lineman.
The Cougars don't keep records in the weight room, but if they did the record book would show that Dillard has the best power clean of anybody on the team. Even last year, when Dahl suffered a foot injury and Dillard started in his place against UCLA, he was only about 275 pounds. But his strength belies his size.
"He's able to use his strength," strength coach Jason Loscalzo said. "You're always going to see those guys who are the weight room warriors. Where they put up those numbers, and they're these good-looking guys – we have some examples – they're these physical studs but they can't play football, because they can't transfer what they learn here to the football field."
That experience against UCLA, being on the field for a winning drive in the Rose Bowl, spurred Dillard to his best offseason yet.
"I think that taste really helps anybody in wanting to get better," Loscalzo said.
Now that Dillard has the size, he just needs the ego.
Three years ago, Dillard did not expect to play football beyond high school at any level. Now the redshirt sophomore is the presumptive starter at left tackle for a team that many expect to contend for a Pac-12 title.
He acknowledges that he has a tendency to be too hard on himself, to see only his failures on the field.
So it's not especially surprising that his confidence, even more than his weight, is the attribute his coaches say he needs to build the most this spring.
"He can really be good. He's got to settle in, recognize he can really be good and always play hard, and don't press when bad things happen," Leach said. "But he can really be good."
Local journalism is essential.
Give directly to The Spokesman-Review's Northwest Passages community forums series -- which helps to offset the costs of several reporter and editor positions at the newspaper -- by using the easy options below. Gifts processed in this system are not tax deductible, but are predominately used to help meet the local financial requirements needed to receive national matching-grant funds.
Subscribe to the sports newsletter
Get the day's top sports headlines and breaking news delivered to your inbox by subscribing here.
---