Trump guarantees he'll win Washington in November at Spokane rally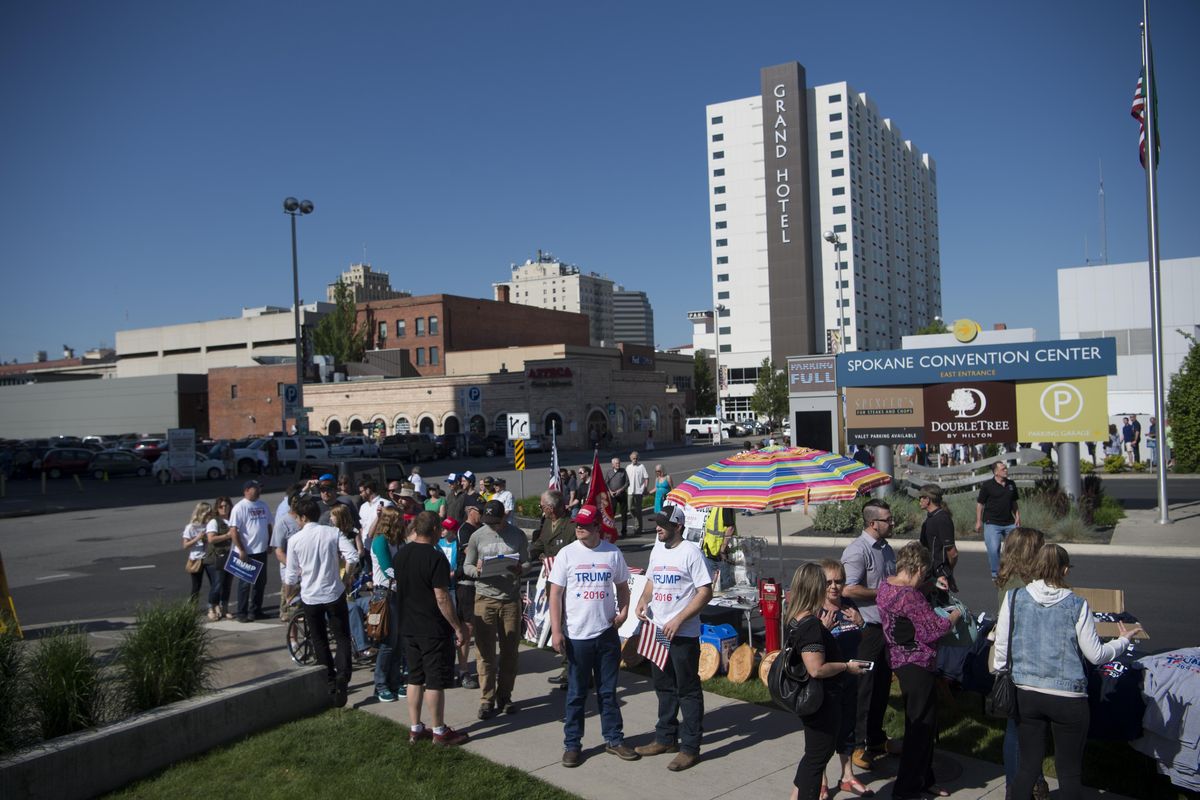 With his Republican rivals no longer a threat, presumptive presidential nominee Donald Trump took aim at Hillary Clinton, the country's fiscal policies and even some members of his own party in a speech delivered to roughly 4,000 people at the Spokane Convention Center on Saturday.
"This political correctness is killing our country," the bombastic New York real estate mogul proclaimed, launching into an improvised speech lasting about an hour in which he called his political opponents "dopes" and accused the media of twisting his words.
Trump and Stephen Miller, a senior policy adviser who spoke before the GOP's presumptive nominee took the stage, focused their attacks on Clinton. Riding a wave of support that has left many in the Republican Party stunned, Trump predicted an unlikely Washington victory over Democrats in the November general election.
"I guarantee that we're going to be back numerous times because we're going to win the state of Washington," Trump said. "I guarantee you."
No Republican candidate for president has taken the state since 1984, when Ronald Reagan beat Walter Mondale with 56 percent of the vote.
Trump claimed he'd be a better candidate for women than Hillary Clinton, focusing on the infidelity of her husband, whom he called "the worst abuser of women in the history of politics."
"She's playing the women's card," Trump said of Hillary Clinton. "By the way, if she didn't play the women's card she would have no chance, I mean zero, of winning."
Trump also criticized Clinton for failing to lock up her party's nomination as quickly as he was able to defeat his Republican foes.
"She can't put the deal away," Trump said, referring to Clinton's continued primary fight against Vermont Sen. Bernie Sanders. "We can. We can close the deal."
Trump promised to repeal the Affordable Care Act, "knock the hell out of ISIS" and put a stop to the Common Core educational standards that have been adopted by many states. He criticized President George W. Bush's decision to go to war with Iraq and Secretary of State John Kerry's work to craft a nuclear deal with Iran.
Responding to criticism that he's sexist and prejudiced, he professed his love multiple times in the speech, including for "women," "Hispanics," "China" and "the Mexican people."
"I love China. I've got a lot of friends in China," he said at one point. "I sell condos to their people."
He stood by many of his controversial promises.
"We're going to build a wall, folks. We're going to do it," Trump said. He promised that he would make the Mexican government pay for it.
Trump said the free trade agreement proposed with countries in Asia, the Tran-Pacific Partnership, would hurt American jobs. He called the North American Free Trade Agreement, signed by Bill Clinton, "a disaster."
"This is going to be worse," Trump said of the Trans-Pacific Partnership.
The speech was interrupted briefly when Trump pointed out what appeared to be a protester in the crowd.
"Is this guy on our side or not," Trump said, pointing to a member of the audience in the middle of a comment about unemployment statistics. "Are you on our side? No? Out. Get out of here."
Trump said he appreciated the protesters because they drew the cameras to the crowd, which he said was close to 10,000 people. Safety officials said at the height of Trump's speech that 3,929 people had entered through the gates.
"I love protesters," Trump said. "Those cameras, they twist like pretzels. Otherwise they just stay in one place."
Trump did not spare members of the Republican Party from criticism, saying his victories in states such as Indiana had put members of the GOP establishment on their heels.
He mocked and impersonated conservative columnist Charles Krauthammer and criticized former GOP presidential candidates Jeb Bush and Lindsey Graham. He targeted Graham and Bush for not endorsing him after signing a pledge to back the Republican nominee. He called Graham a "total dope."
"Jeb Bush is not an honorable person," he said. "Lindsey Graham is not an honorable person."
But Trump said he was hopeful he'd be able to smooth a rift with Republicans on Capitol Hill. House of Representatives Speaker Paul Ryan said in a televised interview this week he wasn't ready to endorse Trump as the party's candidate yet, a claim echoed by Rep. Cathy McMorris Rodgers of Spokane.
"I would imagine things will be OK with Paul Ryan," Trump said. "We'll see how things go. I'm meeting him on Thursday. We're going to see what happens."
While many high-profile local Republicans were absent from the event, including McMorris Rodgers, there were some who attended, including state Sen. Brian Dansel of Republic, Spokane County Prosecutor Larry Haskell and Josh Kerns, a Republican candidate for the Spokane County Commission.
"He's our nominee," Kerns said of Trump. "I'm going to vote for him."
Spokane Valley City Councilman Ed Pace led the rally with a prayer, asking that the "Walls of Jericho" of the Republican establishment "come tumbling down." Spokane City Councilman Mike Fagan led the Pledge of Allegiance.
Trump asked his supporters to vote in Washington's May 24 presidential Republican primary, even though he's the only one still actively campaigning.
He promised to go on to victory in November.
"We're going to win, win, win, and you're going to love it," Trump said. "You're going to love it."
Rachel Alexander contributed to this report.
---