In Brief: Vandersloot keeps Chicago alive in WNBA playoffs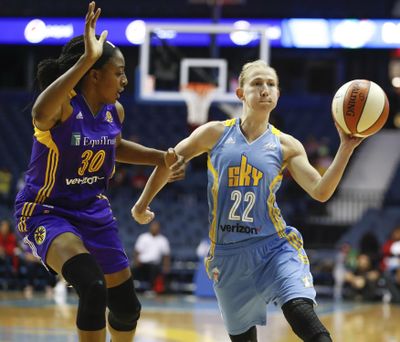 WNBA: Courtney Vandersloot scored 17 points and the Chicago Sky held off visiting Los Angeles 70-66 on Sunday to force Game 4 in the best-of-5 WNBA semifinals.
"We were confident going into this game because we knew they hadn't seen our best yet," Vandersloot said.
Vandersloot made two free throws to seal it.
The Sky opened the third with a 17-6 run to take the lead.
"Our defensive intensity, we were able to stop them a little bit in the second half," Vandersloot said. "They scored eight points in the third quarter, and that's unheard for a team that skilled and that many offensive threats."
Lynx sweep: Maya Moore scored 20 points and Natasha Howard added 17 to help defending WNBA champion Minnesota win at Phoenix, 82-67, completing a three-game sweep of the semifinal series.
Ventura announces he's out with Chisox
Baseball: Robin Ventura announced he will not return as Chicago White Sox manager next season, insisting it was his decision and he wasn't pushed out due to a fourth consecutive losing season. Ventura was in the last year of his contract.
"I enjoy this place, I love this place," a stoic Ventura said after Chicago's season-ending 6-3 loss to Minnesota. "At the end, it probably needs a new voice."
Ventura said he "initiated" the departure.
Durfey clutch; Capper makes first NFR
RODEO: By winning the second round and the average at the recently concluded Pasadena (Texas) rodeo, Tyson Durfey jumped from 17th in the PRCA World Standings, leapfrogging three cowboys to make the top 15 in tie-down roping and qualify for his ninth National Finals Rodeo.
The former Colbert resident who now lives in Texas will enter the Dec. 1 WNFR in Las Vegas in the No. 14 spot.
Durfey tied for ninth in the first round to earn just $82, so the pressure was really on for the second round. He responded with a 7.5-second run that was the fastest of the rodeo, winning $1,882. His win in the average was worth $2,824.
Pam Capper of Cheney also came up big at Pasadena to easily make it to her first NFR. Her 15.76-second run in barrel racing giving her first place and $2,040, putting her 11th in the world standings.
Bull rider Trevor Kastner's nice late-season surge fell short in Pasadena, leaving the 15th position to 2011 World Champion Shane Proctor of Grand Coulee, Washington.
Sunderland's Gooch picked for U.S. roster
MISCELLANY: Sunderland midfielder Lynden Gooch has been invited to the U.S. national soccer team training camp for the first time and could make his debut in Friday's exhibition against Cuba in Havana.
The 20-year-old from Santa Cruz, California, made his Premier League debut on Aug. 13 and has six starts and one substitute appearance this season for the Black Cats.
Coach Jurgen Klinsmann omitted veteran goalkeepers Tim Howard and Brad Guzan in favor of three youngsters: San Jose's David Bingham, Molde's Ethan Horvath and Leon's William Yarbrough.
Flash head to NWSL championship: Lynn Williams scored twice in overtime and the visiting Western New York Flash beat the Portland Thorns 4-3 for a spot in the National Women's Soccer League championship game.
The Flash will play the Washington Spirit for the league title next Sunday in Houston. The Spirit beat the Chicago Red Stars 2-1 in overtime in the other semifinal Friday night.
Predators extend coach: The Nashville Predators have extended coach Peter Laviolette's contract through the 2020-2021 NHL season.
Simmons likely needs surgery: Overall No. 1 NBA pick Ben Simmons will likely need surgery for a broken bone in his right foot.
The Philadelphia 76ers said no decision had been made and there was no timetable for how long Simmons would be out.
Kim wins in China: In-Kyung Kim won the Reignwood LPGA Classic in Beijing for her first victory in six years, making an eagle and a birdie on the two late par 5s to lead a South Korean sweep of the top three places.
---