Sports
Soccer notes: WSU having trouble finding the net
Tue., Oct. 11, 2016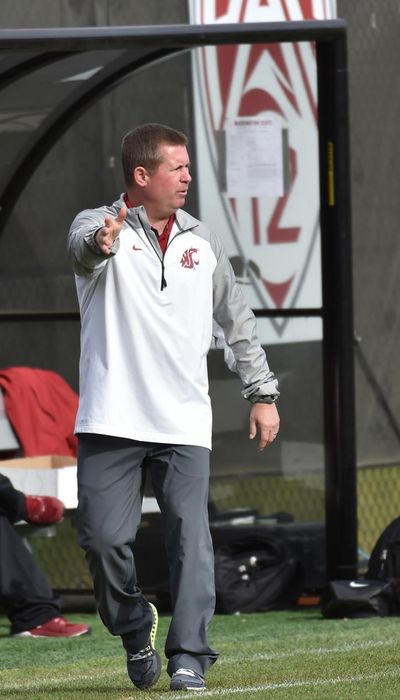 Washington State's recent frustrations on the soccer pitch compelled coach Todd Shulenberger to put the issue in football terms.
"Imagine Mike Leach's team being No. 1 in the Pac-12 in passing yards and passing efficiency and having nothing to show for it – that's us right now," Shulenberger said.
Actually, now the Cougars do have something to show for their efforts: a 2-1 overtime win over visiting Arizona State that finally got them in the win column in Pac-12 Conference play.
"It was a must-win and a good way to end the weekend," said Shulenberger, whose team is 6-6-1 overall and 1-4 in the conference.
The weekend began with a 2-0 home loss to Arizona that left the Cougars to regroup – again.
"That's something we've had to do a lot," Shulenberger said. "There's nothing to be negative about, we've got to keep plugging away."
Revisiting the football analogy, Shulenberger said the Cougars "need to be better in the red zone."
In five conference matches, WSU has taken 100 shots – nine more than runner-up Cal – yet has just three goals.
Case in point: the Arizona match, in which the Cougars outshot the visitors 18-13 and held an 8-5 edge in corner kicks.
Form finally held Sunday against ASU. The Cougars finished the game with a 30-6 advantage in shots, including 14 on goal. After halftime they outshot ASU 23-1 and had a 10-3 edge in corner kicks, yet needed freshman Morgan Weaver's 25-yard strike to win in overtime.
It was Morgan's team-high eighth goal of the season.
The Cougars still face an uphill battle to reach their sixth straight NCAA Tournament; they probably can afford to lose just one more match.
Comparing this year's team with last year's squad (which finished 7-4 in the Pac-12), Shulenberger said, "We're doing more of everything except scoring.
Then Shulenberger spoke of the opportunities. "There are so many RPI points out there."
Williams tops at EWU
With her goal in the 18th minute of a 3-0 win over Weber State on Sunday, junior forward Chloe Williams became the leading scorer in Eastern soccer history.
Teammate Laci Rennacker hit Chloe Williams in stride down the middle of the field, setting the former Lewis and Clark star for a fast-break chance.
Williams didn't disappoint, blowing past the Weber defenders and beating the goalkeeper one-on-one.
Later, Williams fed Devan Talley for a goal, then scored again on a 20-yard laser.
Before the game, Williams was tied with previous record holder Cassie Black (2011-14) at 24 career goals. She ended the afternoon at 26 goals in her three year career.
More important, the Eagles (10-1-2 overall) stayed unbeaten in the Big Sky at 4-0-1 going into Friday's match at Southern Utah.
"I think overall, that's our best 90 minutes of play this season," head coach Chad Bodnar said. "Our defenders have been very-well organized the last three or four matches, and they've been picking up clean sheet after clean sheet."
With their third straight shutout, the Eagles have gone a season-best 304 minutes without giving up a goal.
Heartbreak for Gonzaga
After knocking on the door late in a tie match against Portland, the Bulldogs gave up a penalty kick with seven seconds left to fall to Portland 2-1.
"I was impressed with our effort tonight," GU coach Amy Edwards said. "I am heartbroken for this team as they deserved to be on the other side of this result."
The loss was GU's third straight in West Coast Conference play; the Bulldogs are 4-6-2 overall and 0-3 in the WCC.
Callei Best and Jodi Ulkekul both took two shots for the Bulldogs. Hope Tsuneyoshi had a header in the 80th minute that the UP keeper had to make a tough kick save to stop. Taylor Kernion also had a chance in the 85th minute that went just over the bar.
Local journalism is essential.
Give directly to The Spokesman-Review's Northwest Passages community forums series -- which helps to offset the costs of several reporter and editor positions at the newspaper -- by using the easy options below. Gifts processed in this system are not tax deductible, but are predominately used to help meet the local financial requirements needed to receive national matching-grant funds.
Subscribe to the sports newsletter
Get the day's top sports headlines and breaking news delivered to your inbox by subscribing here.
---