Sports > Gonzaga athletics
Sisters reunite
Wed., Oct. 12, 2016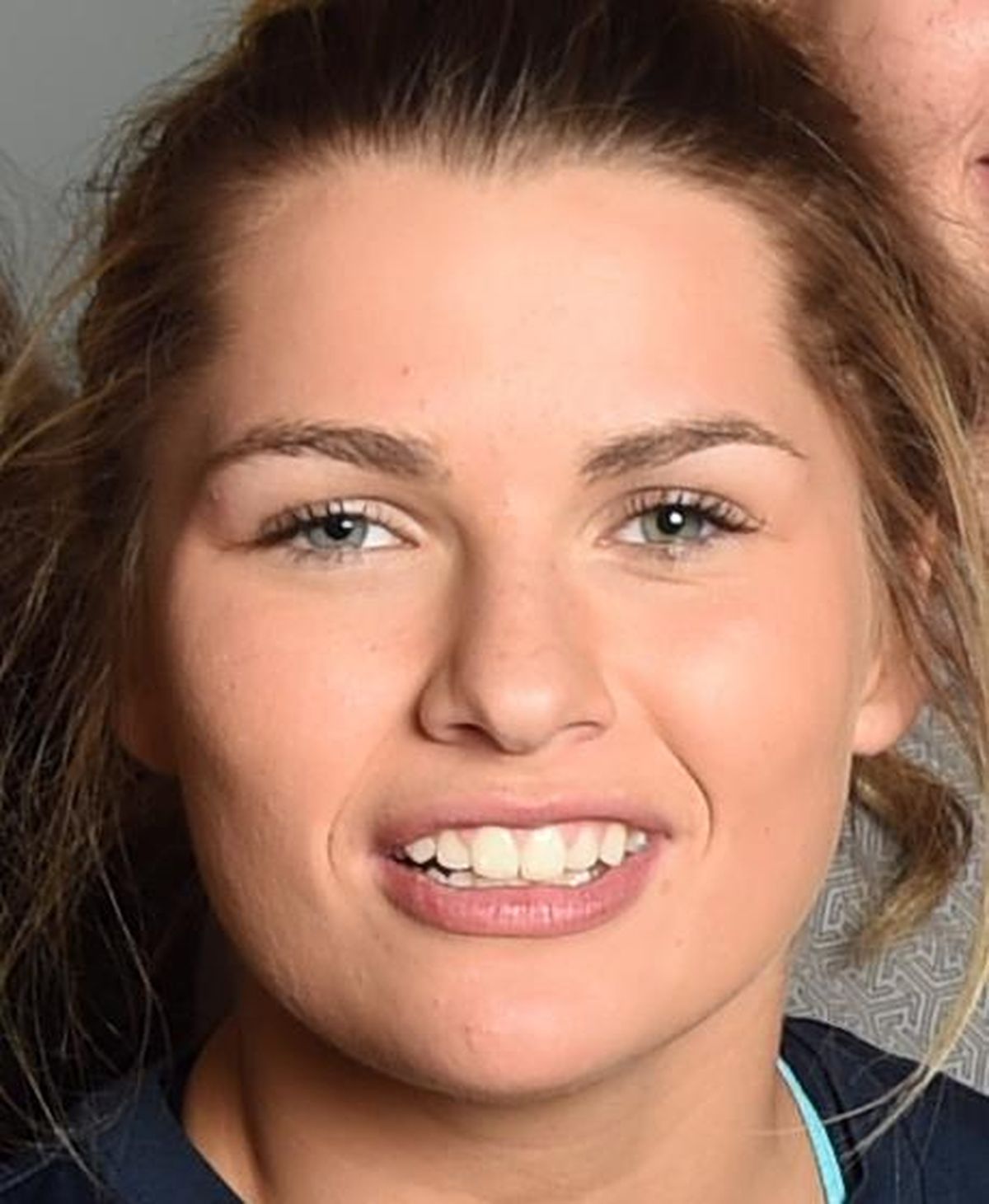 Payton Douglass (Jesse Tinsley / The Spokesman-Review)
A family friend gave the Douglass clan special hats – half Gonzaga, half San Diego – to satisfy their two volleyball rooting interests that could come in handy Thursday.
The Douglass family is gearing up for a special evening when Gonzaga entertains No. 5 San Diego at 6 p.m. at the Martin Centre.
Morgan Douglass is a senior libero for the Zags (11-5, 4-2), who are in third place in the WCC after sweeping Pepperdine and Loyola Marymount on the road last weekend for the first time in program history.
Younger sister Payton Douglass is a freshman libero for the Toreros (15-2, 6-0), who are 3-0 against ranked Pac-12 foes and recently swept No. 11 BYU to take sole possession of first in the WCC.
It's a big match on the court and in the stands for the two Mead High School products.
"I'm up to about 130 tickets so far," mom Lisa Bonnett-Douglass said Tuesday morning.
The sisters enjoyed great success in basketball and volleyball at Mead, but they were rarely on the same teams because of the age difference. Payton did get called up for one club tournament when Morgan's U-18 team was short of players.
This will be their first time on opposing teams. Gonzaga visits San Diego on Nov. 12.
"No, not really," said Morgan, when asked if they've been texting or trash-talking this week. "We're pretty close. I'm just excited to see her. I haven't seen her since she left for preseason in August."
"I've been looking forward to it since I committed," Payton said. "I'm glad it's finally here."
Morgan has 72 digs this season and 847 in her career. She had 419 digs in 2014, fifth on Gonzaga's single-season list.
Payton made USD's travel roster but has seen limited time on a talented squad that includes senior libero Hunter Jennings, who is in San Diego's top five in career digs.
Payton was a member of the nation's ninth-ranked recruiting class, picking San Diego over Gonzaga, among others.
"It's kind of funny," Morgan said. "She called me the day she committed to San Diego. The only thing she knew was that she was going to regret passing up the opportunity to play with me but in the long haul it would have only been one season.
"I think it's cool she chose USD because she'll experience something new for herself."
The two play the same position but go about it different ways.
"She's definitely consistent," Payton said of her older sister. "She's more focused on the fundamentals, staying calm and making everything easy. I'm more flamboyant, flashy. I'm way more loose."
"She's a stud," Morgan said. "She's athletic, fun to watch. I like to think I taught her most of what she knows."
Pause. "I'm kidding," Morgan said.
They're both curious what family and friends will be wearing in terms of team support.
"I made sure (the family) got a good amount of San Diego stuff," Payton said. "I bought my brother a shirt Wednesday. I expect mom and dad to be wearing San Diego."
Pause. "But the chances of that are pretty slim," she added.
Bonnett-Douglass is happy to see both daughters in one gym.
"Since Morgan has been going to Gonzaga I have been traveling to their away games and my husband goes to as many as he can," she said. "This year, having Payton (at San Diego) and they have the same game days, for away games we do one week for Gonzaga, one week for San Diego and we stay home for one week."
Local journalism is essential.
Give directly to The Spokesman-Review's Northwest Passages community forums series -- which helps to offset the costs of several reporter and editor positions at the newspaper -- by using the easy options below. Gifts processed in this system are not tax deductible, but are predominately used to help meet the local financial requirements needed to receive national matching-grant funds.
Subscribe to the sports newsletter
Get the day's top sports headlines and breaking news delivered to your inbox by subscribing here.
---