Sports
NFL notes: Star receiver Andre Johnson retires
Mon., Oct. 31, 2016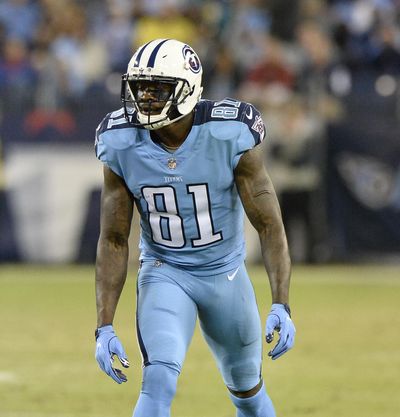 Andre Johnson called Tennessee coach Mike Mularkey, asking if they could talk Monday morning. After 14 NFL seasons, the man with more catches than anyone else currently playing had made up his mind.
Time to retire.
"He said he's been contemplating it for weeks and his heart was not in it," Mularkey said Monday. "This is a tough business to be in when your heart's not in it."
The 35-year-old receiver was nowhere to be found, apparently not ready to publicly discuss his decision. He was not available on Monday and did not release a statement through his agent or the team.
None of that prevented Mularkey from trying to talk Johnson into staying. The Titans signed Johnson the day they reported for training camp to a two-year deal paying the veteran minimum this season with the chance at a bigger payday in 2017. Johnson started four of the eight games he played but hadn't caught a pass in the last three.
"I could tell he had talked about it and it was really useless for what I was saying," Mularkey said.
A seven-time Pro Bowl wide receiver, Johnson spent the first 12 seasons of his career with the Houston Texans who made him the No. 3 overall pick in the 2003 draft out of Miami. Tennessee had been his third team in as many seasons after Johnson spent 2015 with another AFC South team, the Indianapolis Colts.
Johnson finishes his career among the best receivers in NFL history. He ranks ninth all-time with 1,062 catches and 10th with 14,185 yards receiving and also had 70 touchdowns. Johnson led the NFL in catches in 2006 (103) and in 2008 (115). He led the league in yards receiving in 2008 (1,575) and 2009 (1,569).
Johnson and former Colts receiver Marvin Harrison, inducted into the Pro Football Hall of Fame earlier this year, are the only NFL players to have four seasons of 100-plus receptions and 1,400-plus yards receiving.
Penalties don't slow Raiders
Whether it was lining up with too many people or in the wrong place, holding too much or hitting too late, the Raiders spent nearly the entire game on the wrong side of the NFL law.
The fact that they managed to overcome a record 23 penalties to beat the Buccaneers 30-24 in overtime was a credit to another sterling performance by Derek Carr and a defense that tightened up late.
"I thought we earned some and I thought some were questionable," coach Jack Del Rio said. "But what I like about our guys is we're resilient, we continue to fight and we work our way through whatever obstacles present themselves and yesterday we dealt with a large number of infractions that we don't want to see and we fought our way through it and came home with a win."
The 23 penalties for the Raiders came in all varieties, with 13 committed on offense, six on defense and three on special teams. There were even three additional penalties that were either declined or offsetting. That broke the NFL record of 22 last achieved by San Francisco in 1998
Seven of the penalties occurred before the snap, including a pair of 12-men in defensive formation flags that gave Tampa Bay first downs on 3rd-and-1 on a go-ahead fourth-quarter drive.
The Bucs got four first downs by penalty on that drive alone, and had six of their 18 first downs for the game come on penalties by the Raiders.
With 86 penalties through eight games, Oakland is on pace to break the record of 163 penalties in a season the franchise set just five years ago. Of those, 29 of the infractions have come on pre-snap penalties.
Brady, Patriots roll into halfway point back on top of AFC
So much for "Deflategate" having a lasting impact on the Patriots this season.
New England has reached the halfway point of its 2016 season and enters its bye week – surprise – with the best record in the AFC.
The Patriots battled through some early injuries and performed above expectations to go 3-1 with quarterback Tom Brady serving his four-game suspension at the start the season.
But they've quickly climbed back into championship form since his return, posting a 4-0 record and getting even for their lone setback of the season with a dominating 41-25 win over the Bills.
The numbers speak for themselves.
Without Tom Terrific, the Patriots averaged 20.25 points and suffered their first shutout loss at Gillette Stadium – 16-0 to Buffalo – on Oct. 2.
With Brady the offense is cruising, averaging 34 points and beating opponents by an average of 16.25 points.
But Brady thinks his team can play even better.
"It's pretty early still. We've got a long way to go," Brady said. "I think 7-1 is good, but coach always says seven wins won't get you anything in this league and he's right. So we have a lot of football ahead. This is when it starts to get to feeling like football season."
What is undeniable to this point is that New England is without peer in the AFC East where it is 2-1 against division foes. Second-place Buffalo is three games behind with a 1-3 division record.
Chiefs defend treatment of Alex Smith's injuries
The Chiefs defended their treatment of Alex Smith after he twice had his head slam into the turf in Indianapolis, saying that their quarterback passed concussion tests on the sideline and in the locker room after both of the hits.
Chiefs trainer Rick Burkholder also said team physicians and an independent neurologist do not believe that Smith sustained a concussion.
Still, he will be evaluated by another neurologist in Kansas City this week before determining whether he can play against Jacksonville on Sunday.
"It's certainly possible," Burkholder said. "We'll go through the return-to-play protocol and see where he's at it. But yes, it's possible."
Smith was hurt initially when he was hit while sliding in the first quarter, and Nick Foles took over for about a quarter while Smith went through the protocol. He returned to the game and was hit again on a slide in the second half, and that's when the Chiefs decided he would not return.
Foles proved to be everything the Chiefs hoped for as a backup. He finished 16 of 22 for 223 yards and two touchdowns without an interception in leading Kansas City to a 30-14 victory.
There was some confusion when Smith was ruled out of the game with a concussion.
Burkholder said he incorrectly reported the injury designation, and in fact Smith was still going through the protocol the second time when that announcement was made. He also said statements made after the game that Smith sustained a concussion were inaccurate.
"I was with him on the plane, talked to him last night, he's been in this morning – he's absolutely asymptomatic," Burkholder said. "He's had a concussion before, missed time. He's aware of the situation."
Quick kicks
Steelers quarterback Ben Roethlisberger practiced in a limited capacity, just two weeks after undergoing surgery to repair the meniscus in his left knee. Whether Roethlisberger is healthy enough to start under center when the Steelers visit their rival Ravens on Sunday remains to be seen. Still, Roethlisberger, who did not speak to reporters after practice, was initially expected to miss 4 to 6 weeks following the surgery, but he could return earlier than expected. …
The winless Browns acquired Pro Bowl linebacker Jamie Collins from the Patriots in exchange for a conditional third-round draft choice, bolstering a defense that has allowed the most yards in the league. The 6-foot-3, 250-pounder was a second-round selection by New England in 2013. He is earning $485,928 in the final year of his rookie contract, but negotiations for a new pact had stalled. Collins led the Patriots in tackles in each of the last two seasons, starting every defensive snap in their Super Bowl 49 victory. He has 285 tackles, 10 1/2 sacks and five interceptions in 50 career games, making him Cleveland's most accomplished linebacker. …
Cardinals left tackle Jared Veldheer will be placed on injured reserve with a torn triceps and safety/cornerback Tyrann Mathieu will be out three to six weeks with a shoulder injury. …
Former Browns receiver Josh Gordon has finished his recent 30-day rehabilitation stay, a person with knowledge of the situation tells The Associated Press. The person spoke on condition of anonymity because of the sensitivity of the situation. Gordon said he was entering rehab at the end of September, just after he became eligible to return to the Browns. Gordon currently is suspended indefinitely by the NFL, and while technically still Browns property, the team has said it has "closed that chapter." The NFL's trade deadline is Tuesday. …
Jaguars quarterback Blake Bortles is bringing in someone to help tighten up his throwing motion. Bortles says Adam Dedeaux, a mechanics instructor at 3DQB in Los Angeles, will spend two days working with him in Jacksonville this week. Dedeaux and partner Tom House have helped Tom Brady, Drew Brees, Tim Tebow and other NFL quarterbacks in recent years. Bortles has spent time with them, too. Bortles has struggled with his accuracy this season, partly because his throwing motion has become elongated. …
Broncos defensive coordinator Wade Phillips returned to work, his sense of humor still intact after a scary fall when San Diego running back Melvin Gordon plowed into him on the sideline. "I am ok today and back to work at what I love," Phillips wrote on Twitter. "I get the big hit award for the week!" Oh, and about that tumble … "They say it was a collision on the sideline but actually I got run over," Denver's 69-year-old tweeted. …
Head linesman Ed Walker was been taken from the field on a cart after he slipped on the Soldier Field grass during Monday's game between the Vikings and Bears. Walker was injured running down the Vikings' sideline as the Bears punted. His legs bucked, and he was tended to for several minutes by medical personnel before being placed on the cart. He gave the thumbs up sign as he left the field.
Local journalism is essential.
Give directly to The Spokesman-Review's Northwest Passages community forums series -- which helps to offset the costs of several reporter and editor positions at the newspaper -- by using the easy options below. Gifts processed in this system are not tax deductible, but are predominately used to help meet the local financial requirements needed to receive national matching-grant funds.
Subscribe to the sports newsletter
Get the day's top sports headlines and breaking news delivered to your inbox by subscribing here.
---