News > Spokane
Spin Control: Peaceable assemblies not necessarily sensible
Sun., Sept. 4, 2016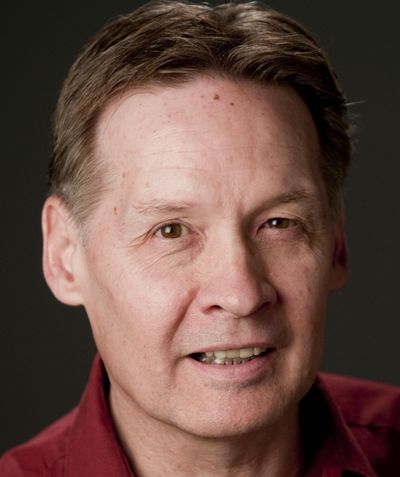 OLYMPIA – Because this is the seat of state government, it is also a magnet for people eager to exercise their right to peaceably assemble to petition for redress of grievances, even in the summer when lawmakers are nowhere to be found and the bureaucracy is less populated than normal.
It's their right, as the Bill of Rights spells out. But the First Amendment says nothing about such assemblages beyond peaceable, and in the slack time between legislative sessions one can never predict what one will find at a rally. Or who.
My favorite demonstration disconnect was probably the guy who brought the broadsword to a gun rights rally in December 2014, which had an interesting "Braveheart" meets "Rambo" vibe but clearly violated the ironclad rule Sean Connery laid down in "The Untouchables" about bringing a knife to a gunfight.
The state employees' rally on Wednesday for labor contract improvements in the Capitol Rotunda was odd in a couple of respects. Gov. Jay Inslee's name was invoked loudly enough to be heard in his office nearby, but Inslee wasn't in Olympia that day. One might've thought the organizing state employees could have checked with another state employee, the governor's scheduler, for a more advantageous day.
Inslee's opponent Bill Bryant was there, trolling for votes with a letter to state employees seeking their support to elect him and modernize government. Not a bad pitch, but Bryant stood out a bit as a guy in button-down shirt and khakis amidst a crowd mostly in slogan-filled T-shirts and jeans.
On Thursday, supporters of wolves demonstrated in front of the Department of Fish and Wildlife offices, seeking an end to the state's efforts to wipe out a wolf pack in Ferry County that has been eating cattle. While most of the slogans like "Wolf Lives Matter" and "Stop the Slaughter" could be expected, protesters did cause a couple of reporter colleagues to scratch their heads with chants of "Stop Eating Meat."
OK, there could be some logic, however strained, to that. If fewer people ate meat the ranchers might raise fewer cattle so they wouldn't need to lease state grazing land where the wolves are more likely to chow down on cows and calves.
Or maybe they've hit on the real solution to the conflict: If wolves became vegetarians, they wouldn't eat livestock and all critters could coexist peacefully on the rangeland. Unless of course the wolves started eating the same vegetation on the hillsides as the cattle, and then we'd have a new fight on our hands.
By the numbers
After a month that saw one presidential candidate claim the election could be stolen if he doesn't win and the federal government ask state elections officials to be sure their voting systems are secure, one group had a calming statement last week.
Real voter fraud – where someone who is not eligible to vote impersonates someone who is eligible and casts a ballot – is essentially non-existent. So says the American Statistical Association, a group that knows its numbers, in a recent press release.
While that sort of undercuts the need for tougher Voter ID laws, it doesn't mean everything is peachy with elections. "Electoral malpractice is quite common and can take place in many forms, such as misleading ballot designs, computer malfunctions and security breaches, long lines, misleading information about polling locations, poorly maintained voting lists and overly aggressive voter list purges," said Arlene Ash, professor of biostatisics and health services research at the University of Massachusetts Medical School.
The association recommends post-election audits of paper ballots to look for poorly marked ballots, computer glitches and other problems to see if the hand count matches the computer's final tally. Washington and Idaho still have paper ballots, although about 25 percent of the country does not.
Although it's not quite the audit statisticians are suggesting, a recent hand recount of a legislative race in the Yakima area was heartening. They counted 13,020 ballots to make sure who finished second after Democrat AJ Cooper wound up eight votes ahead of Republican Dave Kearby. No votes changed.
Point of the spear?
Washington voters have been in the forefront of legalizing marijuana ever since they approved medical marijuana in 1998. They tied with Colorado in legalizing recreational marijuana in 2012.
Now there seems to be a green rush to follow suit. Governing magazine reports that voters in five states will vote on legalizing recreational pot this year, and four other states will vote on legalizing it for medical uses. If they all pass, all states touching the Pacific Ocean would have legal marijuana in some form, and all but Hawaii would have recreational marijuana.
Idaho, which still bans the weed, would have some form of legal marijuana to the west, south and east.
Spin Control, a weekly column by political reporter Jim Camden, also appears online with daily items and reader comments, at www.spokesman.com/ blogs/spincontrol.
Local journalism is essential.
Give directly to The Spokesman-Review's Northwest Passages community forums series -- which helps to offset the costs of several reporter and editor positions at the newspaper -- by using the easy options below. Gifts processed in this system are not tax deductible, but are predominately used to help meet the local financial requirements needed to receive national matching-grant funds.
Subscribe to the Coronavirus newsletter
Get the day's latest Coronavirus news delivered to your inbox by subscribing to our newsletter.
---
Subscribe and log in to the Spokesman-Review to read and comment on this story