News > Spokane
Sheriff Ozzie Knezovich says local GOP leaders reluctant to censure Rep. Matt Shea, fear far-right reprisals from the legislator
Wed., Sept. 21, 2016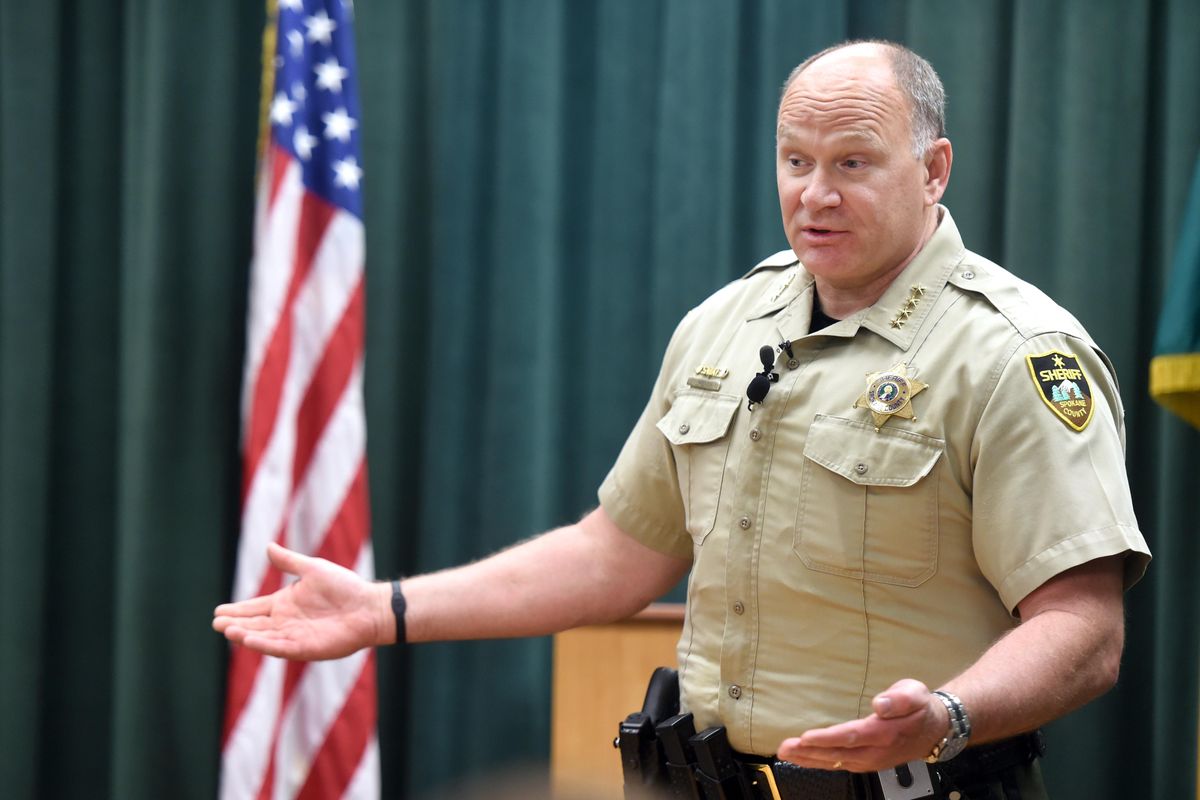 Knezovich (Jesse Tinsley / The Spokesman-Review)
Spokane-area Republicans in elected offices appear unwilling to criticize state Rep. Matt Shea for his attacks on the Spokane County Sheriff's Office.
Sheriff Ozzie Knezovich, who has called on party leaders to censure Shea after he linked a triple homicide to a Spokane deputy, says Republicans are afraid to do so.
"They don't want to end up at the receiving end of attacks like the ones I get," Knezovich said. "That's why they don't comment."
Local Republican leaders have mostly stayed silent on the latest chapter of a long-running public feud between the two GOP elected officials after Shea stated on a podcast that Knezovich's department was tied to homicide suspect Roy Murry.
Knezovich, in a story published Sunday, called the accusation a blatant lie and challenged Shea to discuss his charge along with other disagreements in a public setting. Shea has not responded to Knezovich's offer.
On Wednesday, Knezovich issued a statement that read: "I am formally requesting that the Spokane County Republican Party denounce Matt Shea's defamatory accusations concerning Deputy Travis Pendell." He added "I also request that the party formally censure Shea for his continual attacks on the deputies of the Spokane County Sheriff's Office."
Shea has not responded to multiple newspaper requests for an interview.
County Commissioner Nancy McLaughlin, state Sen. Michael Baumgartner and state Reps. Kevin Parker and Jeff Holy did not respond to messages seeking comment Wednesday. Nor did Josh Kerns, a Shea-backed Republican who is seeking to replace McLaughlin on the commission. Commissioner Shelly O'Quinn and state Sen. Mike Padden's office returned calls but declined to comment.
Approached after a meeting Wednesday afternoon, County Commissioner Al French said he would not take a stance on the feud. "It's between two elected officials, and I'm going to let them work it out themselves," he said.
Dave Moore, chairman of the Spokane County Republican Party, said Shea and Knezovich have been "poking each other with a stick" for a long time, but that the party has "no teeth" when it comes to disputes between elected officials.
"I would like to say that we support law enforcement 100 percent, and Sheriff Knezovich 100 percent," Moore said. "It's unfortunate that Shea came out with these things."
Knezovich said that's not enough and that he's tired of allegations of corruption coming from members of the Republican Party's Central Committee.
"I've fired 63 people for doing something wrong," Knezovich said, "and they still accuse my agency of being corrupt."
The only elected Republican who offered an assessment of the feud was Spokane City Councilman Mike Fagan.
Fagan said he's disappointed that his elected colleagues would not comment, though he's not sure this dispute between Knezovich and Shea rises to a level where the GOP should get involved.
"They need to sit down in a meeting and hash this out," Fagan said. "I know Ozzie has opened that door several times. I feel they are duty-bound to each other and their constituents to have that conversation."
Fagan said he has been watching the dispute between Knezovich and Shea for years, and that it has broader implications.
"It drives the ongoing discussion about distrust in law enforcement," Fagan said. "That's not helping anyone."
Local journalism is essential.
Give directly to The Spokesman-Review's Northwest Passages community forums series -- which helps to offset the costs of several reporter and editor positions at the newspaper -- by using the easy options below. Gifts processed in this system are not tax deductible, but are predominately used to help meet the local financial requirements needed to receive national matching-grant funds.
Subscribe now to get breaking news alerts in your email inbox
Get breaking news delivered to your inbox as it happens.
---