News > Business
Front & Center: Saving soles, one shoe at a time
Sun., April 9, 2017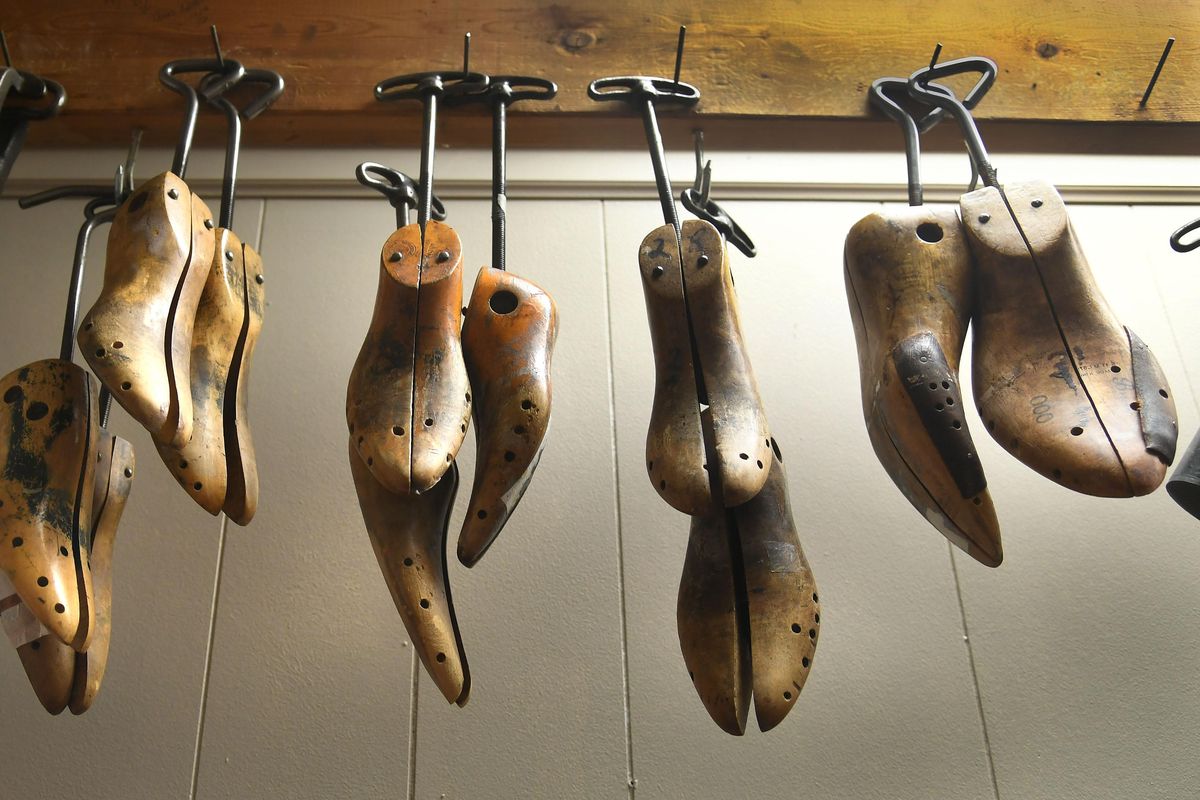 Shoe stretchers hang in a back room at Ressa's Shoe Service at 20 E. Indiana Ave. in Spokane. (Dan Pelle / The Spokesman-Review)
We love our shoes.
The American Apparel & Footwear Association estimates each of us – children included – buys, on average, seven pairs a year.
Of course, some folks love footwear more than others.
Like the woman who brought her house slippers to Ressa's Shoe Service, along with two miniature mechanical dogs that could rise on their hind legs and bark.
Could owner Greg Ressa attach one dog to each slipper, she wondered.
"It was tricky," Ressa recalled. "I ended up gluing the paws to the slippers, and then hand-sewing them on from the inside."
When the woman returned and saw her not-so-hush puppies, she was elated.
"I don't remember how much we charged her," said Ressa. "I just remember hoping we'd never have to do that again."
Mechanical dogs may be rare, but special requests are not at 20 E. Indiana Ave., where Ressa relocated last April – only the shop's third move since his uncle opened the business nearby more than seven decades ago.
During a recent interview, Ressa discussed his introduction to shoe repair, how footwear's evolution has changed his business, and which brands he most admires.
S-R: Where did you grow up?
Ressa: Just a few blocks from my shop – in the Corbin Park neighborhood.
S-R: When did you join the family business?
Ressa: I started working for my dad when I was 10 back in the late '60s, mopping floors, then learning how to polish shoes. I earned $10 a month, and my dad had me keep a ledger of how I spent every penny – candy, bus fares. That was my first business lesson.
S-R: What high school did you attend?
Ressa: My five brothers and I all attended Gonzaga Prep.
S-R: Did you have a favorite class or activity?
Ressa: Marching band. I played the saxophone.
S-R: How about college?
Ressa: I went to WSU one semester. But I owed my dad $500, and after six months he let me know it was due. That's the way he was. So I moved back home and went to work for Travis Pattern and Foundry, making sand cores.
S-R: Was there a moment or event that changed the direction of your life?
Ressa: After two years at Travis Pattern, I turned 21 and decided it was time to be my own boss. I called a guy who sold supplies to shoe-repair shops, and said, "Keep your eye out for a shop that's for sale."
S-R: And he found one?
Ressa: A fellow down by Pocatello was retiring. I bought all his equipment and hauled it up to Colville, where I opened my first shop, Greg's Shoe Repair.
S-R: Were you successful?
Ressa: For about eight years. Then the local economy fell out, and my brother Dave offered me a partnership in a little shop he had in the Payton Building downtown.
S-R: How many of your brothers went into shoe repair?
Ressa: All of them at one time – California, Seattle, Pullman. Three of us had shops here in Spokane. I'm the only one still doing it. The other five quit for better jobs with benefits.
S-R: Did you ever consider changing careers?
Ressa: Yes. Opportunities arose over the years. Someone once offered me a job as a plumber on new construction. But I figured I'd lose him as my best friend if he was my boss, so I said, "Let's forgo that."
S-R: Did you have a mentor?
Ressa: Actually, my two older brothers, Bruce and Leo. One Saturday my dad came to work and asked my brother Bruce why he'd done something a certain way. Bruce said, "Well, Dad, we're doing it a little differently now." My dad goes, "Oh, you are," took off his shop coat and quit coming in on Saturdays, because we were doing just fine.
S-R: How long did you work with Dave after moving back from Colville?
Ressa: Two years. Then in '89, this shop – which had been my uncle's but by then was owned by my cousin Rick – came up for sale. We wanted to keep it in the family, so Dave gave me the down payment to buy it.
S-R: How has the industry evolved since you opened your first shop?
Ressa: The way shoes and boots are constructed is different, as well as what they're made of. For instance, when I first worked on logging boots, I'd drive steel spikes through leather soles. Today, the boots have rubber soles with lots of cording – like tires – and loggers can replace the spikes themselves with a special wrench.
S-R: How have casual shoes evolved?
Ressa: They're made of synthetic materials now – thermoplastic rubbers. Repairing them requires special glues, or you'll melt them.
S-R: But they're worth repairing?
Ressa: Sure. For instance, if you have a favorite pair of Ecco shoes in the closet for a few years, the synthetic sole may come loose. We can strip it off and put on a rubber bottom that will last for decades.
S-R: How do fashions affect your business?
Ressa: People who like high-end shoes tend to take better care of them. Before they even wear them, they'll bring them in and we'll put on a sole protector to prevent slipping and wear on the leather.
S-R: Do customers bring you vintage footwear?
Ressa: Yes, we see women's shoes from as far back as the 1930s. Back then you could buy very nice, all-leather shoes for $7.95. The same shoes today might sell for $259.
S-R: What's the dirtiest thing someone brought in?
Ressa: A pair of soaking wet, muddy work boots some guy dropped off right after work and wanted us to sew up.
S-R: Do you get shoes with sentimental value well beyond their dollar value?
Ressa: All the time. People will bring in sandals covered with bling and say, "These are my favorites. Can you fix them?" And when they pick them up, usually they put them on right away. They can't wait to wear them.
S-R: Do you have a favorite shoe brand?
Ressa: There are two or three companies whose shoes I can't afford, but I love just to take out of the box and admire. One is John Lobb, the English company that made Frank Sinatra's shoes. Others include Salvatore Ferragamo, Johnston & Murphy, and Allen Edmonds – they all have wonderful craftsmanship.
S-R: Is your business recession-proof?
Ressa: The shoe-repair business usually does better during a recession. And we're always exploring other potential markets. That's how we got into rebuilding rock-climbing shoes and recrafting Birkenstocks. We also replace zippers in coats, boots, backpacks, even tents.
S-R: What's your business philosophy?
Ressa: Work hard and work smart at the same time.
S-R: What's the hardest footwear to work on?
Ressa: I used to love rebuilding heavy-duty work boots – replacing the front section and putting a new bottom and insole on them. But it's so much handwork that if I do a pair now, I'm stiff and sore for two weeks.
S-R: What about high-end repairs?
Ressa: Once I rebuilt a lady's motorcycle boots – I made the calf area bigger. They came out real nice, but it took me two whole days. I only charged her a couple of hundred bucks, so I lost money.
S-R: What jobs do you turn down?
Ressa: Shoes that have been chewed by dogs. They're too difficult, because if you patch one, you have to patch the other to match.
S-R: How many shops in Spokane do what you do?
Ressa: Five or six.
S-R: And when you were growing up?
Ressa: Thirty-six.
S-R: How many will there be 10 years from now?
Ressa: Maybe three. But this is a good business for someone who's high energy, creative and motivated.
S-R: How do you market your business?
Ressa: I have a website and Facebook page, but most of my business is through word of mouth – customers recommending me.
S-R: Is there a busiest time of year?
Ressa: Summers used to be slow because everyone was wearing flip-flops. But now we even fix those, because some – like Chacos – aren't cheap. What I hear all the time is, "These are my favorites. You gotta fix 'em."
S-R: What's your schedule?
Ressa: I used to work six days a week, and 12 hours was a short day. Now I keep it to five days a week, 10 hours a day.
S-R: What are you most proud of?
Ressa: The creativity I bring to shoe repair. Every day demands problem-solving.
S-R: What typical mistakes do people make when it comes to shoes?
Ressa: They neglect to prep them for winter or rainy weather. Women buy fancy shoes and think, "I don't want to put anything on them, it might ruin them." That's their first mistake. A waterproof spray prevents stains.
S-R: What challenges lie ahead?
Ressa: I need someone to train, so someday they can buy my business from me, and I can retire.
S-R: Looking back over your career, do you have an all-time best idea?
Ressa: I'm still waiting for that moment. (laugh) And when it comes, I'm going to patent it!
Writer Michael Guilfoil can be contacted at mguilfoil@comcast.net.
Local journalism is essential.
Give directly to The Spokesman-Review's Northwest Passages community forums series -- which helps to offset the costs of several reporter and editor positions at the newspaper -- by using the easy options below. Gifts processed in this system are not tax deductible, but are predominately used to help meet the local financial requirements needed to receive national matching-grant funds.
Subscribe now to get breaking news alerts in your email inbox
Get breaking news delivered to your inbox as it happens.
---