Sports > Outdoors
Chapman Lake public access remains limited
Fri., April 21, 2017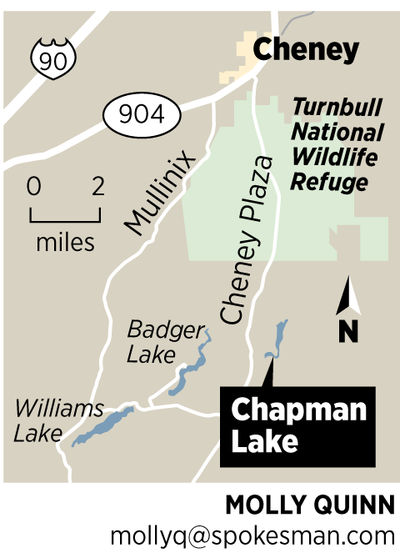 Chapman Lake, a once-popular trout, bass and kokanee fishery south of Cheney, will remain closed to drive-in public access this season.
After decades of providing sportsman access, owners of the former Chapman Lake Resort locked the gates in 2011 on the only road access to the 128-acre lake.
The Washington Department of Fish and Wildlife has continued to stock kokanee in the lake on the prospect of being able to develop a public road and access through adjoining state property. Funding has been secured, but getting the necessary permits and seller agreements has stalled the work.
"There's no breaking news this season," said Randall Osborne, district fisheries biologist. "It's being negotiated by attorneys."
Meanwhile, only the owners of lakeside cabins have been able to launch trailered fishing boats onto the lake.
Chapman will open to fishing on April 22. The public can access the lake by foot through the Department of Natural Resources property, Osborne said. Shore fishing would be limited to public land, but anglers have a right to be on the water on carry-in craft, Osborne said.
In 2015, the Washington Recreation and Conservation office awarded the Fish and Wildlife Department $474,000 to buy 80 acres for motorized boating access to Chapman Lake. Negotiations are still continuing with the property owners, Osborne said.
Meanwhile, the state continues to stock the lake with kokanee so it will be ready for sportsmen as soon as access is acquired.
"Kokanee populations are different than trout populations," Osborne said. "There is at least a two-year lag time between when kokanee fry are stocked, and when they grow large enough to be caught by anglers. It is important to maintain consistent kokanee year class strength. One or two missing year classes could result in gaps in the fishery that would be extremely hard, if not impossible, to recover.
"The kokanee that are stocked into Chapman Lake are fairly small and require little cost to raise – less than 2 cents per fish. This is a relatively low cost to ensure that when access is regained, an intact kokanee fishery will be present for anglers to enjoy."
The state has suspended trout stocking in Chapman. If public access cannot be worked out, kokanee stocking also would be suspended, he said.
Local journalism is essential.
Give directly to The Spokesman-Review's Northwest Passages community forums series -- which helps to offset the costs of several reporter and editor positions at the newspaper -- by using the easy options below. Gifts processed in this system are not tax deductible, but are predominately used to help meet the local financial requirements needed to receive national matching-grant funds.
Subscribe to the sports newsletter
Get the day's top sports headlines and breaking news delivered to your inbox by subscribing here.
---