Jim Frank's Kendall Yards development arose from vision, patience and luck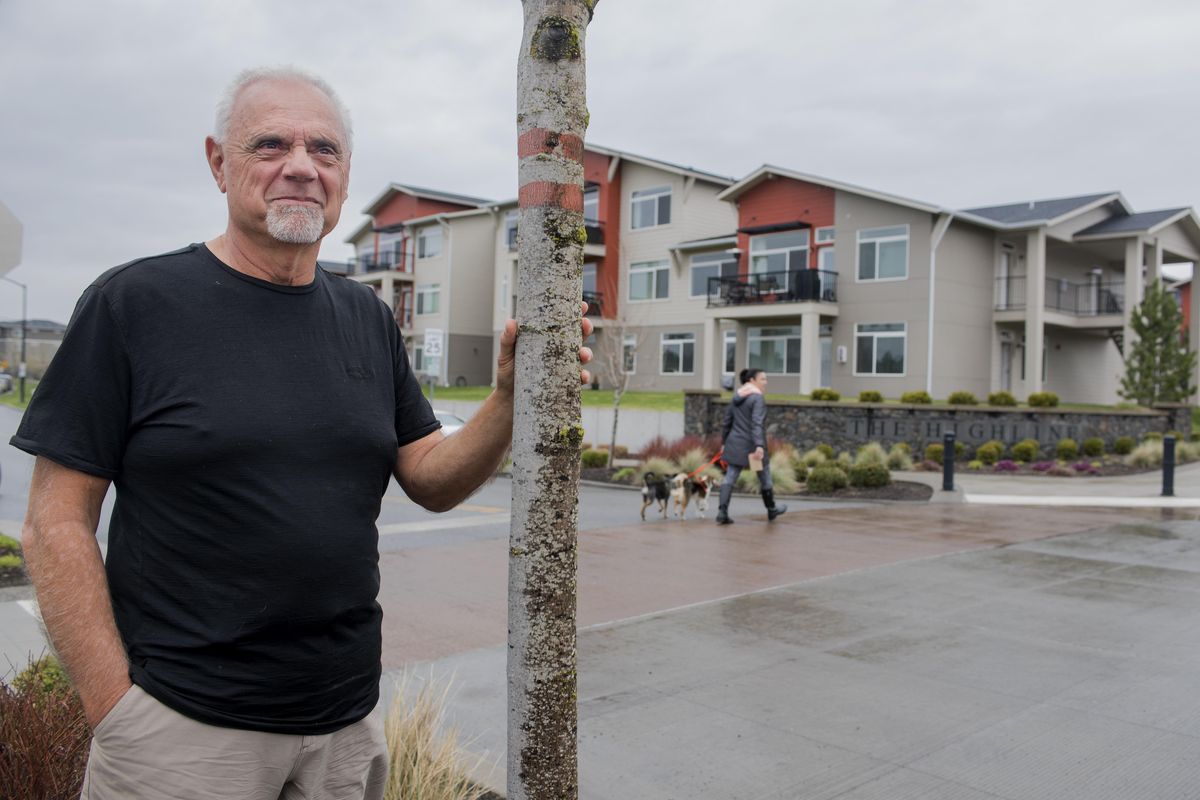 Jim Frank is best known as the driving force behind Kendall Yards.
The mixed-use urban neighborhood perched above the Spokane River is hard to miss as you drive north on the Monroe or Maple street bridges, even though it's less than half finished.
How Frank's development company – Greenstone Corp. – gained control of the former industrial site is a classic case of entrepreneurial patience.
And luck.
But Frank's career illustrates how people make their own luck.
"One of the things I believe about life," he said, "is you need to get in the game. Once you're in the game, opportunities come up. If you're on the sidelines, you never see them."
In some ways, Kendall Yards echoes the Corbin neighborhood of Frank's youth.
"When I was growing up," he said, "I had a park close by, Garfield Elementary within a few blocks, a neighborhood grocery store and lots of little shops up on Division.
"The density wasn't as high as Kendall Yards', but all the other elements of an urban neighborhood – the walkability and the sense of community – were there."
Frank attended Gonzaga Prep, and he remembers himself as "a bit of a nerd. I entered science fairs."
He also liked the outdoors. "I was an Eagle Scout, and my family did quite a bit of camping."
Frank lettered in track as a hurdler, and his dad taught him to golf. "But I'm probably more physically active now than I was in high school. I just returned from a five-day backpacking trip in New Zealand."
He started working at a downtown bakery during his sophomore year.
"I'd come in after school and clean up. Once they had confidence in me, they asked me to help bake on Saturdays."
He earned a degree in chemical engineering at Gonzaga University, then went to work for Monsanto, the agricultural products company, near Pocatello, Idaho.
"My job was designing air and water pollution control equipment for their plants. Working with regulatory agencies and lawyers representing Monsanto, I got intrigued with the law."
Frank also sensed a need to broaden his skills, so he enrolled in Idaho State University's MBA program.
"I was close to getting my MBA when I decided to go to law school," he said. But the lessons learned in business school would pay off later.
"Problems in real estate occur when you leverage yourself too much. If you can get through the down cycles, you'll be fine.
"We've gone through a lot of recessions since I started Greenstone in 1983, and in some ways benefited from them. Recessions created opportunities for us to acquire properties we might otherwise have never been able to get."
By the time he enrolled at Gonzaga Law School, Frank had a family to support, so he took a job as environmental engineer for the Spokane County Air Pollution Control Authority.
"I worked there four years while at law school. That got me further involved in the regulatory process."
Between 1976 and 1990, Frank represented a broad range of clients, from developers to those opposed to development. "Eventually I questioned how much I was helping people," he said, "because sometimes they didn't listen to me."
One memorable exception involved a 7-Eleven store a developer wanted to build in the Spokane Valley. Adjacent neighbors opposed the plan and hired Frank to represent them in court.
When the project was defeated, the neighbors celebrated.
But Frank recalled telling them, "I don't know why you're happy. The elderly couple who own the land want to sell, and they have a right to. So if you don't solve their problem, you're just wasting money on legal fees, and eventually you'll lose."
As it happened, the county library district wanted to build in the area. At Frank's suggestion, the neighbors approached the library board, and came up with the $10,000 or so needed to cover the gap between the district's budget and the cost of the land.
By solving the couple's problem, the neighbors also solved their own. They got the Argonne Library, along with a lesson in the importance of considering all sides of a problem.
"Back in the late '70s and early '80s, there were really no long-term, professional real estate developers in Spokane," Frank said. "You'd have Realtors who'd say, 'I found a piece of property. I think I'll do a project.' Or individual landowners. There really wasn't a company or organization focused on development. So I started doing that part time."
His first project was Garden Springs, just east of Finch Arboretum – 106 houses and another dozen vacant parcels declared surplus by the Air Force and owned by the General Services Administration.
"Somehow I found out about it, and partnered 50-50 with Ken Tupper, a Realtor I'd done some work for. We paid $600,000 for the whole neighborhood, put about $10,000 of work into each house, and sold them for around $30,000.
"I was so green and unknowledgeable about this business that I never thought about interest rates, which were crazy high (18 percent)," Frank said. "It turned out well because we were lucky."
Two years later, Manito Country Club voted to reconfigure its golf course and create enough high-end building sites along the bluff to pay for a new clubhouse.
Frank had never done a land-development project, so he teamed up with Bill Feldman and Grant Person, who owned the real estate firm Feldman Person and had just finished a South Hill project.
"We were competing with a high-powered group led by Bob Tomlinson and the biggest homebuilder in Spokane," Frank said. "For some reason, the club decided our proposal was better. So I went from buying houses for $6,000 in Garden Springs to selling $100,000 lots along the bluff."
It was in the early '90s when Frank was formally introduced to Kendall Yards.
Paul Sandifur Jr. – then-CEO of Metropolitan Mortgage and its sister company, Summit Properties – asked Frank for help with regulatory issues.
"I was still practicing law up to '93 or '94, as well as running the land-development business and doing projects," Frank said. "So I was familiar with the project and agreed a mixed-use urban neighborhood was the right approach."
When the Met Mortgage house of cards collapsed a few years later, Frank went to Sandifur's subsidiary insurance company, which had loaned Summit Properties money to buy the Kendall Yards property, and offered to buy the mortgage at a discount.
"A deal was struck and we became the mortgage holder on that property," Frank explained. "Our plan was to do a deed-in-lieu of foreclosure – in other words, give us the land, we'll forgive the mortgage and move on."
Which would have worked, Frank said, except for the intervention of another land developer.
"Marshall Chesrown showed up at the court hearing and offers to pay more than the face value of the mortgage.
"I called Marshall and outlined the problems – including the millions it would cost to clean up the contamination – because by this time nobody knew more about the property than I did.
"Marshall said, 'We looked into it. It's going to take about $500,000 to clean up.' I said, 'Marshall, you're crazy. You have no idea.' "
Chesrown bid the price up and got the 78-acre brownfield site, and proceeded to spend millions removing contaminated soil, relocating utilities and hiring architects.
Then he went bankrupt, just as the previous owner had. Washington Trust Bank ended up owning the land.
"Washington Trust had been our lender for two decades," Frank said, "so I approached (bank President) Jack Heath, and we were able to work out a deal."
Greenstone's approach to Kendall Yards is a scaled-back version of Chesrown's.
"We realized this is not New York City, or even Seattle," Frank said. "You can't fill this property with nothing but 10-story office buildings and five-story condos. This is Spokane. Our median home price in 2009 was $180,000."
While Chesrown wanted 50 housing units per acre, Frank said, Greenstone ended up with 18. "And we have a mixture of townhouses, single-family houses and some condo-type buildings," he said.
Greenstone had little experience with commercial development, "but we kind of knew what we wanted," Frank said. "And we visited other projects around the country, looking for common threads that make urban neighborhoods work."
Designers borrowed from two Denver redevelopment projects – one at the decommissioned Stapleton airport, the other a former inner-city shopping mall.
"But none of the urban neighborhoods we looked at were on a river," Frank said. "This was a one-of-a-kind opportunity."
Kendall Yards' uniqueness has driven Greenstone to be more selective about what businesses are welcome.
"We've said no to a lot of chains – Starbucks and Pizza Hut and Subway – and even some larger ones. We turned down a concept from Fred Meyer, because it wanted a 100,000-square-foot grocery store with a big parking lot.
"New urban neighborhoods around the country all feel the same because they all have the very same tenants. Our feeling is that we can create more value in this neighborhood if there's something different here."
He said the grocery store set to open this summer will be 27,000 square feet – 50 percent bigger than the Huckleberry's Natural Market on South Monroe Street – with a cooking school and a stronger emphasis on prepared foods, similar to Seattle's Metropolitan Markets.
Overall, the Kendall Yards vision has evolved only slightly since construction began in 2009.
"The business district will have somewhat smaller total square footage," Frank said, "and the residential component of the business district will be more dense than we initially anticipated."
Completing Kendall Yards will take years.
"On the commercial side," Frank said, "we're only 40 percent built out on a square-footage basis. On the residential side, we're probably 40 to 50 percent built out."
But positive public response so far has been gratifying.
"We weren't just trying to create buildings – we tried to create a sense of place," he said. "Sometimes that doesn't work. You build parks and no one comes.
"But to build something and then see 4,000 people down here dancing to the music, sitting on the lawn eating pizza with the river flowing below – I wonder if there could possibly be a better place."
If that sounds wistful, perhaps it's because Frank is a little less "in the game" than he once was.
"I'm 70 years old, so I've turned the day-to-day running of Greenstone over to my son Joe and a group of four or five other young people under 40.
"And if you're going to turn over your business to someone else, you can't have one foot in and one foot out. You have to let them do what they're going to do.
"They might do things differently than you would have, but you have to let go. I'm satisfied that they share my vision."
What's next for Jim Frank?
"I like the business, so projects like Main Avenue (see related story) are things I'll now have the time to take on – things I think can meaningfully improve the quality of our community, like the way the Argonne Library changed that neighborhood early in my career."
---