News > Spokane
Kendall Yards developer sees 'enormous potential' for residential neighborhood on downtown's east end
Fri., April 28, 2017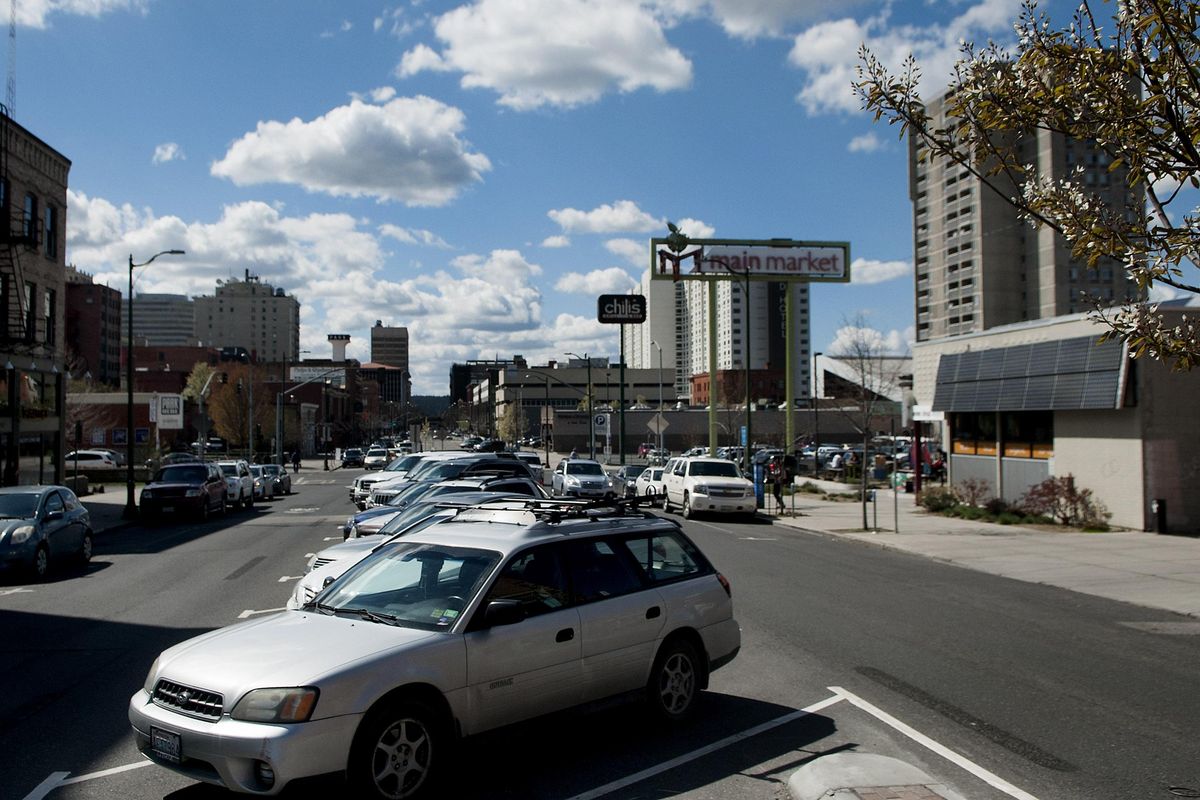 A Spokane pilot project that put angled parking in the middle of West Main Avenue between Division and Brown streets is "a train wreck," developer Jim Frank said. "If you want more cars, you just plan for more cars. ... If you want more people, you need to plan for more people." (Kathy Plonka / The Spokesman-Review)
Since breaking ground at Kendall Yards eight years ago, Greenstone Corp. has made creating an urban village almost look easy.
What some forget is that, before Jim Frank's development company gained control of the 78-acre former railyard, two previous owners spent many millions acquiring the multiple parcels, removing contaminated soil and relocating utilities.
"We started with a unique blank canvas," Frank said.
Could another Spokane site magically morph into a thriving urban neighborhood?
When asked, Frank immediately began typing on his laptop and conjured a downtown map framed by Washington Street, Spokane Falls Boulevard, Pine Street (one block east of Division) and the railroad tracks.
"This whole area has enormous potential," he said. "It could become the (Portland) Pearl District of Spokane. Another (Seattle) Belltown!"
The roughly 14-block area already is home to a range of businesses and offers easy access to Riverfront Park and the Centennial Trail. It also includes significant open space in the form of underutilized parking lots.
What's needed, Frank said, is a vision.
"If you can imagine Main Avenue as a leafy pedestrian corridor that connects the University District to downtown, then you have the potential to create a lot of mixed-use residential development there.
"I own no land down there and have no interest in jumping in," he said. "But I have time to involve myself in things like this."
Which is why he approached City Council President Ben Stuckart and offered to contribute $15,000 toward a Main Avenue vision study if the city would match that amount.
Stuckart agreed, and two Seattle architectural firms – Shoesmith Cox and Miller Hull – were hired to draft a vision for Main Avenue as a pedestrian corridor linking the University District to downtown. Steve Cox designed Kendall Yards' land plan, and Miller Hull Architects developed the U District's master plan.
More than a dozen stakeholders – landlords and business owners – were invited to participate. The study was completed earlier this month.
So far, reaction has been positive.
"We're really happy there are a lot of trees, a separate (sidewalk-level) bike lane, and upgrades for the pedestrian corridor," said Katy Sheehan, executive director of the Community Building Foundation and daughter of philanthropist Jim Sheehan, who has devoted years and considerable sums to revitalizing the first block of West Main.
Stuckart said, "I think it's a wonderful visionary document that we'll be able to apply to other parts of downtown, as well."
"For residential to occur," Frank said, "the neighborhood has to feel residential. It's a fact that 85 percent of the people who decide where you're going to live are female. So if your mother, aunt, sister or wife doesn't want to live someplace, then you're not going to live there.
"Today, if you stand on the corner of Bernard and Main and ask, 'Is my wife going to live here?' the answer is going to be no, because it doesn't feel secure. It doesn't feel residential."
It needs more people, Frank said.
"How do you make that happen? You invest in infrastructure, starting with Main Avenue from Washington to Pine. You take four lanes of traffic and narrow it to two. You add the extra land to the sidewalk, along with greenery and trees and bike paths and pedestrian-scale street lighting – just what we've done in Kendall Yards."
How much would that cost? Stuckart put the cost at north of $4 million.
"Almost 80 percent of the sidewalks along Main are vaulted – meaning the adjacent buildings' basements extend beneath the sidewalks," explained the City Council president. "That creates issues if you're redoing the pavement, the sewer and the water. And you can't plant trees on vaulted sidewalks."
The first block of West Main was reconfigured just last year. Four lanes were reduced to two, with the former middle lanes converted to angle parking, at a cost of around $120,000.
While Stuckart and Sheehan report mostly positive feedback to those changes, Frank dismissed the new configuration as "a train wreck."
"Things in life are a lot simpler than you think," he said. "If you want more cars, you just plan for more cars. And that's what they did – they planned for more cars. If you want more people, you need to plan for more people."
Stuckart is keeping an open mind.
"The diagonal parking was only a pilot project," he said. "Whether we go in a different direction will have to be worked out over the next couple of years."
Once the stakeholders react to the vision study, it will be placed on the City Plan Commission's agenda.
"We're probably a couple of months away from it going before the City Council," Stuckart said.
Local journalism is essential.
Give directly to The Spokesman-Review's Northwest Passages community forums series -- which helps to offset the costs of several reporter and editor positions at the newspaper -- by using the easy options below. Gifts processed in this system are not tax deductible, but are predominately used to help meet the local financial requirements needed to receive national matching-grant funds.
Subscribe now to get breaking news alerts in your email inbox
Get breaking news delivered to your inbox as it happens.
---