Sports > Outdoors
Rediscovering Leavenworth: Seven great hikes around the area
Thu., Aug. 3, 2017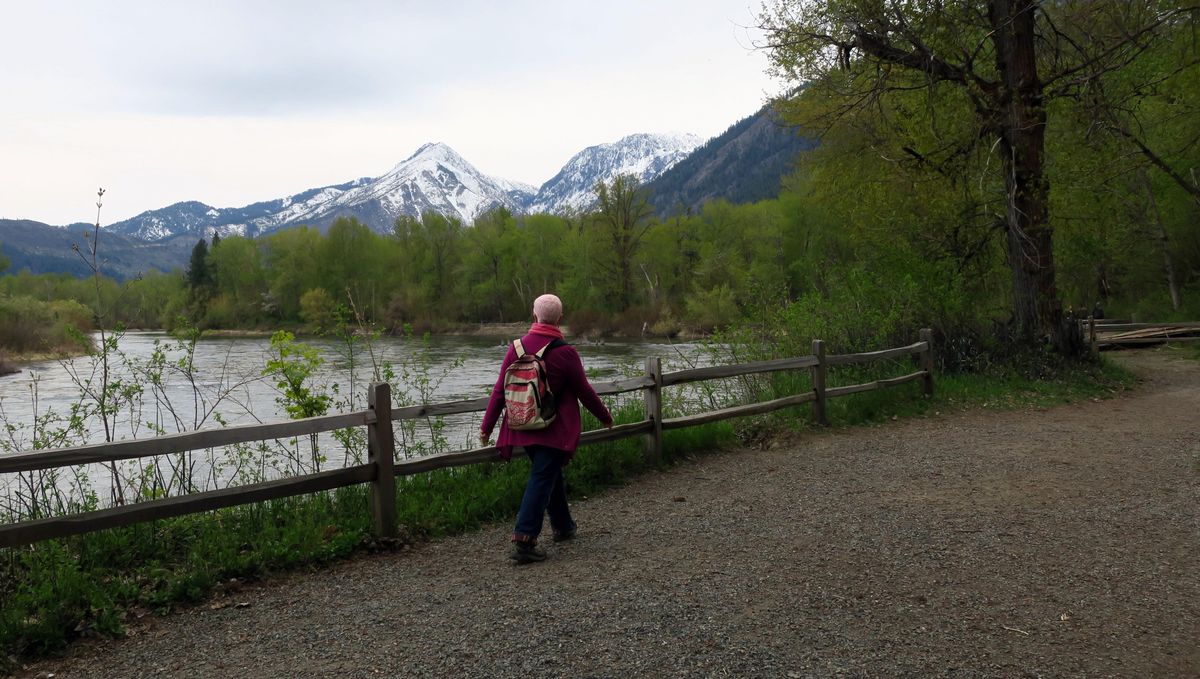 Wedge Mountain overlooks the trail along the riverside on Blackbird Island in Leavenworth. (John Nelson / The Spokesman-Review)
LEAVENWORTH – This might be hottest mountain hangout in Washington state.
With world-class hiking, rock climbing, mountain biking and whitewater accessibility, Leavenworth is being rediscovered as an outdoor recreation Mecca by people who once dismissed it as a kitschy Bavarian-themed roadside attraction.
"Recreation is definitely bringing in a younger crowd of visitors here who want to do things outdoors," says Jessica Stoller of Leavenworth Chamber of Commerce. "It's also bringing in people who want to live here – they're trying to find a way to stay here and make a living."
Hiking is a big part of Leavenworth's popularity.
"We have seen a dramatic spike in visitor use on the Wenatchee River Ranger District over the past four or five years," says Carly Reed, lead wilderness ranger.
Dozens of trails begin near town. And higher up off of Icicle Creek Road, dozens more wend their way up steep hillsides for picturesque views of some of the most iconic peaks in the Cascades.
Before heading out, check on trail conditions at the Wenatchee River Ranger District building in Leavenworth just off U.S. Highway 2, call (509) 548-2550, or go to the agency website.
By far the most popular hikes in the Leavenworth area are into the Enchantment Lakes Basin, Reed says. Of the estimated 75,000 hikers last year in the ranger district, 25,000 went into the Enchantments. The beauty of the high-mountain basin is undeniable, but if you want to avoid crowds consider hiking elsewhere. You'll have plenty of choices.
Here's a look at seven great hikes in the Leavenworth area:
Blackbird Island
Rating: Easy
Distance: 2-mile loop
Elevation gain: 100 feet
What's great about it: You'd think that a hike through a city park would be tame, but this ramble feels remarkably wild. You might even see a bear or three.
Starting in Waterfront Park just off Ninth Street, the hike follows the shoreline along the Wenatchee River, dipping into some dense cottonwood forests. You'll find several viewpoints that take in snow-capped Wedge Mountain looming over the valley. Concrete bridges lead to and from Blackbird Island, and each section of the hike has wide, easy-to-navigate trails with maps that show your route options. Go out one way, return another to make it a loop.
Bears are frequently seen on the Enchantment Park end of the trail, so keep an eye out.
Icicle Ridge
Rating: Moderate
Distance: 4 miles round-trip
Elevation gain: 1,800 feet
What's great about it: This is a relatively quick climb to a lovely viewpoint. Starting 1.4 miles up Icicle Road, switchback up the hillside to a saddle with commanding views of Leavenworth, the surrounding valley and scenic Tumwater Canyon on U.S. 2.
Unlike many alpine hikes to ridgelines in the Cascades, the trail doesn't feel overly steep. The saddle viewpoint above town is a great place for a picnic, and if it's crowded, keep climbing on the trail that eventually goes the length of Icicle Ridge. You're sure to find solitude just a few minutes away.
Snow Lakes
Rating: Difficult
Distance: 13 miles round-trip
Elevation gain: 4,300 feet
What's great about it: This is one of two ways into the fabled Enchantments. The route, while long, climbs moderately most of the way, leading to several high alpine lakes.
Starting from a trailhead 4.3 miles up Icicle Creek Road, immediately cross the rushing creek via a footbridge and begin climbing through a rock garden and pine forest. Within about a mile, you'll enter the Alpine Lakes Wilderness and continue climbing along Snow Creek, with a dramatic, 700-foot rock wall rising behind it. At 5.2 miles, you'll reach Nada Lake, a nice place for a picnic and to turn around. If you want to go higher, Snow Lakes and more of the magical Enchantments Basin are another 1.2 miles up the path.
Fourth of July Creek
Rating: Difficult
Distance: 10.6 miles round-trip
Elevation gain: 4,500 feet
What's great about it: The views are astounding. And if you like a physical challenge, this one is a true grinder.
Starting about 9.5 miles up Icicle Creek Road at 2,300 feet, begin climbing gently through the forest near the namesake creek. The "gentle" part is soon over and within minutes, you'll be slogging up what feels like an endless series of steep switchbacks.
About a mile in, you might want to apologize to your feet for the pain you'll inflict over the next several hours. Why do it? Turn around and look across the valley, where you'll have wonderful views of Cashmere Mountain and the Stuart Range that just get better the higher you go.
This is not a hike to do on a hot day. The south-facing climb bakes and is famously friendly to rattlesnakes. Water is scarce, so carry lots.
Icicle Gorge
Rating: Easy
Distance: 4-mile loop
Elevation gain: 120 feet
What's great about it: You'll be walking along the banks of one of the state's prettiest creeks, with numerous places to stop, picnic and marvel at the alpine beauty.
The trailhead is 17 miles up Icicle Creek Road at 2,600 feet. Hike the trail clockwise, walking downstream first, then cross a footbridge in about 0.5 mile and head up the far bank. Take your time, enjoy the views. On a hot day, this is a great hike – step into the rushing stream and get your tootsies wet for as long as you can handle the frigid temps.
You'll eventually hit the road; cross on the bridge and pick up the trail on the other side back to your car.
Colchuck Lake
Rating: Moderate
Distance: 8.2 miles round-trip
Elevation gain: 2,500 feet
What's great about it: This is the upper entrance into the Enchantments. For not too much work, you'll be transported into a world of polished granite, jagged peaks and turquoise waters. Be ready for crowds – midweek hiking is your best bet to avoid conga lines.
Drive 8.5 miles up Icicle Creek Road to Forest Road 7601 near the Bridge Creek Campground and turn left, continuing to the trailhead about 3.5 miles away.
Starting at elevation 3,400 feet, begin climbing along Mountaineer Creek for 2.5 miles, reaching a signed intersection with the Lake Stuart Trail. Continue toward Colchuck, climbing in and out of forest until reaching the lake at 5,570 feet. Across the lake, Dragontail Peak – with its dramatic craggy face – dominates the setting. Hot after the hike? Go ahead, jump in the impossibly gorgeous water.
Want more? Head around the lake to the right until you reach the steep, rocky path to Aasgard Pass, a 2,000-vertical-foot climb over about 0.75 mile to the Upper Enchantments Basin, where everything is several times grander. Don't attempt this in icy conditions – it's steep and dangerous.
A growing number of people are day-hiking the entire Enchantment Basin from here, doing a car-shuttle to the Snow Lakes basin. It's an epic day hike, only for the fittest: 18 miles from the Colchuck trailhead to the Snow Lakes trailhead.
Lake Edna
Rating: Difficult
Distance: 12.5 miles roundtrip
Elevation gain: 4,500 feet
What's great about it: If you want the high alpine without the Colchuck crowds, this hike gets you there. It takes a bit more work, but the reward is solitude.
Drive to the trailhead 14.5 miles up Icicle Creek Road to the Chatter Creek Trail and climb steadily for 2.5 miles where you'll reach a hanging valley topped by an impressive headwall. Unfortunately, you'll be climbing that very headwall.
At 4.5 miles (groan) you're on top of a 6,800-foot ridge, taking in views of Big Jim and Cashmere mountains. But wait, there's more: Descend the back side of the ridge for a short way, then head up again. At 5.75 miles, you'll hit the Icicle Ridge Trail and continue climbing another half-mile to tiny, scenic Lake Edna in a gorgeous basin at 6,735 feet. You'll likely have it to yourself.
John Nelson is an outdoors writer based in Seattle. Follow his blog at skizer.org.
Local journalism is essential.
Give directly to The Spokesman-Review's Northwest Passages community forums series -- which helps to offset the costs of several reporter and editor positions at the newspaper -- by using the easy options below. Gifts processed in this system are not tax deductible, but are predominately used to help meet the local financial requirements needed to receive national matching-grant funds.
Subscribe to the sports newsletter
Get the day's top sports headlines and breaking news delivered to your inbox by subscribing here.
---