Sports > Outdoors
Hiker kills aggressive mountain goat; efforts increase to educate public to coexist
Sun., Aug. 13, 2017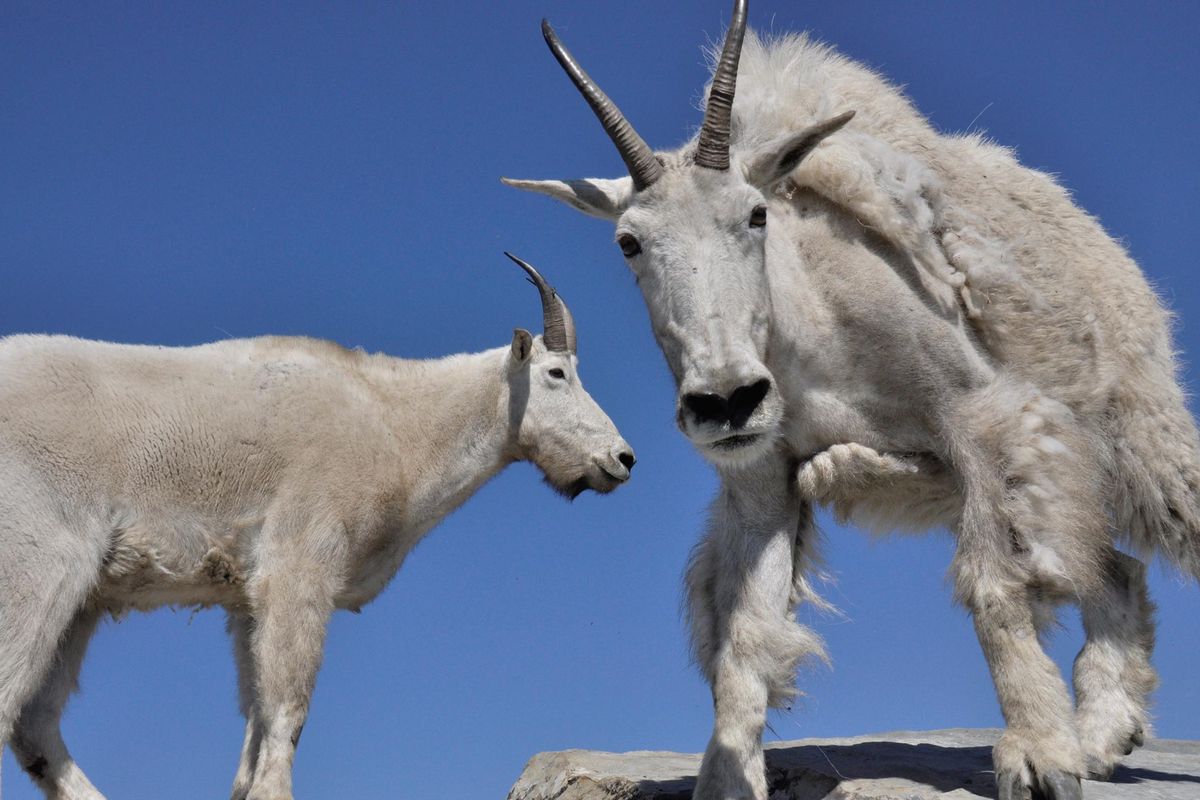 Mountain goats approach hikers on the summit of a Cabinet Mountains Peak apparently looking for food or maybe salty packs or skin to lick. (Rich Landers / The Spokesman-Review)
An aggressive mountain goat was shot and killed by a hiker in the Cabinet Mountains Wilderness last month bringing new concerns about the threats that outdoor recreation poses to the normally docile white ghosts of rocky peaks.
A woman from Lincoln County, Montana, shot the nanny with a .357-caliber handgun on July 19 at the top of a switchback on a narrow, cliffy section of the trail to Leigh Lake.
The 1.5-mile Trail 132 is a popular hike because of its quick access to a spectacular wilderness setting.
The woman reported the incident to Montana Fish, Wildlife and Parks (FWP) game wardens and said the goat had been charging at her and she felt she needed to protect the two children with her on the trail.
Warden Taylor Rockafellow hiked to the scene the next day with a Forest Service employee and removed the goat carcass to reduce the chance of luring grizzly bears into the area, he said.
Neither the Kootenai National Forest nor the state wildlife agency reported the incident to the public, but talked openly about the situation when contacted by The Spokesman-Review this week.
The incident has prompted Forest Service officials to step up efforts to educate the public about recreating among the area's goats and other wildlife.
"We've posted signs at wilderness trailheads with information about avoiding conflicts with mountain goats," Nathan Gassmann, Libby District Ranger, said on Friday.
Wildlife managers have become more concerned about Cabinet Mountains goat populations in the past decade as research gives them more insight, said Tonya Chilton-Radandt, FWP wildlife biologist in Libby.
Roughly 100 mountain goats roam the Cabinet Mountains, a number right at the threshold needed for long-term sustainability, she said.
At her recommendation, the number of mountain goat hunting permits offered this year for the Cabinets was dropped to two from the six that had been offered in recent years.
"We wanted to be on the safe side," she said, noting concerns for the percentage of nannies being taken. "Nannies drive the population…, but the females aren't having their first young until age 4 or 5."
Adult females have high fidelity to the small area where they live, which curbs the chance that they will disperse and populate new areas. Reintroductions in the west Cabinets have not had good results, she said.
Evidence suggests that recreation is having an impact on mountain goats, Chilton-Radandt said. "It's mostly with motorized access, where snowmobiles can come up to the wilderness boundary," she said, noting that most nannies give birth in May and production can suffer from disturbance.
"We're working with the Forest Service to minimize motorized access around the main Cabinets as well as the proposed Scotchman Peaks Wilderness."
She applauded promised increases in efforts on the national forest to educate hikers and other recreationists who encounter wildlife.
"When people and mountain goats come together often, it's not usually good for the goats," she said.
Game wardens investigating the goat shooting at Leigh Lake say they have heard rumors that people have been feeding those goats.
"We don't have proof that people have been feeding goats up there, but a Forest Service trail crew that was up there the previous week saw goats exhibiting that behavior," Rockafellow said. "Goats are pretty easy to habituate."
Mountain goats have few effective predators – save for humans, and the eagles that can knock kids off ledges. "When I'm doing goat surveys, I'm sure to look where I see an eagle circling," Chilton-Radandt said.
"Goats often are salt deficient," Rockafellow said. "If people pee on the trail, they'll come and lick the dirt. They'll lick sweaty skin or chew on sweaty pack straps. They can smell it quite a ways away."
"A lot of rumors have been flying around about the Leigh Lake incident," said Warden Tammy Laverdure, who interviewed the woman who shot the goat. "The sportsmen's community blew up over a goat being killed.
"Just the week before, I'd heard from a man expressing concerned about encountering an aggressive mountain goat at Leigh Lake while hiking with his son."
Similarly, she said, the woman and her kids encountered a goat being aggressive on a narrow section of the trail.
"The hiker said she used her handgun to fire warning shots," Laverdure said. "The goat turned and ran up the trail but came back.
"It's possible the goat was just frantically trying to get past the woman and her two children. The nanny may have had a kid. It had udders, but no milk. I can't say for sure that it had a kid, but it's likely."
The hikers reported they did not see a young goat.
"I'm not blaming the woman in any way," Laverdure said, "although I feel something could have been done differently.
"This woman says she normally carries bear spray, but had forgotten it in her car the previous week and it exploded while the car was parked in the sun. Had she been packing bear spray instead of a gun that day, things might be different."
The difference between a goat trying to get by on the trail and a goat that's aggressively charging might be detected by a trained eye, she said.
"A goat's ears would be pinned back if it were charging," she said. "Apparently that wasn't the case, according to my interview.
"At any rate, a goat was running at them on a very narrow trail and the lady felt for her life and her childrens' safety."
"She said it might have been different if she had been alone," Rockafellow said, "but if she felt threatened for herself or her kids, that's all the law requires."
"After our interview," Laverdure said, "I truly believed the woman. I could see the remorse in her face. I didn't cite her. It wouldn't hold up in court if I did."
Wildlife interactions are not limited to goats, said Gassmann, the Libby District ranger.
"We've given a lot of attention to preventing problems with grizzly bears and we have a lot of black bears and moose – a myriad of wildlife," he said. "Our goal is to heighten awareness of being around these animals.
"This incident is causing us to step back and remind people that there's more to be aware of out there than grizzlies."
The Kootenai National Forest may model some efforts to educate hikers on what's happening in the Scotchman Peak area, including signage and volunteer ambassadors who hike and contact people on trails frequented by goats.
But even the Scotchman effort is not a total success. Trail 65, a 4.5-mile route to the summit, was closed two years ago after at least two hikers were injured by aggressive goats.
The Friends of the Scotchman Peaks wilderness posted educational signs and set up the ambassador program, but last month hikers were still posting photos on social media of mountain goats licking sweat off their legs.
The high popularity of the Scotchman Peak trail make it ripe for problems, Gassmann said. "Here in the Cabinets we have the advantage of having fewer people. But as visitation increases, so will the problems with the goats unless people are educated.
"We'll be encouraging people to use bear spray and other nonlethal actions and methods to deal with aggressive wildlife."
Local journalism is essential.
Give directly to The Spokesman-Review's Northwest Passages community forums series -- which helps to offset the costs of several reporter and editor positions at the newspaper -- by using the easy options below. Gifts processed in this system are not tax deductible, but are predominately used to help meet the local financial requirements needed to receive national matching-grant funds.
Subscribe to the sports newsletter
Get the day's top sports headlines and breaking news delivered to your inbox by subscribing here.
---