Sports > Outdoors
Groups make last-minute push to save national monument areas
Thu., Aug. 24, 2017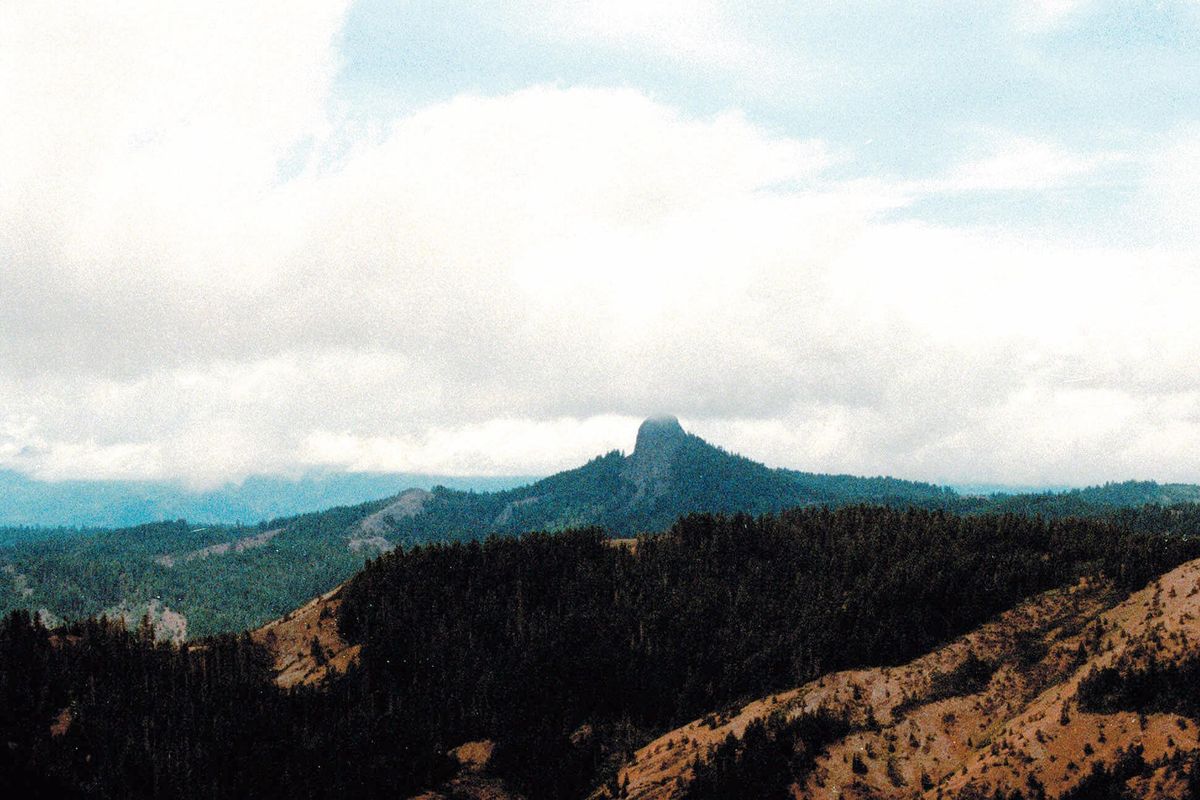 In this July 6, 2000, file photo, Pilot Rock rises into the clouds in the Cascade-Siskiyou National Monument near Lincoln, Ore. U.S. Secretary of Interior Ryan Zinke will be visiting the Cascade-Siskiyou National Monument in Oregon this weekend as part of the review ordered by President Donald Trump of 27 national monuments established by three former presidents. (Jeff Barnard / Associated Press)
Conservation groups are airing TV ads, planning rallies and creating parody websites in a last-minute blitz to stop Interior Secretary Ryan Zinke from downsizing or eliminating national monument areas that cover large swaths of land and water from Maine to California.
The deadline for Zinke to announce his recommendations is today following a four-month review of 27 sites ordered by President Donald Trump.
The outdoor recreation industry has hammered home its message that peeling back protections on areas where its customers hike, bike and camp could prevent future generations from enjoying the sites.
In addition, the Wilderness Society has created a parody website featuring Trump and Zinke selling luxury real estate at the sites.
Groups that want to see the areas reduced have been less vociferous, pleading their cases on social media and working behind the scenes to lobby federal officials.
They say past presidents have misused a century-old law to create monuments that are too large and stop energy development, grazing, mining and other uses.
Stan Summers, a Utah county commissioner who chairs a group that advocates for multi-use of public lands, said outdoor recreation companies are peddling lies and misconceptions when they say local officials want to bulldoze monument lands.
Summers said residents treasure the lands that comprise Bears Ears and the Grand Staircase-Escalante monuments in Utah, but don't want to close the areas to new oil drilling and mining that produce good jobs.
"We want to tend this area like a garden instead of a museum," he said
The review includes sweeping sites mostly in the West that are home to ancient cliff dwellings, towering sequoia trees, deep canyons or ocean habitats roamed by seals, whales and sea turtles.
Zinke has already removed six areas in Montana, Colorado, Idaho and Washington from consideration for changes. He also said Bears Ears on tribal land in Utah should be downsized.
Environmental groups said the 1906 Antiquities Act is intended to shield significant historical and archaeological sites, and that it allows presidents to create the monuments but only gives Congress the power to modify them.
They have vowed to file lawsuits if Trump attempts to rescind or reduce the monument designations.
No other president has tried to eliminate a monument, but they have trimmed and redrawn boundaries 18 times, according to the National Park Service.
REI and Patagonia have joined a group of 350 outdoor companies, including The North Face, YETI Coolers and Orvis, in signing a letter sent last week to Zinke by the Outdoor Industry Association.
"It's an American right to roam in our public lands," the letter reads. "As business leaders, we simply ask that your final report remain true to the Teddy Roosevelt values we share with you – to maintain the national treasures presidents of both parties have protected."
Patagonia recently ran a TV ad in Montana and Utah with company founder Yvon Chouinard fishing and declaring, "Our business is built on having wild places" and warning that public lands are under the greatest threat ever.
Led by U.S. Sen. Martin Heinrich (D, New Mexico), monument supporters plan a rally today at an REI store in Albuquerque.
The Wilderness Society website also features a photo of ancient ruins at Bears Ears National Monument in Utah and the words, "Developer ready." Each monument was given a fictional price tag, such as $932 million for Organ Mountains-Desert Peaks National Monument in New Mexico.
In a description of Katahdin Woods and Waters National Monument in Maine, the website says: "This is the chance for someone to claim a little piece of that offbeat New England charm for themselves and leave hikers, birdwatchers, snowshoers and hunters on the outside, looking in!"
Proponents of downsizing the monuments say state governments are better suited to make management decisions that would ensure federal lands are used for a mix of uses.
"The only reason there is roads in some of these places is because of the mining and the oil and the gravel pits," Summers said.
Local journalism is essential.
Give directly to The Spokesman-Review's Northwest Passages community forums series -- which helps to offset the costs of several reporter and editor positions at the newspaper -- by using the easy options below. Gifts processed in this system are not tax deductible, but are predominately used to help meet the local financial requirements needed to receive national matching-grant funds.
Subscribe to the sports newsletter
Get the day's top sports headlines and breaking news delivered to your inbox by subscribing here.
---