News > Spokane
Then and Now: University District
Mon., Dec. 4, 2017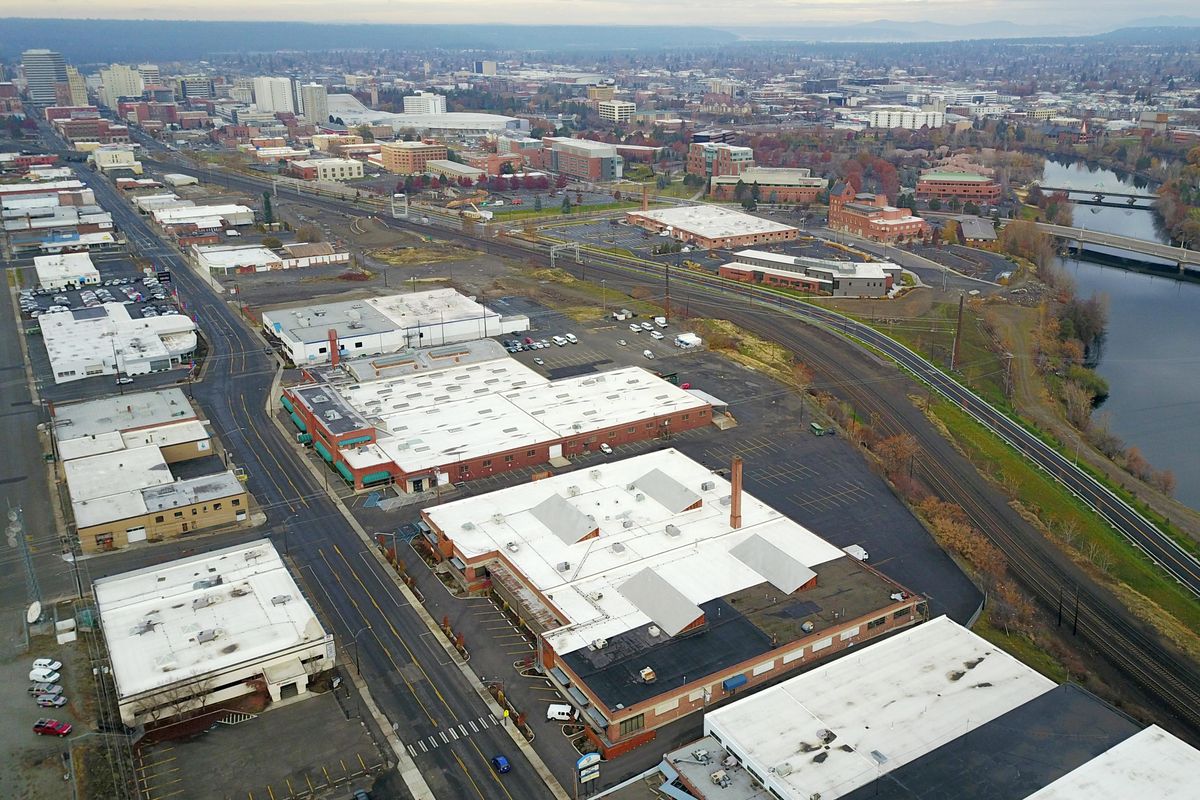 Looking northwest from the 800 block of East Sprague Avenue, the foreground is filled with warehouses, situated near the railroads that once crisscrossed the area, but the new buildings of the University District are seen just above, housing Washington State University's Health Sciences campus and Eastern Washington classrooms. (Jesse Tinsley / The Spokesman-Review)
Spokane's University District encompasses all or part of five universities, two community colleges and two medical schools on the east end of downtown Spokane. According to the www.spokaneudistrict.org, stakeholders visualize the area bounded by Division Street, Sprague Avenue, the Spokane River and Gonzaga University as an innovation lab, a regional health science center and a test bed for urban growth ideas and design.
What does that mean, exactly? Until Expo '74, it was a maze of railroad tracks and warehouses. Today it is being transformed into a combination of modern college campus, scientific business incubator and urban living community. Planners hope to parlay a new pedestrian bridge over the tracks into a revitalized East Sprague Avenue.
But for Spokane's first century, the district was crisscrossed by three sets of tracks: the Great Northern, the Milwaukee Road and the Northern Pacific. Each company had many sets of side-by-side tracks for storing and the switching of cargo and passenger cars.
The area was dotted with warehouses for Safeway, Sears and Roebuck, Montgomery Wards, Piggly Wiggly grocery stores and many others. The old Schade Brewery, which sat idle through Prohibition but went back into use immediately after, sat between the Great Northern corridor and the Milwaukee Road.
In 1910, the Milwaukee Road wanted to put tracks through Bernhard Schade's 1903 brewery, but the proud German beer maker demanded $1 million. Not willing to pay Schade, the rail company tunneled underneath part of the brewery and Trent Avenue for a short distance to connect to the new Union Depot, which was completed in 1914. The east end of the tunnel can be seen in the photo above, near the river's edge at right.
Redevelopment took a step forward in the early 1970s when the railroads consolidated traffic on the central downtown viaduct to make way for Expo '74. But it still took several years for the metamorphoses to begin.
In the 1980s, Eastern Washington University began offering classes downtown. Area universities cooperated on the Spokane Intercollegiate Research and Technology Institute (SIRTI), a research facility that kickstarted the new campus in the early 1990s.
Local journalism is essential.
Give directly to The Spokesman-Review's Northwest Passages community forums series -- which helps to offset the costs of several reporter and editor positions at the newspaper -- by using the easy options below. Gifts processed in this system are not tax deductible, but are predominately used to help meet the local financial requirements needed to receive national matching-grant funds.
Subscribe now to get breaking news alerts in your email inbox
Get breaking news delivered to your inbox as it happens.
---