News > Spokane
Craft brewers: on the rise
UPDATED: Mon., Dec. 11, 2017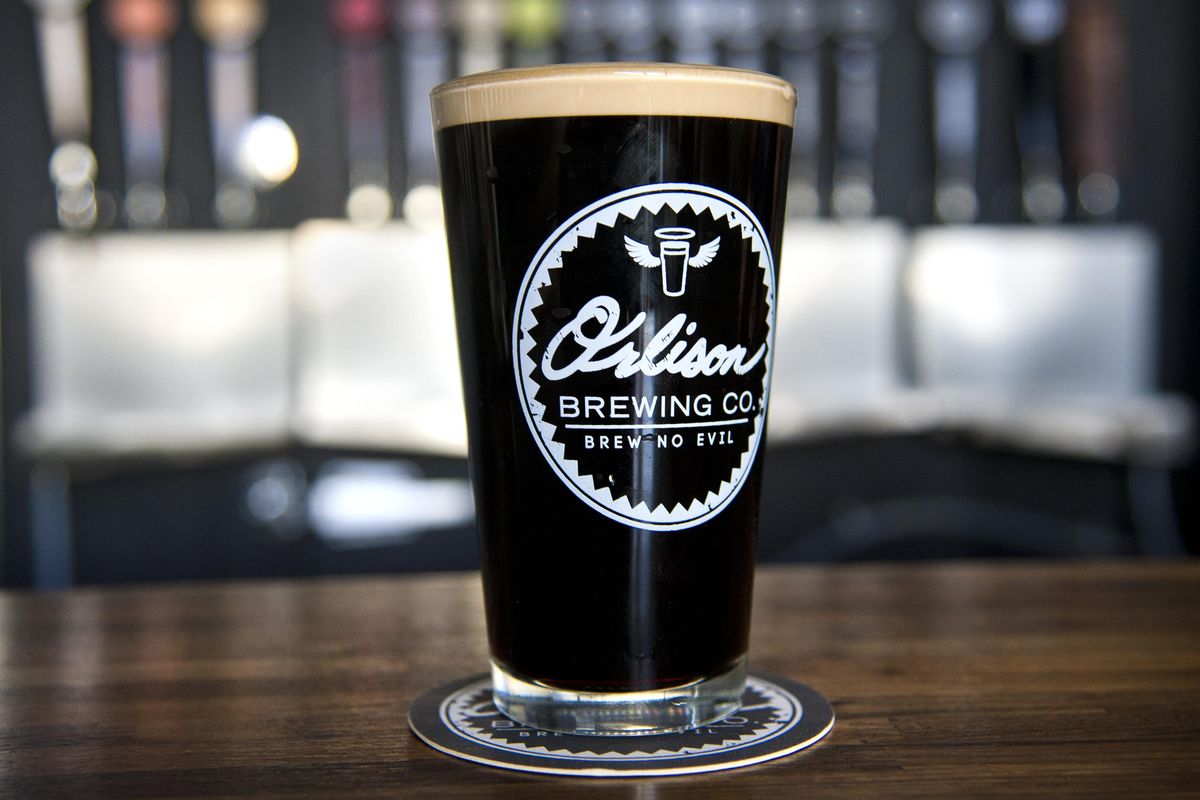 Orlison Brewing Co., has just opened a downtown taproom featuring 14 craft lagers. This is the nitro Underground American style stout lager. 8/20/2015 DAN PELLE danp@spokesman.com (Dan Pelle / The Spokesman-Review)
The number of breweries in Spokane and Kootenai counties has exploded from five in 2010 to more than 30 today, and it can be hard to keep them all straight. Here's a look at the leading local breweries, taking into account both beer quality and overall taproom experience (based on our personal observations along with Facebook follows and online beer ratings by Untappd users).
No-Li Brewhouse
Spokane's biggest brewery was born from the former Northern Lights (founded in 1993), taking a new name and direction in 2012 under the guidance of Northwest craft beer veteran John Bryant. Its bottled and canned beers are widely available; barrel-aged, flavor-infused and other specialties also pour at the lodge-style brewpub, which features a full-service food menu and expansive riverfront patio. 1003 E. Trent Ave., (509) 242-2739. www.nolibrewhouse.com.
Iron Goat Brewing
Over five-plus years, the Goat has gone from a modest operation in an obscure industrial neighborhood to a bustling taproom in a historic downtown Spokane building, distributing draft and bottled beers across Washington and North Idaho. Core styles are supplemented by taproom specialties and sours (some barrel-aged); there's also a small but sophisticated food menu, packed Thursday trivia nights and frequent live music. 1302 W. Second Ave., (509) 474-0722. www.irongoatbrewing.com.
Perry Street Brewing
Former Big Sky brewer Ben Lukes moved from Montana to open his own stylish spot in the heart of the hip South Perry District. Along with well-crafted renditions of classic styles, his experiments have included a session India pale lager that won gold at last year's Great American Beer Festival and an ongoing series of hazy New England-inspired IPAs. A small kitchen turns out a creative menu of seasonally rotating fare. 1025 S. Perry St., (509) 279-2820. www.perrystreetbrewing.com.
Twelve String Brewing
This guitar-themed Spokane Valley brewery has earned a reputation for its adventurous IPAs and numerous offerings aged in whiskey, wine, tequila and rum barrels, which regularly appear among the 18 taps (plus a beer engine for British-style cask-conditioned ales). Twelve String, which bottles several beers, is preparing to move to a larger space nearby on Pines Road south of Interstate 90 and add food service. 11616 E. Montgomery Drive, (509) 241-3697. www.12stringbrewingco.com.
River City Brewing
After losing their lease in Idaho, owners of the former Coeur d'Alene Brewing moved operations to the west end of downtown Spokane five years ago. River City is closing its taproom at year's end to focus on distribution to bars and restaurants; plans call for revamping the core lineup and beginning to bottle some of those beers, along with introducing new limited releases.
Daft Badger Brewing
The name may sound British, but it's a "honey badger don't care" vibe at this popular brewpub nestled in a neighborhood setting in Coeur d'Alene's Midtown (with heated outdoor seating). Menu items take full advantage of an in-house smoker, including bacon candied with a huckleberry/chipotle/stout glaze. Beers run to the bigger side, with a Blood Orange IPA among the crowd favorites. 1710 N. Second St., Coeur d'Alene, (208) 665-9892. www.daftbadgerbrewing.com.
Orlison Brewing
Orlison launched as a lager-only, distribution-focused brewery in Airway Heights in 2009 but has since broadened its appeal by shifting toward ales and opening a downtown Spokane taproom. The regular lineup, much of it available in bottles and cans, includes Boulder Garden Brown, a gold medal winner at this year's Great American Beer Festival. The taproom also offers rotating small-batch specialties. 1017 W. First Ave., (509) 624-3014. www.orlisonbrewing.com.
Selkirk Abbey Brewing
The Post Falls brewery began with a lineup of Belgian-inspired beers both traditional (saisons and stronger dubbels, tripels and quads) and more Americanized (Huckleberry Wit, Infidel IPA, Guilt imperial coffee porter). Those have been joined by a Northwest-style Northern Cross line, all served in a welcoming abbey-themed taproom (with several of the Belgians also bottled). 6180 E. Seltice Way, Post Falls, (208) 292-4901. www.selkirkabbey.com.
Big Barn Brewing
The beers (many of them bottled) are indeed brewed in a large barn on this Green Bluff farm. That's also where they're served over the winter, when the action (including live music) moves from the smaller, uninsulated taphouse that operates over the summer. Big Barn uses homegrown and other Bluff produce in seasonal selections like its Apricot Wit and Raspberry Braggot and grows its own hops. 16004 N. Applewood Lane, Mead, (509) 710-2961. www.bigbarnbrewing.com.
Post Falls Brewing
Perched on a hilltop overlooking the Spokane River, the retro-industrial taproom serves solid beers accompanied by a steady lineup of food trucks and live music. The tap list leans to IPAs, such as the signature Stoney MacGuyver and hazy Fat Lenny; on the milder side, look for the easy-drinking Cheap Prick kolsch and a full line of ciders from Coeur d'Alene's Summit. 112 N. Spokane St., Post Falls, (208) 773-7301. postfallsbrewing.com.
Whistle Punk Brewing
This father-son operation, themed after the family's logging history, pours beers brewed on a home-based system in Newman Lake in a sunken, brick-walled downtown taproom off Railroad Alley. The constantly changing tap list regularly features various lagers, saisons and IPAs (including the hazy house Coast to Coast) along with the mainstay Espresso Milk Stout. 122 S. Monroe St., (509) 315-4465. www.whistlepunkbrewing.com.
Waddell's Brewing
Named after eccentric turn-of-the-century baseball pitcher Rube Waddell, this Five Mile brewpub serves a full food menu along with an array of house beers. There's typically a couple of fruited kettle sours on the extensive tap list, which runs from the likes of Spo-Lite (an attempt to one-up domestic light lagers) to Imperial Alligator Oatmeal Stout (look for the barrel-aged version). 6501 N. Cedar Road, (509) 321-7818. Waddellsbrewery.com.
Black Label Brewing
This brewery on downtown's trendy East Main strip shares space in the Saranac Commons retail complex with a bakery and a biscuit sandwich shop, providing some tasty pairings for the dozen-plus beers on tap. While it initially focused on more sessionable offerings, Black Label has branched out into bigger beers like its Atrocity imperial IPA and seasonal Gingerbread Winter Warmer. 19 W. Main Ave., (509) 822-7436. www.blacklabelbrewing.com.
Bellwether Brewing
It just celebrated its second anniversary, but Bellwether already is steeped in history. It specializes in Old World styles like gruits (brewed with herbs), braggots (with honey) and the strong, sour Albion heather ale, along with more modern, familiar offerings. It also spotlights ancient barley varieties, locally grown and malted, which have been featured in several of a steady series of special events. 2019 N. Monroe St., (509) 328-0428. www.bellwetherbrewing.net.
Little Spokane Brewing/TT's Old Iron Brewery/Young Buck Brewing
These three beginning breweries share an incubator system in the growing downtown brewery district. Beers are served in the adjacent Steel Barrel taproom along with several guest handles (and food from neighboring Zona Blanca ceviche bar). Young Buck specializes in sours (some barrel-aged) and IPAs, Little Spokane turns out creative interpretations of standard styles and the classic car-themed TT's shows its fondness for rye in the flagship Ruckstell IPA and smoked Stovebolt Stout. 154 S. Madison St., (509) 315-9879. www.facebook.com/thesteelbarrel.
Local journalism is essential.
Give directly to The Spokesman-Review's Northwest Passages community forums series -- which helps to offset the costs of several reporter and editor positions at the newspaper -- by using the easy options below. Gifts processed in this system are not tax deductible, but are predominately used to help meet the local financial requirements needed to receive national matching-grant funds.
Subscribe now to get breaking news alerts in your email inbox
Get breaking news delivered to your inbox as it happens.
---