Sports > Gonzaga basketball
Josh Perkins, Zach Norvell Jr. come to life late as No. 12 Gonzaga avoids North Dakota's upset bid with 89-83 OT win
Dec. 16, 2017 Updated Sat., Dec. 16, 2017 at 8:22 p.m.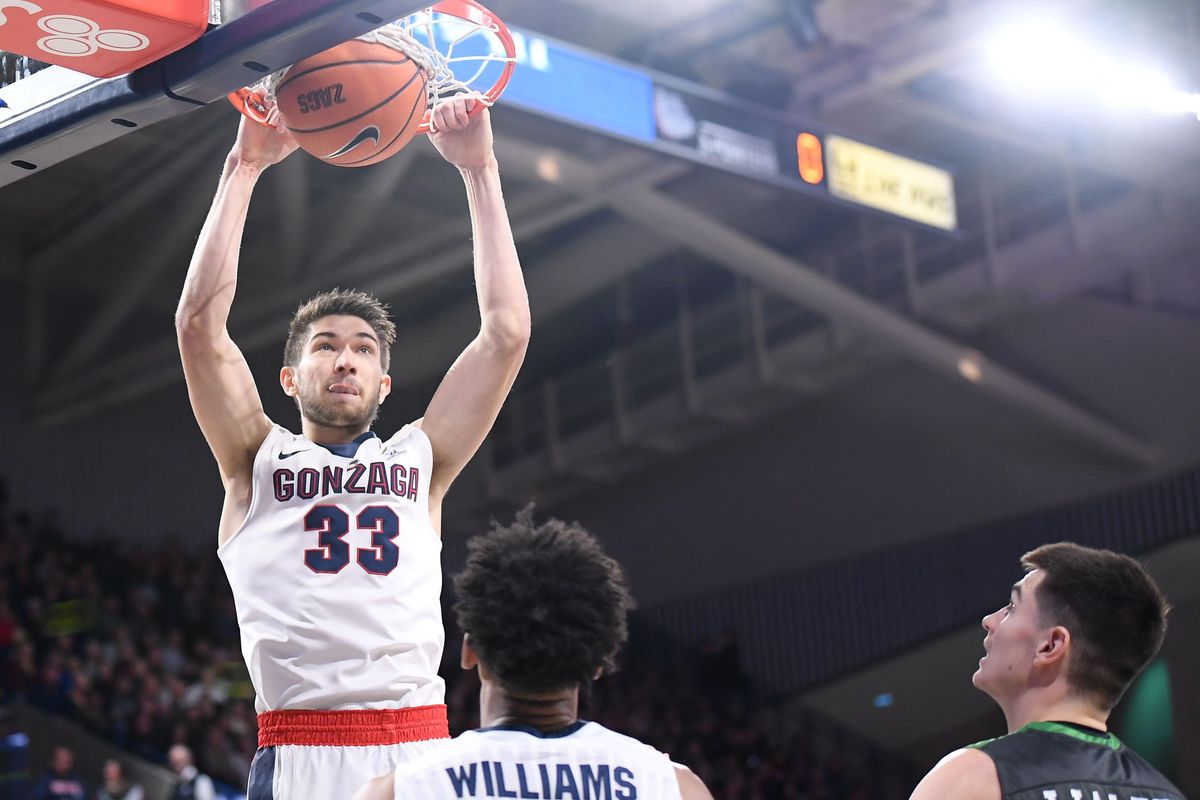 Gonzaga Bulldogs forward Killian Tillie (33) dunks the ball against North Dakota during the first half of a college basketball game on Saturday, December 16, 2017, at McCarthey Athletic Center in Spokane, Wash. (Tyler Tjomsland / The Spokesman-Review)
Josh Perkins scored 20 points and Gonzaga went on a 11-0 run to start the overtime period, avoiding North Dakota's upset bid with a 89-83 victory Saturday at the McCarthey Athletic Center.
After having no players hit double figures in scoring for most of regulation, all five Gonzaga starters finished with at least 10 points. Zach Norvell Jr. added 19 for the Bulldogs (9-2), while also pulling down seven free throws.
Gonzaga came out of the gate slowly against the defending Big Sky champion Fighting Hawks (4-7), struggling to hit shots from anywhere on the court, turning the ball over and not getting to the foul line.
Down by 12 midway through the second half, the Bulldogs broke off a 13-0 run to take the lead, before North Dakota answered back with a run of its own to put the Zags back behind.
After rallying in the final minutes to take a three-point lead, Gonzaga's Johnathan Williams missed the back end of a pair of free throws. North Dakota's Geno Crandall made the Bulldogs' big man pay at the other end with a 3-pointer to send the game to overtime.
Crandall led all players with 28 points, while teammate Cortez Seales added 23 on 11 of 15 shooting.
Gonzaga will host IUPUI at 6 p.m. Monday (KHQ) before traveling to San Diego State on Thursday.
Overtime
Final – Gonzaga 89, North Dakota 83: Bulldogs start quick in overtime, make free throws down the stretch to overcome mostly-sloppy play and defeat North Dakota.
0:27 – Gonzaga 84, North Dakota 77: North Dakota hitting a couple shots, but this one will likely come down to Gonzaga converting from the line and North Dakota hitting some desperation 3-pointers. Two big makes from Silas Melson at the line for Gonzaga.
3:23 – Gonzaga 76, North Dakota 69: Bulldogs score on their first three possessions – including a deep Norvell 3-pointer – to come out of the gates hot in the extra period.
Second half
End of regulation – Gonzaga 69, North Dakota 69: Johnathan Williams makes one of two free throws to leave the door open for North Dakota, and the Fighting Hawks don't skip a beat.
A Geno Crandall 3-pointer with two seconds remaining ties the game and sends us to overtime. Second time this season (Florida) that missed free throws from Gonzaga has extended a game.
1:33 – Gonzaga 66, North Dakota 64: Ball bouncing Gonzaga's way since the final media timeout. A North Dakota missed 3-pointer is followed by a nice inside move from Williams to put the Bulldogs back on top.
2:00 – North Dakota 64, Gonzaga 64: Gonzaga makes the switch to the full-court press ad gets two quick turnovers as Perkins hits a 3-pointer on the second one to tie the game.
Huge minute there for the Bulldogs.
3:31 – North Dakota 64, Gonzaga 59: North Dakota showing no signs of slowing as Gonzaga is still looking for a spark to pull this one out.
A huge 3-pointer from Norvell helps get things moving back in Gonzaga's direction as Few takes a timeout. Norvell now at 10 points, while Perkins leads the team with 12 points.
Seales still leading all players with 20 points for the Fighting Hawks.
6:39 – North Dakota 57, Gonzaga 53: Gonzaga cooling down on offense after that 13-0 run.
Josh Perkins having an off night for the Zags, who are still shooting under 40 percent, while ND is above 50 percent.
Gonzaga up to 14 turnovers, while outrebounding the Fighting Hawks 31-22 – including 12 offensive boards.
Another tough break here for the Zags as Johnathan Williams is called for a flagrant foul after elbowing ND's Conner Avants. A huge 3-pointer going into the media break from Josh Perkins stops the bleeding for the Bulldogs.
11:48 – Gonzaga 46, North Dakota 45: Fighting Hawks had the lead to as many as 12, have exploded on offense and buckled down on defense to take back the lead for the first time since early in the first half.
Rui Hachimura up to eight points off the bench for the Bulldogs, while Tillie is up to six after returning from the bench after being injured.
Williams leads all Gonzaga players with nine points, but has also turned the ball over five times.
15:07 – North Dakota 45, Gonzaga 38: Much of the same early in the second half for the Bulldogs, while North Dakota continues to get good looks on offense.
Three North Dakota players now into double figures with Seales (14), Dale Jones (11) and Marlon Stewart (10) the top scorers in the game.
Tillie also forced to the bench for Gonzaga after being injured on an offensive foul.
First half
Halftime – North Dakota 34, Gonzaga 30: Eye-opening first 20 minutes to say the least for Gonzaga. Turnovers, poor shooting and inability to get to the line have hurt the Bulldogs against a hungry North Dakota team.
Despite playing a less-than-stellar half, Gonzaga is still right in the mix with the Fighting Hawks. Tillie and Williams lead Gonzaga with six points apiece, while Seales leads all players with 14 for North Dakota.
Gonzaga finishes the half with 11 turnovers and a 41 shooting percentage. The Bulldogs also did not have a free throw attempt.
3:29 – North Dakota 26, Gonzaga 24: Most of the scoring for Gonzaga going through Tillie and Williams at the moment.
Back-to-back turnovers by Norvell are followed up by his first 3-pointer of the game – only the second make from deep so far for the Bulldogs.
A bigger concern for the Bulldogs is the lack of getting to the free throw line. Gonzaga has yet yet to have a FT attempt.
Gonzaga has also turned the ball over 10 times compared to North Dakota's seven.
7:54 – North Dakota 18, Gonzaga 15: Gonzaga going a nice job on the boards and forcing turnovers, it just can't get a shot to fall.
Plenty of bench action so far from the Zags, as coach Mark Few has already played nine players looking for the right combination.
Seales the first player into double figures at 10 points. Gonzaga still led by Tillie's four points.
11:15 – North Dakota 14, Gonzaga 13: Bulldogs starting to hit some shots after an ice-cold start to the game.
Gonzaga still shooting under 40 percent from the field, while North Dakota is hitting at a 50 percent clip.
ND's Cortez Seales leads all players with eight points on 4 of 5 shooting.
15:32 – Gonzaga 6, North Dakota 5: Sloppy in the early going for both North Dakota and Gonzaga as the two teams have combined for six turnovers.
Bulldogs doing a great job in the man defense though, forcing the Hawks into some awkward looks on offense.
Zach Norvell Jr. gets his fourth straight start, but is quickly pulled for Corey Kispert after missing his first two shots.
Killian Tillie leads Gonzaga with four points.
Gonzaga announces starting five
Local journalism is essential.
Give directly to The Spokesman-Review's Northwest Passages community forums series -- which helps to offset the costs of several reporter and editor positions at the newspaper -- by using the easy options below. Gifts processed in this system are not tax deductible, but are predominately used to help meet the local financial requirements needed to receive national matching-grant funds.
Follow along with the Zags
Subscribe to our Gonzaga Basketball newsletter to stay up with the latest news.
---