Sports > National sports
John Feinstein: Dick Enberg lit up the world by being willing to make others the stars
UPDATED: Fri., Dec. 22, 2017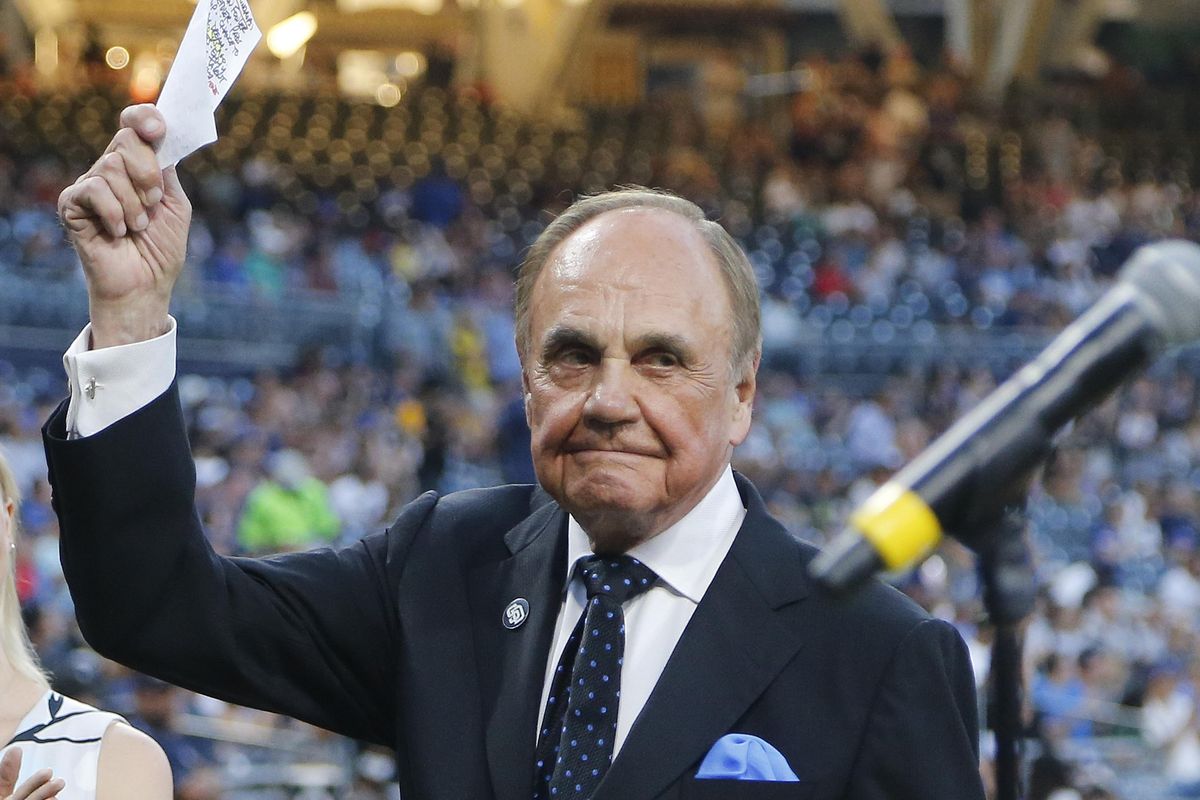 In this Sept. 29, 2016, file photo, San Diego Padres broadcaster Dick Enberg waves to crowd at a retirement ceremony prior to the Padres' final home baseball game of the season (Lenny Ignelzi / Associated Press)
On a late February Sunday afternoon in 1989, Duke and Arizona played a basketball game in the New Jersey Meadowlands that was telecast on NBC.
Dick Enberg and Al McGuire worked the game. It was their 12th season together, and they had become close friends. After the game, they went into New York to have dinner at Smith and Wollensky, the great East Side steak house.
I tagged along, knowing the food would be excellent and the stories and good wine would flow into the night.
It was late when Enberg began telling the story about how he had met his wife Barbara and how she had transformed his life at a time when, as he put it, "I doubted whether I could fall in love again."
Al and I listened, and after a few minutes, we noticed something: Dick was crying. He didn't stop talking, just kept on: still crying, saying again and again how grateful he was that, somehow, she had found enough good in him to marry him.
I'm guessing, but I'm willing to bet when Dick Enberg died Thursday at the age of 82, Barbara Enberg was still finding plenty of good in her husband of 34 years.
More than anything else, that genuine goodness may explain the magic Enberg brought to a telecast.
Oh sure, he was the consummate television pro: His preparation was meticulous; his understanding of every sport he ever took on always had depth. Even when NBC asked him to add golf, a sport he really wasn't that familiar with, he made it sound like he was born to sit in an 18th hole tower.
That's why it's no surprise that when word of Enberg's death began to spread on Friday morning, Pinehurst Resort, sent out a tweet that included Enberg's call of Payne Stewart's historic putt to win the 1999 U.S. Open.
"We're saddened to hear of the passing of the great Dick Enberg, who had the classic call of what is perhaps Pinehurst's finest moment," the tweet read. "#OhMy."
Enberg didn't bring out his signature line for first-down catches in the second quarter or for a break of serve in the first set. He saved it for the right time. When Enberg said "Oh My," you knew something special had just happened.
Enberg knew a moment when he saw it and made it his own without ever becoming hysterical. No one was better at calling attention to the event and at making his partners better, whether that partner was McGuire or Billy Packer or Merlin Olsen or Bud Collins or Johnny Miller or the slew of color commentators Enberg worked with through the years whether on basketball, football, tennis, baseball or golf.
The first time I met him was at the 1968 Holiday Festival in New York. He was UCLA's play-by-play man, and I was a kid who loved collecting autographs. During the second game of the championship-night tripleheader, the UCLA players sat in the stands, watching the third-place game, and I worked my way among them getting their signatures, including the one I wanted most: Lew Alcindor.
One of the players, Sidney Wicks, nodded at Enberg as he signed for me (his signature, I remember, was huge) and said, "You need him: Mr. Enberg. He's our announcer." I walked over and asked Enberg to sign my book.
He gave me that smile that always lit up his face and said, "Who told you to ask me? Sidney?"
Then, as he signed, he leaned over and said, "Did you get Lew? If not, I can help you out."
I had Lew, but it was quite an offer from a stranger to a 12-year-old boy.
For years, I thought of Enberg as "the voice of the Rams and the Angels," because that's the way he was introduced during the nine years he hosted, "Sports Challenge," a quiz show with star athletes trying to answer trivia questions. Then he became far more than that when he went to work full time for NBC doing the NFL, tennis and college basketball.
I was lucky enough to be covering national college basketball games for The Post during the magical three-year reign of Enberg, McGuire and Packer as the voices of the game. Almost every Saturday night, at the site of NBC's weekly national telecast, I would sit in a hotel bar and listen to the three argue and tell stories. Even then, Enberg was always the traffic cop between McGuire and Packer.
I often did the same thing while traveling in Europe with Enberg and Collins, who were closer-than-close. In 1990, when Bud's wife Mary Lou died of cancer, the first person to fly east to be with Bud and help him through the funeral was Enberg.
"I'm not sure I could have made it without Dick," Bud said later.
Because he was so good for so long in so may sports, people often lost track of Enberg's accomplishments. He did Super Bowls, Olympics, Final Fours, World Series, major tennis and golf tournaments. He did essays and commentaries in his later years and wrote a one-man show based on his experiences with McGuire – called "Coach" – that is still staged frequently around the country.
He and Collins essentially invented "Breakfast at Wimbledon" in 1979, when the notion of televising a major sporting event at 9 a.m. on a Saturday was considered a huge risk.
Dick loved to tell the story about Bud "saving" the first "Breakfast," the men's final between Bjorn Borg and Roscoe Tanner.
"We were coming on the air at 9 – 2 o'clock in London," Enberg recalled. "Wimbledon tradition was that the match was to start at 2 p.m. precisely, meaning the players were to walk on court at 1:52. We wanted to open the telecast with the players walking on court live and taking their bows to the Royal Box.
"Wimbledon waits for no man. Bud went and found Donald Dell, who was his pal and Tanner's agent. He told Donald to stall somehow. Well, a minute before they were supposed to go on, Roscoe suddenly had to go to the bathroom. It took a while. The players walked on at – you guessed it – 2 p.m. precisely, just as we came on-air."
Enberg's eyes sparkled whenever he told that story. He loved to tell stories about how good his partners were. Enberg was never the hero of an Enberg story.
It has always been my belief that, as many awards and honors as he received, Enberg never got his full due – in part because of his willingness to let his analysts be the stars.
When he retired from calling San Diego Padres games in 2016, his exit went almost un-noticed in most places because he chose to leave on the same day that Vin Scully did his last broadcast for the Dodgers.
The broadcasting and print awards given out by the Naismith Basketball Hall of Fame are named for Curt Gowdy. Enberg was a winner of the Gowdy Award. It should have been the other way around.
The College Sports Information Directors of America have an award named for Enberg, but somehow it feels as if there should be something more – something that combines his work in all sports. Perhaps it should go to someone who combines doing consistently superb work with being a better person than he is a broadcaster.
The plaque should read: "In honor of Dick Enberg, a great broadcaster; a better man – who spent a lifetime making someone else the star."
Local journalism is essential.
Give directly to The Spokesman-Review's Northwest Passages community forums series -- which helps to offset the costs of several reporter and editor positions at the newspaper -- by using the easy options below. Gifts processed in this system are not tax deductible, but are predominately used to help meet the local financial requirements needed to receive national matching-grant funds.
Subscribe to the sports newsletter
Get the day's top sports headlines and breaking news delivered to your inbox by subscribing here.
---