News > Spokane
New apartment building will take place of three old homes in historic South Hill neighborhood
UPDATED: Tue., Dec. 26, 2017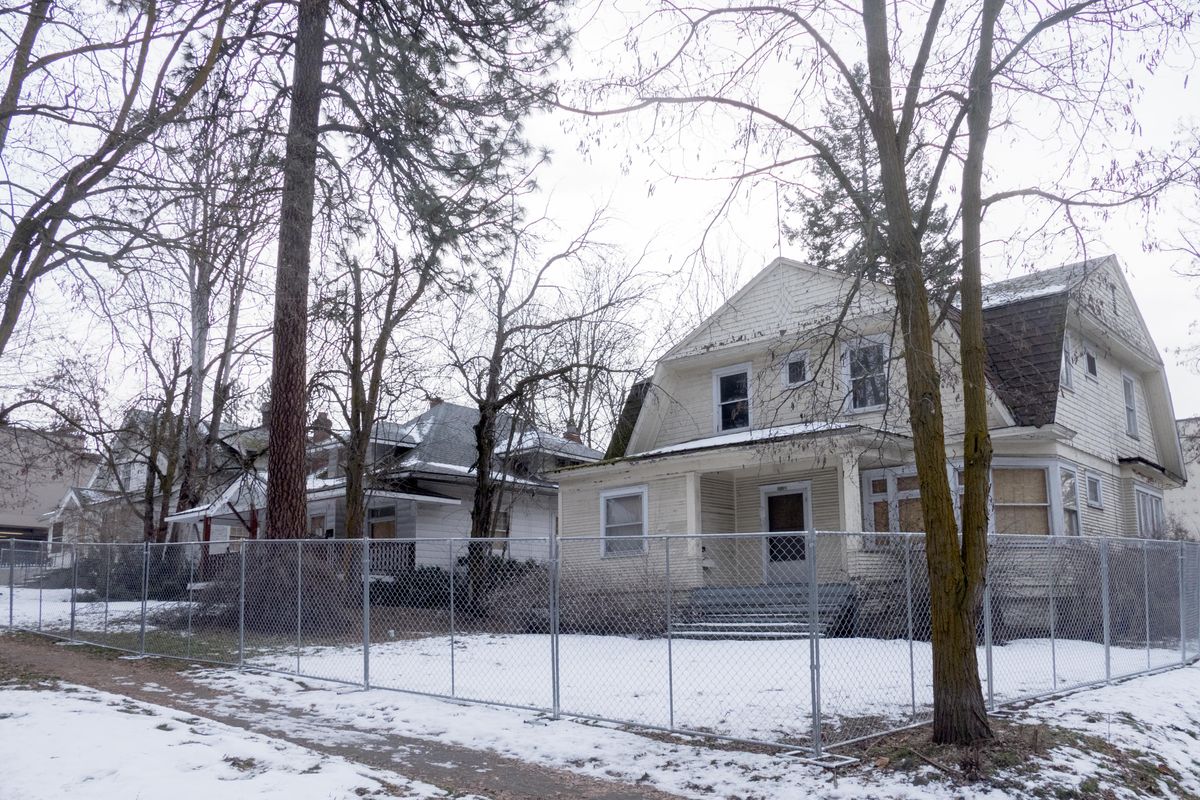 These three older homes will be demolished to make way for nine apartment units at the corner of 9th Avenue and Madison Street, shown Thursday, Dec. 21, 2017. (Jesse Tinsley / The Spokesman-Review)
Three derelict 110-year-old homes are being demolished to make way for a nine-unit complex of "higher-end" apartments on a nationally recognized historic street on Spokane's South Hill.
The developer of the $1.1 million project on the southeast corner of Ninth Avenue and Madison Street, called Nines on 9th, said the three-story apartment building will be "architecturally sensitive and compatible with the district," but was wary to speak about the project, saying funding has yet to be finalized and his company was "just seeing if there's interest there."
However, neighbors say they've struggled with the increasingly dilapidated houses since a previous owner vacated them in 2009, with plans to turn the corner into a parking lot for Huckleberry's Natural Market, which occupies the same block. They say they are resigned to the "done deal," which they worry will add to issues stemming from the shopping center, detract from the character of the street and depress property values.
Russ Wolfe owns Wolfe Architectural Group, the company that designed and is leading the project, according to permits issued by the city. Wolfe also owns the project site property through a company registered in his name, Nine's on 9th, which purchased the parcel in September from Robin Rosauer, who is the son of the founder of Rosauers Supermarkets, which owns Huckleberry's, and was once affiliated with the company, but is no longer.
Robin Rosauer also owns the shopping complex that houses Huckleberry's and Ace Hardware.
Wolfe's company has drawn up designs and plans for the project, including an illustration of how the building's facade will appear. Wolfe added that he hoped construction would begin by January and be complete by the summer.
Despite such preliminary work, Wolfe said no general contractor has been selected and the project is far from a sure thing.
"We don't even know if the construction is going to occur," he said.
Plans filed with the city show nine two-bedroom units, each with about 1,200 square feet of space. The project will include detached garages with six stalls, as well as a parking lot, bringing the total to 21 off-street parking spaces tucked between the units and the Huckleberry's and Ace Hardware buildings.
Neighbors not pleased
Patty Dicker, who has lived near the project since 2008, said she has pushed the city and owners of the shopping center to do comprehensive planning to deal with "a lot of issues for a small center that's become a big center," such as parking, stormwater drainage and truck deliveries.
"No one has looked at how that center is impacting the neighborhood," said Dicker, who owns GVD Commercial with her husband, Jerry Dicker, which has led a number of downtown development projects. "Are we happy? No, we're not happy. These problems are just going to get exacerbated."
The Dickers live in a 7,000-square-foot house they've renovated in recent years, part of a line of Tudor Revival-style houses on the block, all of which are on both the national and Spokane registers of historic places. Dicker's house is described as "one of the best preserved historic properties in Spokane" by the Spokane City/County Historic Preservation Office.
Next door lives Glenn Tanner, whose 5,000-square-foot home is also on both historic registers. Tanner said his concerns deal more with the loss of history and historic character in the Ninth Avenue Historic District and the Comstock-Shadle Historic District.
Tanner, who has lived on Ninth since 2004, said the street has spent the last decade moving away from apartment buildings by returning mansions that had been split into apartments to their former states.
"We've been going the other direction, converting apartments to single-family," he said. Tanner suggested the homes slated for demolition were purposefully left to rot.
"They were fully occupied for years. When Jones Pharmacy opened, they put a fair amount of money into renovation," Tanner said of the business that occupied the space before Ace. "They could've been occupied and they'd be producing. They deteriorated as a result of that."
From parking lot to apartments
When the building occupied by Ace was renovated in 2010, the homes were vacated of occupants and used as a staging area for the construction. The plan then was to tear the homes down and build a surface parking lot for the shopping center. That plan was prevented for two reasons. First, the land is zoned for residential use and doesn't allow for a parking lot. Second, since the houses are on the historic register, demolition can only be approved if the structures are replaced by another structure.
"For demolition within national districts, we have to review the proposal," said Megan Duvall, the city and county historic preservation officer. "If they have a replacement building, we have to sign off on it. That's why it's languished. … The original intent was for it to be a parking lot supporting the retail. But you literally can't replace them with a parking lot."
With the parking lot plan stopped, the land's previous owner, Robin Rosauer, through his company 10th and Monroe LLC, let the homes fall into disrepair. In 2016, after a complaint from neighbors, the homes were put on the city's substandard building list, which required Rosauer to pay nearly $5,000 a year to the city and keep up maintenance.
It was at that time Rosauer hired Wolfe as a client to come up with different concepts for the houses. All of the ideas – refurbishing the homes, replacing them with large single-family houses – proved too costly.
This September, Wolfe bought the homes and property, believing he could make the site work with apartments. At the time, Wolfe said the homes were "full of graffiti. One was torched out." He said he has visited the property "with my pistol and hunting dog" to ward off squatters.
Spokane City Councilwoman Lori Kinnear said she was approached by the neighborhood to help save the homes, but said there was little she or the city could do.
"One of the houses had a fire. One of them has a mold issue. And the third one is probably the best example of what could be saved," she said, adding that Wolfe offered the house up for $1 to anyone who wanted to move it off-site, but he had no takers. "The timing is not right for those three houses."
Kinnear is working on a demolition ordinance that may have helped preserve the homes because of their historic nature, but even that was unlikely change the homes' fate, she said. She expects the council to vote on her proposal in early February.
Like Wolfe, Kinnear believes the apartments will be better than the decrepit houses.
"I think it will fit in a heck of a lot better than what is there now," she said.
Wolfe pointed to the apartments across Madison from his property and said their owners had done little to maintain them.
"It's very high-end compared to what is west of us. These are going to be better, no question," Wolfe said of his project. "Not everyone is going to want an apartment building. We understand that. But we're all in the same neighborhood, and we've communicated the best we can with the neighborhood without creating a ruckus."
An earlier version of this story misrepresented Robin Rosauer's connection to the supermarket chain, due to a reporter's error.
Local journalism is essential.
Give directly to The Spokesman-Review's Northwest Passages community forums series -- which helps to offset the costs of several reporter and editor positions at the newspaper -- by using the easy options below. Gifts processed in this system are not tax deductible, but are predominately used to help meet the local financial requirements needed to receive national matching-grant funds.
Subscribe now to get breaking news alerts in your email inbox
Get breaking news delivered to your inbox as it happens.
---