News > Family
First Night Spokane moves inside while catering to attendees of all ages
Thu., Dec. 28, 2017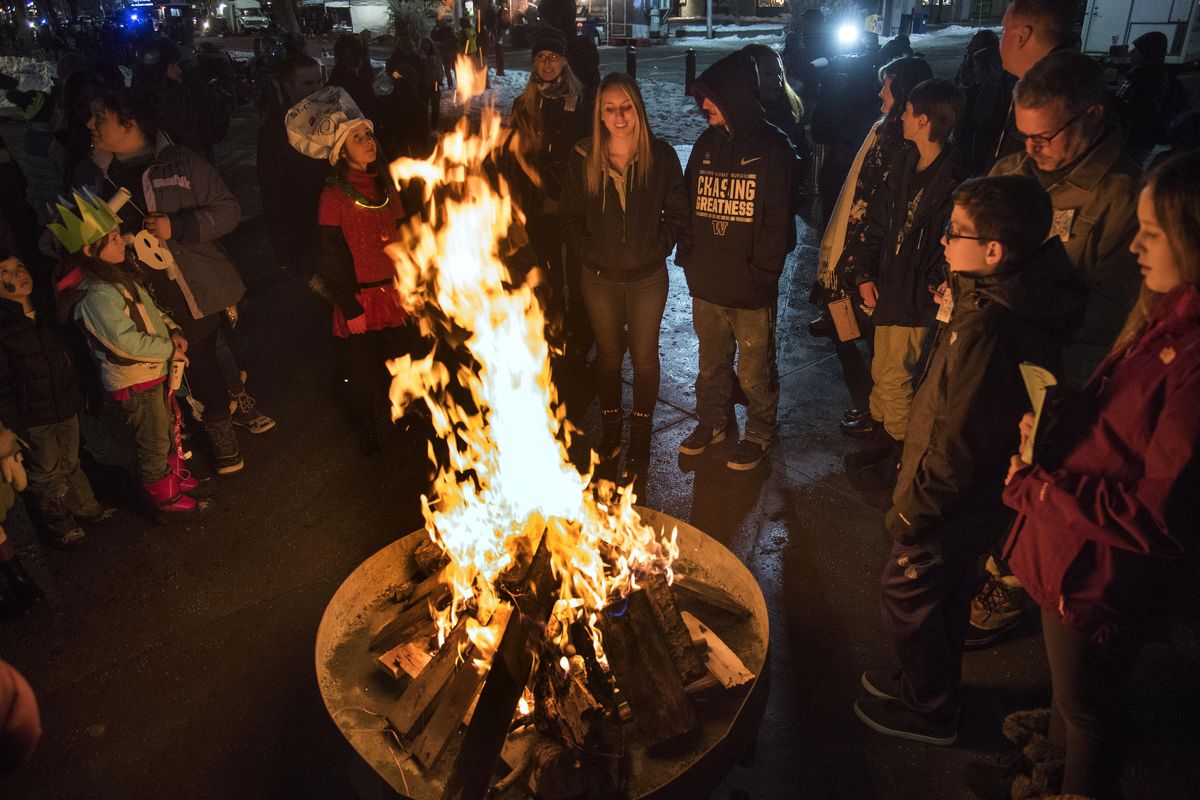 At First Night Spokane 2016, people gather around a warming bonfire in Riverfront Park. (Colin Mulvany / The Spokesman-Review)
Since 2001, First Night Spokane has brought children, adults and families looking to end the year on a high note before ringing in the new year to downtown Spokane.
Now in its 17th year, First Night, which was launched by the Arts Committee of the Spokane Chamber of Commerce, continues to be the go-to activity on New Year's Eve.
This year, many First Night activities will be inside to keep attendees and artists more comfortable.
"For years and years, this was outside, so people had come out when it first evolved, and they brought their kids and came downtown," First Night executive director Nanette Miller said. "Those kids grew up and their memories of it was it was cold, so we had a severe drop off in attendance and families coming out."
Miller also thinks every five years an event should get a facelift. Otherwise, people might not come one year because they figure they can see the exact same thing next year.
To keep the event fresh, even more so than in previous years, this year's First Night features activities for all ages.
Kids Night Out (2:30-5 p.m., Spokane Convention Center) helps children celebrate the new year with an afternoon of crafts, music, magic, face painting, dancing and an art quest with the 1st Knights of Spokane via the Spokane Renaissance Faire.
Children are welcome to dress up according to the "Be a Hero" Renaissance theme or come as they are.
Performers set to appear at Kids Night Out include Musha Marimba, Smash Hit Carnival, Spokane Elite All Star Dancers, Silver Spurs Youth Folk Dancers, magician Matthew Van Zee, Spokane Children's Theatre and roaming magician Dick Frost.
Realizing teenagers weren't necessarily catered to during previous First Nights, organizers have doubled down with two new teen-centered events.
The first, Ironclad Art Gallery (7-11:15 p.m., Spokane Convention Center), is a space where junior and senior high school students in metal and wood shop classes display works of art.
A panel of judges will assess the art and the winning artist will receive a scholarship from Oxarc Welding School, welding certification and welding helmets and gloves.
The top student's school will receive $500, and the top three pieces of art will be displayed at the Northwest Museum of Arts and Culture through the month of January.
"There are going to be employers there that are putting out their feelers for people to recruit for summer jobs," Miller said. "What we're trying to do is create an atmosphere where students can work within their art medium."
Miller encourages teens looking to volunteer to help with Kids Night Out and then enjoy the rest of the evening with friends, making sure to check out the teens-only Laser Light Dance Party (9-11:15 p.m., Spokane Convention Center Conference Room 111A).
Teens, and teens only, who are also invited to dress up, can dance into the new year when the party moves outside to the INB breezeway at 11:15 p.m.
"When you're looking around town, there's not a lot of safe things for kids to do," Miller said. "This is going to be this laser light, cool, the most up-to-date (light show) you can see."
For the 21 and older crowd, First Night has designated the Doubletree Hotel, the Davenport Grand Hotel and Hotel RL as adult venues.
At the Doubletree, Glenn and Patty Braunstein will teach dance lessons from 7-8 p.m. before the Big Band Dance Contest's three sessions at 8, 9:40 and 10:40 p.m.
The Tuxedo Junction Big Band will also perform from 9 p.m. to midnight.
At the Davenport Grand, Kalaj will perform from 7-9 p.m. before the Rub takes over from 9:30 p.m.-1 a.m.
At Hotel RL, three stages will host a variety of entertainment. William Nover (7-9 p.m.) and Wyatt Wood (9:15-11 p.m.) will perform on the Live Stage, while Smash Hit Carnival (7-9 p.m.) and Sammy Eubanks (9:30 p.m.-1 a.m.) take over the ballroom.
Finally, the ever-popular "Frosty Buns" Outdoor Dance Party will be held on the Outdoor Stage from 9 p.m.-12:15 a.m.
Worth noting, a VIP bus will transport those 21 and older from Hotel RL to the convention center and back beginning at 6 p.m.
The three adult venues come after the popularity of last year's event, where the Davenport was designated as an adult venue.
This brought more adults to the event and reintroduced many to First Night's original mission.
"I think that's what the message that has been lost over the years is that it was a family friendly thing to do, but there's a much bigger mission behind it to support the arts all year round," Miller said.
In keeping with this mission, First Night features artists who work in a variety of mediums including speed sketch artist Donzel Melim and caricaturist Tom Quinn (Spokane Convention Center lobby, 7-11:15 p.m.), sculptural artist Brian Joyce, metal and wire artist Jeff Horton, illustrator Patrick Blaine and legendary luthier Lynn Ellsworth, who made Eddie Van Halen's "Frankenstrat," all in the Spokane Convention Center Art Gallery.
First Night Spokane will also highlight local filmmakers during the Rise Up Film Festival.
Filmmakers had to create films based on the "Be a Hero" theme. The five films were screened on Dec. 7 and the top three films will play on the hour from 5-10 p.m. at Magic Lantern Theater.
Audiences will vote on their favorite film, and the winning team will win $1,000.
Lyle Morse (7-9 p.m.) and Chad Bramlet (9:15-11 p.m.) will perform at Auntie's Bookstore, and Mark Postelwait (7-9 p.m.) and Joshua Belliardo (9:15-11 p.m.) will perform at the STA Plaza.
There will also be free skating at the Skate Ribbon from 7-10 p.m.
"We've got all sorts of stuff going on so nobody can say 'I didn't have anything to do,' " Miller said.
Local journalism is essential.
Give directly to The Spokesman-Review's Northwest Passages community forums series -- which helps to offset the costs of several reporter and editor positions at the newspaper -- by using the easy options below. Gifts processed in this system are not tax deductible, but are predominately used to help meet the local financial requirements needed to receive national matching-grant funds.
Subscribe now to get breaking news alerts in your email inbox
Get breaking news delivered to your inbox as it happens.
---