Sports
Blanchette: Super Bowl victory 25 years ago gave Mark Rypien options for a lifetime
Sat., Feb. 4, 2017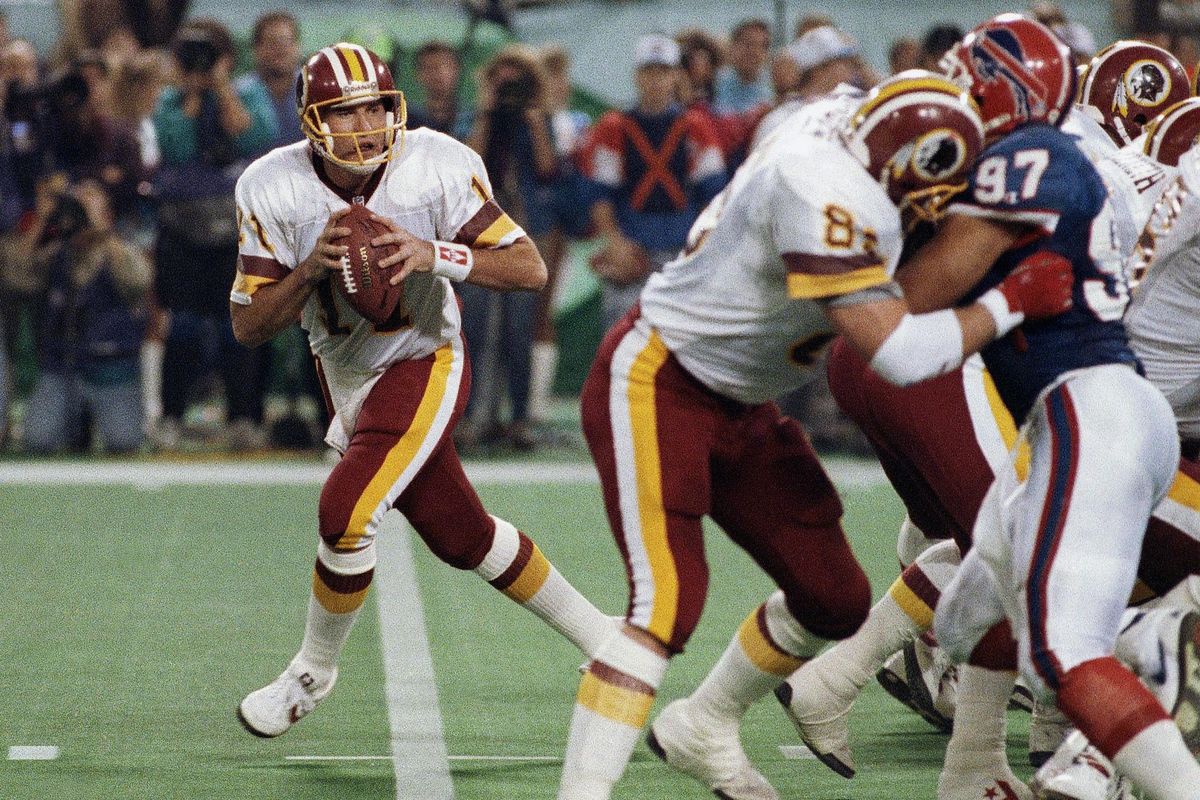 The Washington Redskins' Don Warren (85) keeps Buffalo Bills Cornelius Bennet (97) away from Redskins quarterback Mark Rypien during Super Bowl XXVI in Minneapolis in 1992. Rypien passed for 292 yards and two touchdowns to lead the Redskins to their third Super Bowl title. (Jim Mone / Associated Press)
As the eve of Super Bowl XXVI became morning, the temperature in Minneapolis dipped to 9 degrees. But inside his hotel room, something in Mark Rypien was burning too hot to make sleep sustainable.
If he dozed off at midnight, he was awake to see the clock read 1:00, and again at 2 and 3 and 4 – the internal alarm that's inevitably vigilant in us lest we miss the potentially life-changing event ahead. A trip, a wedding, a trial.
A Super Bowl.
At 5:30, he finally surrendered and dressed, heading to the lobby for a Sunday newspaper.
"I get down there and there's 20 players sitting around," said Rypien, laughing at the memory. "All in the same boat. Eventually, we did the pregame meal and then Eric Williams, my old teammate from Washington State, and Chip Lohmiller and I took a cab to the Metrodome.
"We figured maybe we could get a nap in there – and then we wouldn't fall asleep and miss the team bus."
It's now been 25 years since that taxi dropped Mark Rypien off at his destiny: the Super Bowl in which he quarterbacked the Washington Redskins to a decisive victory over Buffalo and was its most valuable player, adding his name to a lineage – a pantheon – that included names like Starr and Namath and Montana.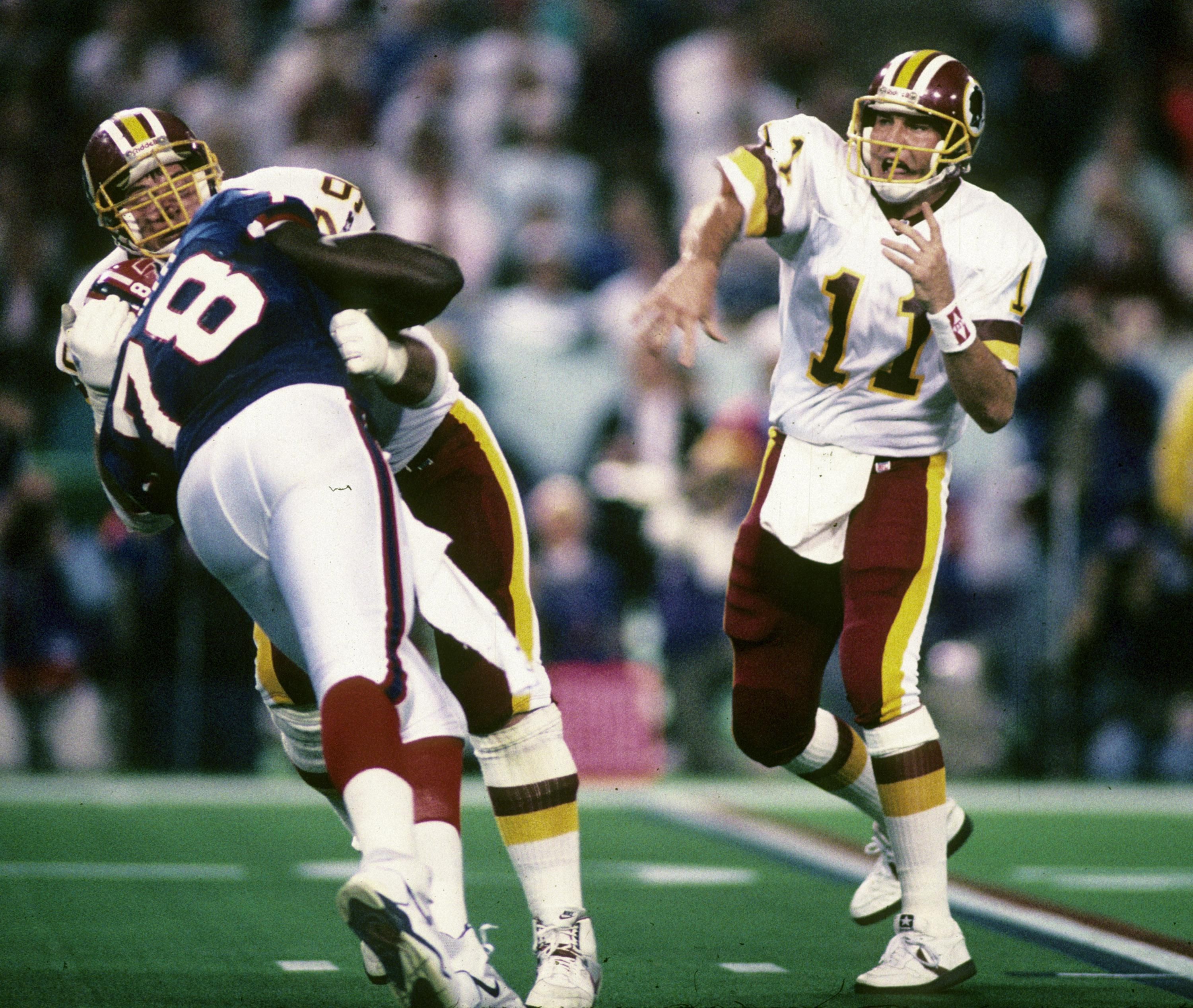 The game that still informs his every day, in ways subtle and not.
While Super Bowl LI swallows up Houston on Sunday, Rypien will sit it out in Hawaii where he's been all week participating in the Ace Hardware Shootout to aid the Children's Miracle Network (it airs on the Golf Channel in March). Soon there will be a trip to Haiti to help a friend who's been building orphanages across Latin America – Rypien's on the team that's putting in the walls. Whether it's golf in some far-off setting or local Rypien Foundation functions for a crucial cause, it's the result – in some way – of what was accomplished on a Sunday 25 years ago.
"It's absolutely something that makes you pinch yourself, wondering if it really happened," Rypien said, "because of all that's happened since."
If he was Spokane athletic royalty even as a high schooler at Shadle Park or prominent in Washington State's quarterback legacy, Rypien was not an NFL golden child. Even before the Super Bowl season, the Redskins had made inquiries about dealing for John Elway. Before that, Rypien had been a sixth-round draft choice who spent two years on injured reserve and then watched Doug Williams' MVP turn for the Redskins in Super Bowl XXII with some wonderment.
"Seeing that, I thought that there was no way in the world I'd ever be able to do that," he admitted. "It's too fast, the game's too big – until you get out there."
Except in this case, Rypien and the Redskins were bigger than the game.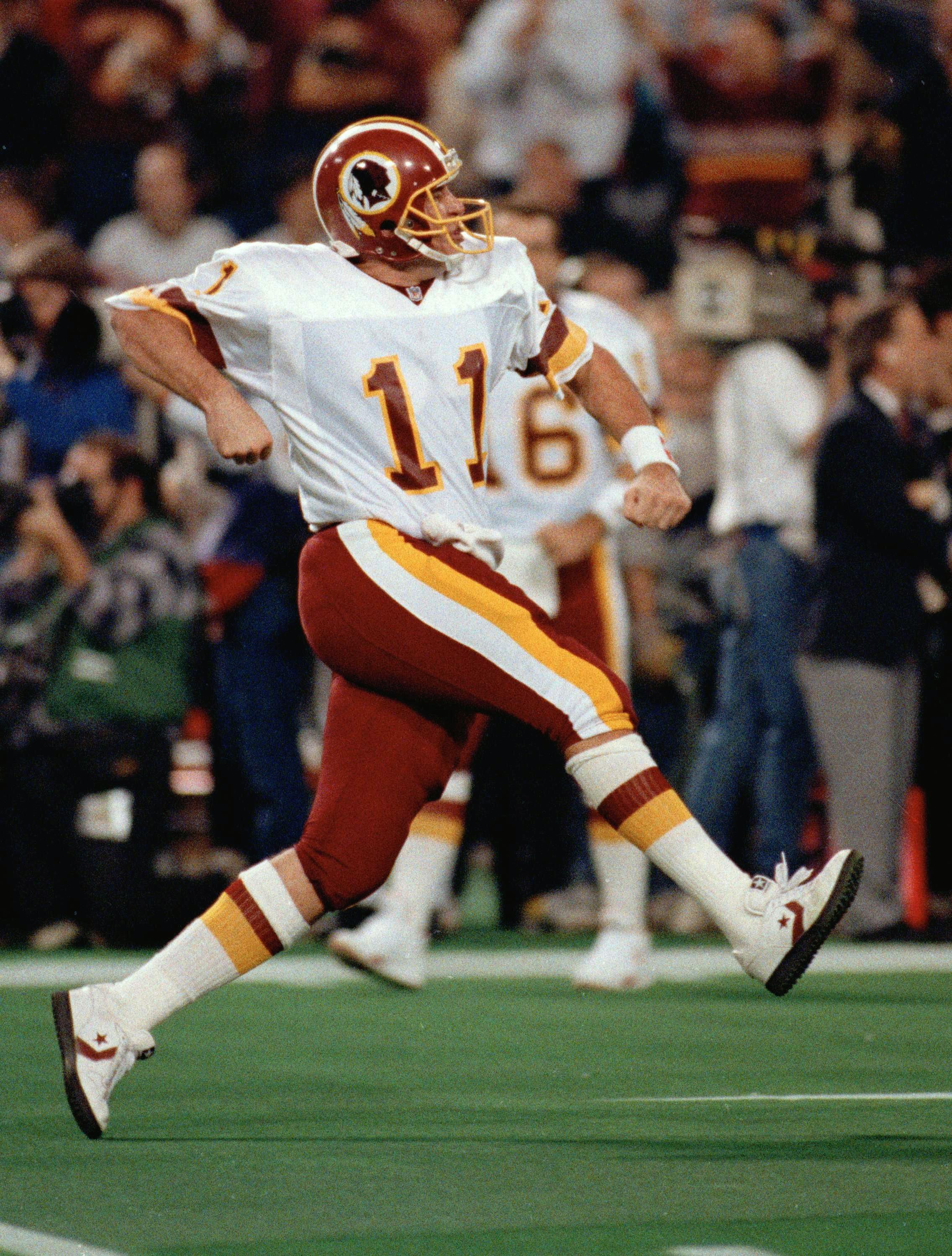 Indeed, there have been several click-bait pieces over the years suggesting Rypien quarterbacked the best of all Super Bowl teams – blasphemy, surely, since it leapfrogs the Skins over the unbeaten Dolphins and Montana's Niners and Ditka's Bears. But there's an argument to be made. The 1991 Redskins lost two games by a total of five points, and led the NFL in points scored and were second in fewest points allowed. Their run through the playoffs was scorched earth – 24-7 over Atlanta, 41-10 over Detroit and Barry Sanders, and the romp past Buffalo, which trailed 24-0 in the third quarter before making it a more respectable 37-24 by game's end.
Like Rypien's pro career, it didn't start with a bang.
"On the first play of the game, I cracked my ribs," he recalled. "It was on a three-step drop and I got hit. The second throw was another three-step drop and I got hit again. You've got to remember I was only sacked seven times all year.
"So when we got to the sidelines, I was a little testy. Jeff Bostic, one of the Hogs, says, 'Mark, they just have a lot of adrenaline. We're going to wear them down and it'll be fine.' And we did. We took their will."
No more so than after the Bills had cut the lead to 24-10 in the third quarter. A stop keeps them in the game; instead, Rypien finds Gary Clark on a 30-yard touchdown pass. He still remembers the play call – 735 H pump.
---
---
And more. He remembers more than 50 relatives – from Washington, Canada, all over – descending on the Twin Cities "because I wanted everyone to be a part of this." He remembers, among the postgame congratulations, a message from John Stockton.
Mostly he remembers the bond.
"This was the last era before free agency," he said, "so you were with a group of guys for six, seven, eight years. There were real, lasting relationships. Maybe they even kept a couple of guys longer than their best years because you knew their character and how much they meant to the team's success."
What the success has meant to Rypien is incalculable. He's frank about the doors it's opened and especially the grounding it gave his foundation to do the many good works for children and families realized in the 13 years of existence. Those are his highlights now – though if he can ever find the time, he wouldn't mind cuing up the Super Bowl tape for old times' sake.
"If there's a bigger game," he said, "I want to play in that game."
Local journalism is essential.
Give directly to The Spokesman-Review's Northwest Passages community forums series -- which helps to offset the costs of several reporter and editor positions at the newspaper -- by using the easy options below. Gifts processed in this system are not tax deductible, but are predominately used to help meet the local financial requirements needed to receive national matching-grant funds.
Subscribe to the sports newsletter
Get the day's top sports headlines and breaking news delivered to your inbox by subscribing here.
---