Washington governor, AG meet traveler affected by ban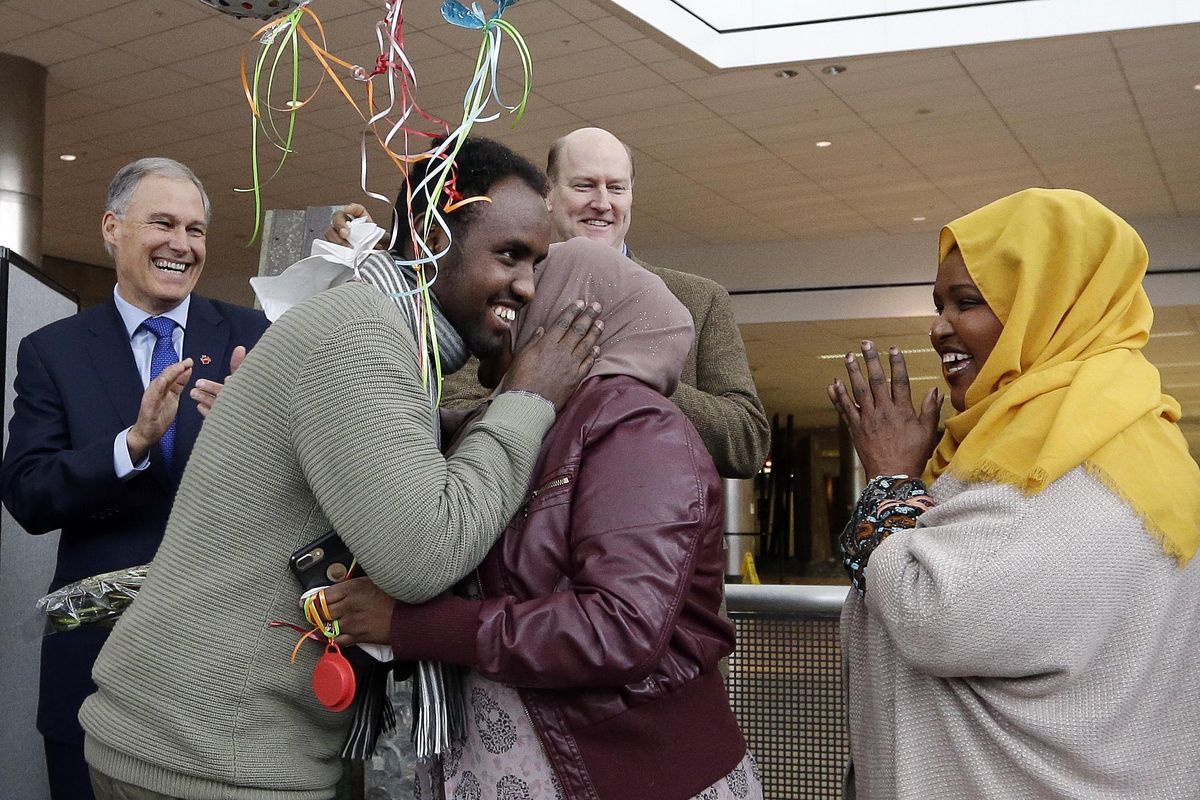 BELLEVUE – Washington state Gov. Jay Inslee and Attorney General Bob Ferguson welcomed a passenger at Seattle-Tacoma International Airport who had been blocked by President Donald Trump's immigration travel ban.
A federal judge Friday placed a temporary hold on the ban after Washington state and Minnesota challenged the constitutionality of the ban, which targeted seven mostly Muslim countries.
Inslee and Ferguson on Monday met Isahaq Ahmed Rabi, who was detained last Saturday at the airport in SeaTac, Washington, and summarily deported back to Vienna, Austria, where he had temporary status. Rabi is a citizen of Somalia. His wife is a U.S. citizen.
Ferguson, with Inslee's support, sued Trump over the travel ban, saying it harmed residents and effectively mandated discrimination. A federal judge issued a temporary restraining order Friday blocking the ban. A judge rejected an appeal by the Trump administration.
Allen Novak, who arrived Friday morning on a conditional resident visa from Tehran, Iran, to join his wife Jayne, a U.S. citizen, and daughter Nikta, already here on the same visa. The family brought along an American flag.
Ferguson also greeted them and offered Nikta a job in his office if the college student finished her law degree.
Another traveler impacted by the travel ban arrived Sunday night, said Matt Adams, an attorney with the Northwest Immigrant Rights Project.
Mohammed Ahmed Ali, 38, and his 12-year-old daughter were reunited with the girl's mother and siblings, Adams said.
Ali, who lives in Los Banos, California, was born in Yemen and became a naturalized U.S. citizen in 2010. His daughter is a citizen of Yemen and was living there with her grandparents. Ali had applied for a family-based immigrant visa for his daughter.
Ali and his daughter went to Djibouti for her interview and learned her visa was approved. They were planning to board a flight to the United States on Jan. 28 but were told the daughter could not board following Trump's executive order.
Ali remained behind with his daughter and sought help from the rights group. He was one of three people who filed a class-action lawsuit with the group, saying the ban was unconstitutional.
The other two families in the lawsuit are still waiting for consular interviews, Adams said.
---