Sports > Gonzaga women
Laura Stockton shoots down St. Mary's 59-58 as GU takes two-game WCC lead
Sat., Feb. 11, 2017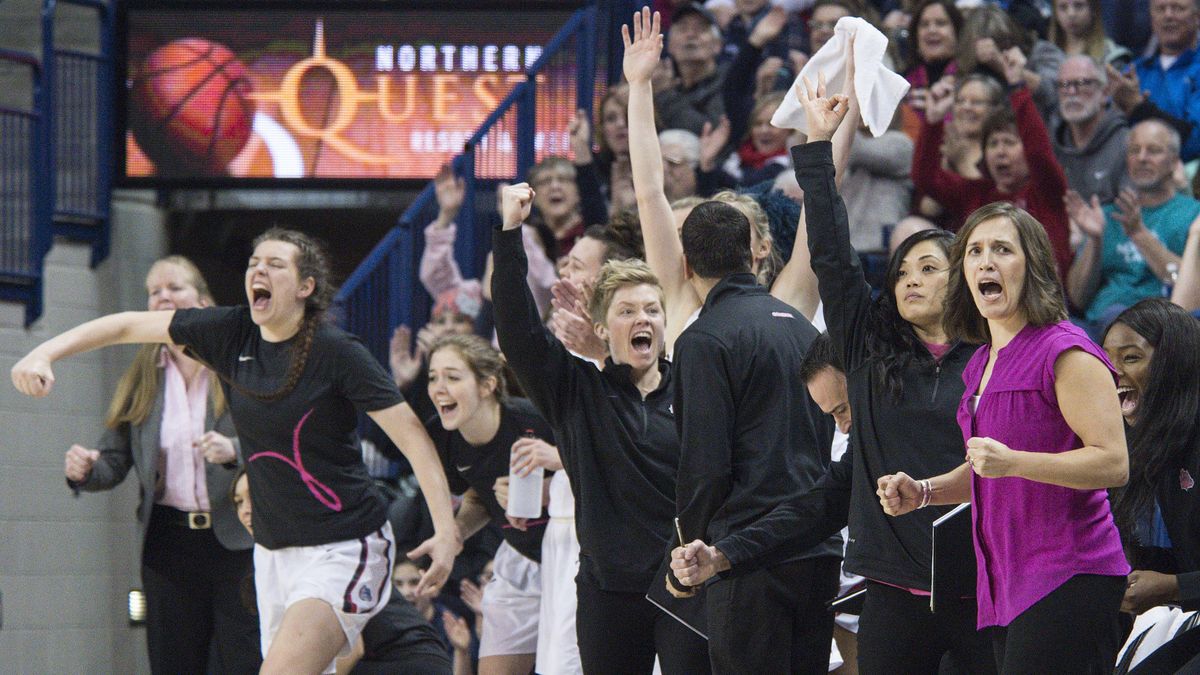 Gonzaga coach Lisa Fortier and the bench celebrate the Zags' rally in the first half against Saint Mary's, Feb. 11, 2017, in the McCarthey Athletic Center. (Dan Pelle / The Spokesman-Review)
This one meant a little more.
You could tell by the crowd, which packed the Kennel on Saturday afternoon and was oh-so-slow to leave when it was over.
And you could tell it by the smiling face of GU women's coach Lisa Fortier, who promised to enjoy this one "for at least a few hours."
A 59-58 win over Saint Mary's will do that, especially when it provides a two-game lead on the West Coast Conference field with four games left.
The players knew it, too. Another WCC championship banner would look nice on the McCarthey rafters, especially after GU's string of 11 straight titles was snapped last year.
"There was a lot of celebrating in the locker room," senior Kiara Kudron said after a game that was decided at the final buzzer.
For the record, GU's 12th straight win was decided by Laura Stockton's pull-up jumper with 9 seconds left, followed by a defensive stand that denied the Gaels anything resembling a decent shot.
However, by Fortier's reckoning, GU is 21-4 overall and 12-2 in the WCC because every player had a hand in this game. Specifically, every Zag who saw action got at least one rebound.
"That's because they're such a good rebounding team," Fortier said. "It wasn't pretty but we just found a way."
Indeed, the stat line was bent out of recognition for most Zag fans, who watched GU win despite getting outrebounded 44 to 38 while shooting just 33 percent from the field and 26 percent from 3-point range.
Moreover, leading scorer Jill Barta managed just 8 points on 2-for-12 shooting as the Gaels gave her extra attention.
Meanwhile, leading rebounder Kudron managed only three boards, yet scored a game-high 14 points.
The unlikely board crashers were backup guard Chandler Smith, who had three offensive boards; and Stockton, who pulled down six overall to go along with four assists and six points.
The biggest came in the final seconds. A pulsating fourth quarter saw GU up by four, down five and finally down by one after the Gaels' Stella Beck hit two free throws with 23 seconds left.
The play began and ended with Stockton, who took the inbounds pass and drove the lane before passing off. Three passes later, the ball was back in her hands.
"I just took it like a normal shot," said Stockton, who on Dec. 31 had missed a potential game-winning 3-pointer against Pacific.
GU hasn't lost since, thanks to Stockton's sweet pullup jumper from 12 feet that found nothing but net.
"I'm just happy for our team and happy for Laura," Fortier said.
The Bulldogs got off to their slowest start of the year, trailing 15-7 after the first quarter. However, they did everything right in the second quarter, outscoring St. Mary's 22-13 while shooting 47 percent from the field an owning the board, 13 to seven.
GU led 29-28 at halftime, but the Gaels (15-10 overall, 10-4 WCC) got back in the game in a third quarter that featured two ties and eight lead changes.
The Zags play three of their last four regular-season games on the road, beginning Thursday at San Francisco.
Local journalism is essential.
Give directly to The Spokesman-Review's Northwest Passages community forums series -- which helps to offset the costs of several reporter and editor positions at the newspaper -- by using the easy options below. Gifts processed in this system are not tax deductible, but are predominately used to help meet the local financial requirements needed to receive national matching-grant funds.
Subscribe to the sports newsletter
Get the day's top sports headlines and breaking news delivered to your inbox by subscribing here.
---