News > Spokane
Demonstrators target Trump and defend health care law outside McMorris Rodgers' office
Feb. 13, 2017 Updated Mon., Feb. 13, 2017 at 4:44 p.m.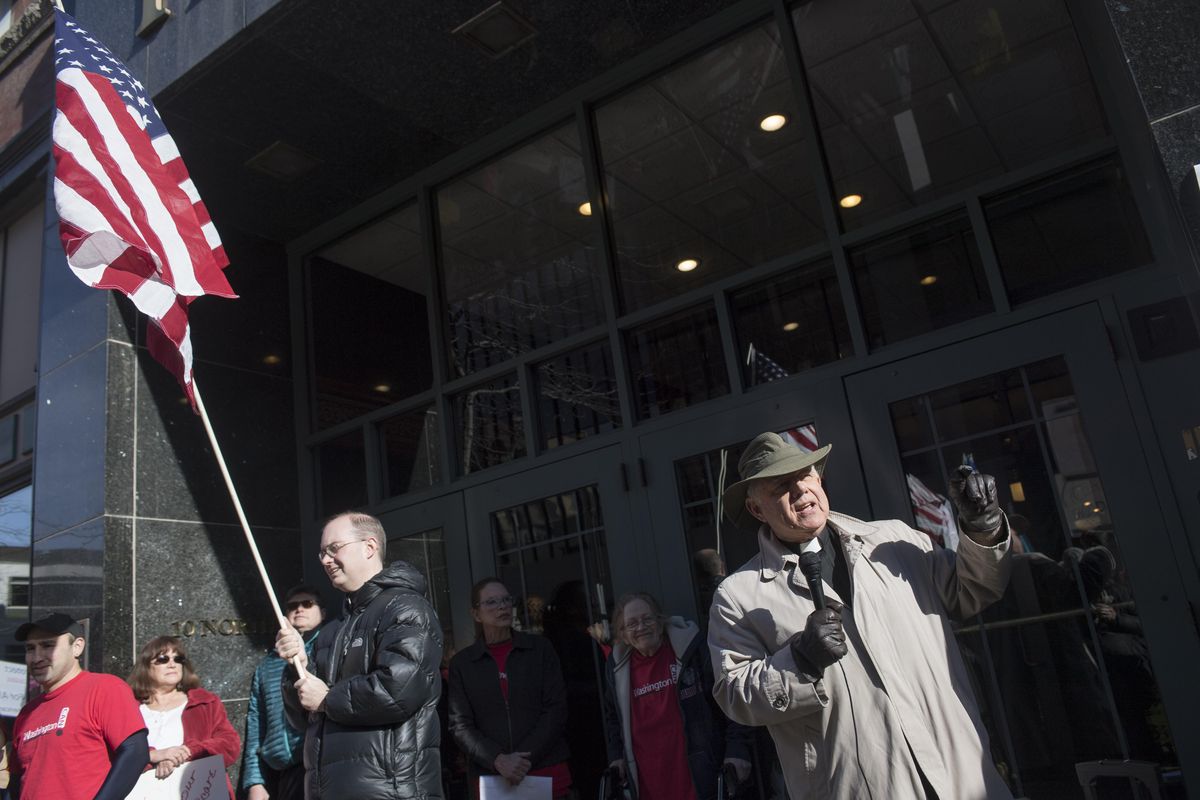 The Rev. George Taylor, visitation pastor at All Saints Lutheran Church, speaks in favor of the Affordable Care Act on Monday during a protest against the repeal of the law. The audience was about 100 people in front of the Peyton building, where Rep. Cathy McMorris Rodgers has her Spokane office. (Jesse Tinsley / The Spokesman-Review)Buy a print of this photo
They were downtown Monday afternoon to protest Republicans' intentions to repeal the Affordable Care Act, but many of the roughly 100 protesters outside Rep. Cathy McMorris Rodgers' Spokane office said they were there because of the president.
"We just needed an outlet, to express our dissatisfaction," said Dayle Yates, who along with her husband John traveled up to McMorris Rodgers' sixth-story office to wait in line for entry. The couple described themselves as longtime Democrats upset with many of the decisions of President Donald Trump, including his choices for cabinet positions.
The demonstration on the street below, organized by the nonprofit Washington Community Action Network, drew representatives of several organized labor groups who cautioned against repealing the health care law without a replacement.
"The (Affordable Care Act), that's how our people get their coverage, the majority of them," said Rachel Dorfman, secretary and treasurer of Local 105, a union that represents close to 200 studio musicians and live performers from genres including folk and country.
"Musicians, we have multi-employers, most of us," said Tina Morrison, who attended the rally to represent the Spokane Regional Labor Council, but has previously worked on behalf of Local 105. "To get our employer to cover healthcare was impossible."
Protesters carried signs, many of them naming McMorris Rodgers or Trump in particular. They also chanted for the congresswoman to hold a town hall meeting in the district, something she typically does during the late-summer recess.
McMorris Rodgers has said President Barack Obama's health care law has caused costs to rise for most Americans, though she agrees with its provisions of covering pre-existing conditions and allowing children to remain on their parents' plans. In a letter sent to Gov. Jay Inslee at the end of last month, the congresswoman and three of her Republican colleagues in Washington state pledged "no one should have the rug pulled out from underneath them" as the Republican Congress moves forward to repeal the law.
Trump's timetable for a replacement to the Affordable Care Act has changed from "very quickly or simultaneously," in an interview with The New York Times at the beginning of January, to potentially next year, in a televised interview with Fox News' Bill O'Reilly during the Super Bowl earlier this month.
John Yates, waiting in line with about a dozen other protesters who entered McMorris Rodgers' office two at a time, said he's been meeting with more people who want to write postcards, attend demonstrations and make phone calls in recent weeks.
"I haven't seen anything like this," he said.
Local journalism is essential.
Give directly to The Spokesman-Review's Northwest Passages community forums series -- which helps to offset the costs of several reporter and editor positions at the newspaper -- by using the easy options below. Gifts processed in this system are not tax deductible, but are predominately used to help meet the local financial requirements needed to receive national matching-grant funds.
Subscribe now to get breaking news alerts in your email inbox
Get breaking news delivered to your inbox as it happens.
---