News > Spokane
In phone-in town hall, U.S. Rep. Cathy McMorris Rodgers defends Trump
Feb. 20, 2017 Updated Tue., Feb. 21, 2017 at 5:53 p.m.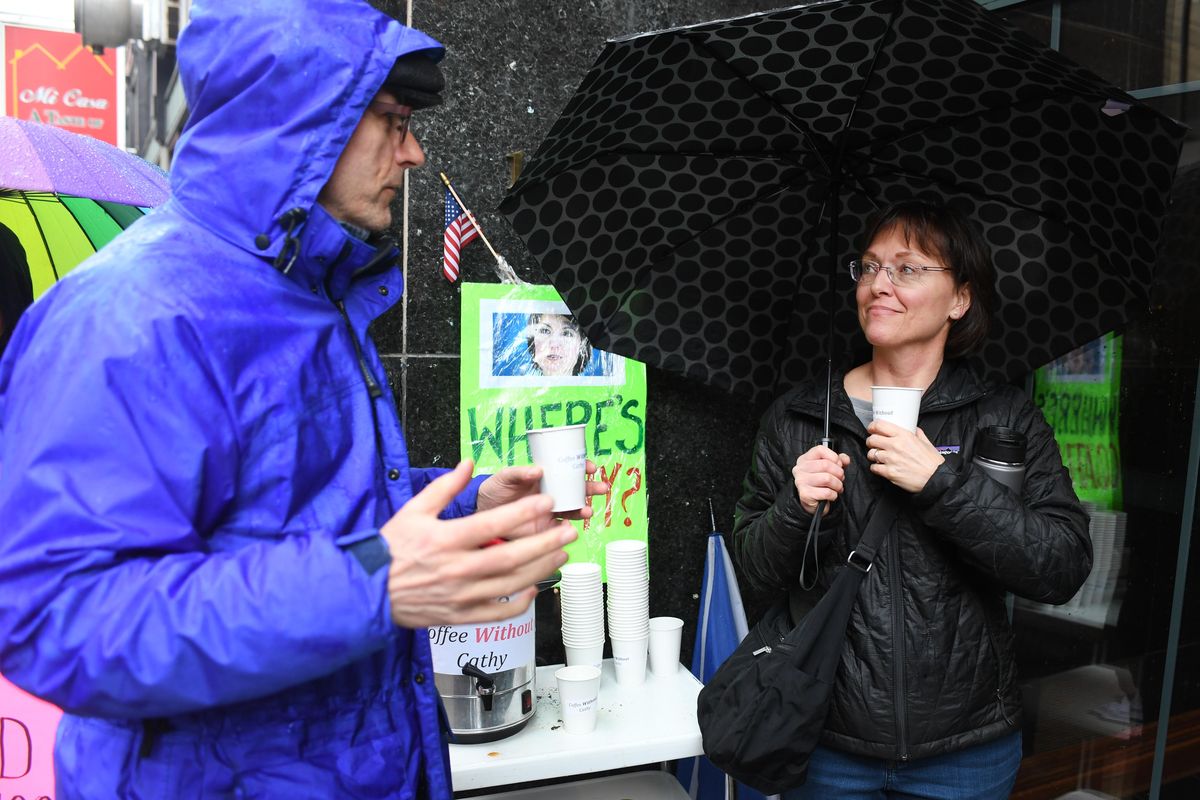 A group of protesters, including David Jones, left, and Diane Belyea, right, stand in the rain outside Cathy McMorris Rodgers' office building to make a point that the congresswoman has not been meeting regularly with constituents in town hall settings. While the protesters were out Monday, Feb. 20, 2017, McMorris Rodgers was in a small group meeting in a nearby building. Jesse Tinsley/THE SPOKESMAN-REVIEW (Jesse Tinsley / The Spokesman-Review)Buy a print of this photo
Before taking questions from constituents in a conference call Monday evening, U.S. Rep. Cathy McMorris Rodgers offered a carefully worded endorsement of President Donald Trump, with whom she has maintained a tepid relationship.
"As you all know, we have a new president, Donald Trump, who promised to challenge the status quo, to be a positive disruptor. And that's what's happening," McMorris Rodgers told callers. "Some of it has been rocky, but overall we have a new government that is pushing to give people more freedom and to create more jobs. … The Trump way is to get things done under budget and ahead of schedule."
The Republican congresswoman answered 17 questions during the town-hall-style conference call, which ended after about 50 minutes due to "technical difficulties." Supporters urged her to lower taxes and eliminate Obama-era rules and regulations. Detractors hammered her for pushing to repeal the Affordable Care Act and demanded her responses to some of the president's controversial statements and actions.
One woman pointed out that the uninsured rate in Washington has fallen by about 60 percent under Obama's health care law. She asked McMorris Rodgers: "What are you going to do to guarantee that low-income families who have insurance under Obamacare will still be able to afford insurance under a new plan?"
The Spokesman-Review
"You know, we're still working on putting this plan together," the congresswoman replied. "I don't want to see the rug pulled out from underneath anyone, and I think some of the – I would disagree with some of the facts that you laid out there. Despite the well intentions of Obamacare, it has not fulfilled its promises. What we're seeing is that premiums are going up. We're seeing co-pays go up; deductibles go up. We have fewer plans."
Another caller noted that Trump and his associates routinely dismiss legitimate media outlets as "fake news" and urged McMorris Rodgers to respond. "Please tell me that you support a free and independent press that asks hard questions," she said.
McMorris Rodgers replied that she does support press freedom but echoed White House Press Secretary Sean Spicer by saying that "the press needs to be held accountable."
The congresswoman said she would strive to hold Trump accountable, too, after a caller pointed out his business ties in other countries, which some say are in direct violation of the emoluments clause of the Constitution.
The Spokesman-Review
Throughout the call, McMorris Rodgers urged people to find "common ground" and said she was hopeful that Trump would "provide clarity" on some of his actions, including his executive order restricting immigration from seven predominantly Muslim countries, which is currently stalled in federal court.
"Usually after an election, the country comes together and unites, but that is not what's happening," she said. "But I do think it is better if we can try to find the common ground. We shouldn't stay in campaign mode for the next four years."
One woman who participated in the conference call, Kate Bitz of Liberty Lake, said her question had to be screened with McMorris Rodgers' staff, although she didn't get a chance to ask it.
"I really feel that she is restricting access to constituents in a way that I find unacceptable," Bitz said. "I don't see why she doesn't hold a real town hall."
Local journalism is essential.
Give directly to The Spokesman-Review's Northwest Passages community forums series -- which helps to offset the costs of several reporter and editor positions at the newspaper -- by using the easy options below. Gifts processed in this system are not tax deductible, but are predominately used to help meet the local financial requirements needed to receive national matching-grant funds.
Subscribe now to get breaking news alerts in your email inbox
Get breaking news delivered to your inbox as it happens.
---