Sports
NBA Capsules: LeBron returns from strep throat, scores 24 in Cavs win over Bucks
UPDATED: Mon., Feb. 27, 2017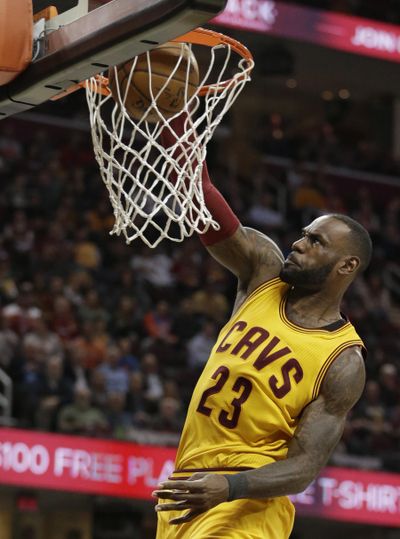 CLEVELAND (AP) – LeBron James returned from a bout with strep throat and scored 24 points, Kyrie Irving added 25 and Cleveland held off Milwaukee.
James missed Saturday's loss to Chicago – the Cavs fell to 0-4 this season without their superstar – and was listed as questionable before arriving at Quicken Loans Arena. He looked fit from the start, delivering an early dunk and adding one in the fourth that he capped by screaming, "That's and one!" at MiIwaukee's John Henson, who fouled him.
James' dunk triggered an 11-0 run that helped put away the Bucks, who were within 86-85 midway through the fourth.
Malcolm Brogdon scored 20 to lead Milwaukee, and Bucks All-Star Giannis Antetokounmpo scored just nine on 4-of-13 shooting.
The Bucks may have sustained a costly injury as forward Michael Beasley sprained his left knee in the first half.
Raptors 92, Knicks 91
NEW YORK (AP) – DeMar DeRozan made a turnaround jumper with 1.9 seconds remaining, finishing with 37 points and leading Toronto over New York.
The Raptors won their fourth in a row, doing it with DeRozan and defense after learning earlier in the day that All-Star Kyle Lowry will have right wrist surgery that could sideline him the rest of the regular season.
Carmelo Anthony scored 24 points for the Knicks but finished a 9-for-26 night when he missed a long jumper as time expired.
Newcomers Serge Ibaka and P.J. Tucker were on the floor down the stretch as the Raptors clawed back from a 17-point first-half deficit. Ibaka finished with 15 points.
Golden State 119, Philadelphia 108
PHILADELPHIA (AP) – Kevin Durant had 27 points in his return to the lineup and the Golden State Warriors overcame the worst 3-point shooting performance of Stephen Curry's career in a 119-108 victory over the Philadelphia 76ers on Monday night.
Curry was 0 for 11 from 3-point range. That topped his previous worst outing without making a 3 when he went 0 for 10 from distance on Nov. 4 against the Lakers. The two-time reigning MVP entered leading the league by a wide margin with 231 3-pointers this season.
Curry still had 19 points, making 7 of 12 2-point attempts and all five of his free-throw tries.
Klay Thompson scored 21 points and Draymond Green had 14 points, 11 assists, six rebounds and five steals for the Warriors, who opened a five-game East Coast trip by winning their fourth straight and boosting their NBA-best record to 50-9. Durant returned after missing a game with a right hand injury.
Dario Saric had 21 points for Philadelphia, which once again played without big man Joel Embiid. The 76ers announced earlier Monday that Embiid would be out indefinitely after experiencing swelling and soreness in his left knee following recent practices.
Hawks 114, Celtics 98
BOSTON (AP) – Dennis Schroder had 21 points to help Atlanta snap a three-game losing streak with a chippy win over Boston.
Paul Millsap and Dwight Howard each added 17 points. The Hawks led by 13 entering the fourth quarter and increased the edge to 24 despite playing the final 16 minutes without Howard, who was ejected in the third quarter after receiving his second technical foul.
Isaiah Thomas had 19 points as the Celtics ended a seven-game home winning streak.
Boston was off all night offensively, despite the return of guard Avery Bradley to the starting lineup after missing 22 of the previous 23 games with a right Achilles tendon injury.
Bradley was on a minutes' restriction, logging 15 while scoring six points.
Pacers 117, Rockets 108
HOUSTON (AP) – Jeff Teague scored 25 points and the Indiana Pacers overcame a huge first-half deficit and withstood a late rally by Houston to beat the Rockets 117-108 on Monday night.
C.J. Miles made a 3-pointer with 40.8 seconds left to make it 113-108, and Teague made a pair of free throws after that to put the game out of reach. It was just the second win in nine games for the Pacers and only their 10th road win of the season.
The Pacers rallied from 17 down in the first half and were up by 14 with about four minutes left The Rockets then used a 12-2 to get within two with less than a minute remaining. Lou Williams was fouled while making an off-balance 3 to cap the run, but missed the ensuing free throw. Miles followed with his 3.
Williams had 28 points to lead the Rockets. James Harden added 25 points with 12 assists and Nene added 15 points for Houston.
Local journalism is essential.
Give directly to The Spokesman-Review's Northwest Passages community forums series -- which helps to offset the costs of several reporter and editor positions at the newspaper -- by using the easy options below. Gifts processed in this system are not tax deductible, but are predominately used to help meet the local financial requirements needed to receive national matching-grant funds.
Subscribe to the sports newsletter
Get the day's top sports headlines and breaking news delivered to your inbox by subscribing here.
---