Sports > Outdoors
2016: The Year Outdoors
Sun., Jan. 1, 2017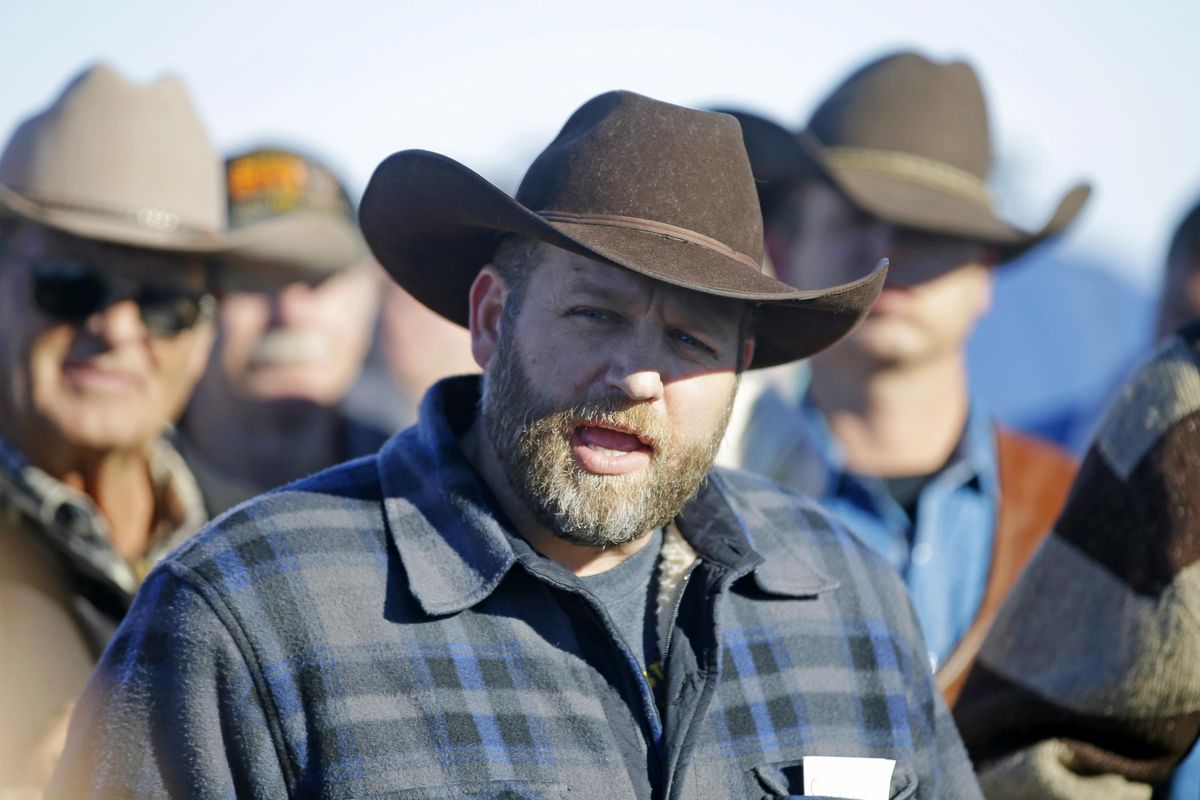 Ammon Bundy speaks with reporter at a news conference at Malheur National Wildlife Refuge Friday, Jan. 8, 2016, near Burns, Ore. Bundy, the leader of an armed group occupying the national wildlife refuge to protest federal land management policies said Friday he and his followers are not ready to leave even though the sheriff and many locals say the group has overstayed their welcome. (Rick Bowmer / Associated Press)
People ventured outdoors in droves in 2016, with parks such as Glacier and Yellowstone reporting record visitation during the centennial year of the National Park Service.
Even the Route of the Hiawatha rail trail near Lookout Pass attracted visitors in record numbers.
Mushroomers fanned out in national forests to harvest a bumper crop of morels in the charred wake of 2015's record-breaking wildfire season in Eastern Washington and the Idaho Panhandle. Wetter-than-normal fall weather brought on another bounty of fungi in the region's woods.
Federal land that addresses much of the public's appetite for outdoor pursuits was feeling more pressure from politics than crowds.
A 41-day militant takeover of the Malheur National Wildlife Refuge led by Ammon and Ryan Bundy sent chills through public lands advocates and managers. The protest cost taxpayers millions of dollars and forever changed the interface of federal land managers and the public.
Bolstered by Malheur and the eventual acquittal of the Bundys on conspiracy charges, some conservative lawmakers from local governments to Washington, D.C., continued to push for transfer of federal public lands to state and local control.
The pressing question is how this public land seizure zealotry might play out through the administration of president-elect Donald Trump.
Meanwhile, President Barack Obama in his last months of office used executive authority to keep treasured lands as they are, including designating national monuments in Utah and Nevada and protecting marine areas in the arctic and vast areas of northwestern Hawaiian Islands.
Some notable major private lands transactions that will impact recreation and wildlife include:
–Washington's Department of Fish and Wildlife taking ownership of 10,500 acres of the 4-O Ranch in Asotin County stretching from the Grande Ronde River to the Blue Mountains.
–Idaho Fish and Game securing a 10,000-acre conservation easement on a 13,169-acre Clagstone Meadows Ranch, owned by Stimson Lumber Company, to provide public access along Lake Pend Oreille.
–Texas billionaire brothers Farris and Dan Wilks, who have already bought 341,000 acres in Montana, closing public hunting access to 172,000 acres of timberland they acquired from Potlatch Corp., including a vast road system in Adams, Valley and Boise counties.
–American Prairie Reserve in northeastern Montana adding a 47,000-acre ranch to its patchwork of lands along the Missouri River, another step in a privately funded effort to stitch together a Connecticut-sized park where bison would replace livestock and cattle fences give way to open range near the Upper Missouri River Breaks National Monument and C.M. Russell National Wildlife Refuge.
Also on the topic of public access, paddlers praised a new law requiring Washington Department of Transportation to consider access to the water when building or refurbishing bridges. Mount Spokane State Park's entrance road was closed from July into October reducing visitation to a trickle of hikers and bikers using the open trails.
Hackers found plenty of access to online licensing systems in Idaho, Oregon and Washington. A breach into personal data of millions of hunters and anglers forced a shut down of online licensing systems for months. Active Network, the Texas-based company that owns and operates hunting and fishing license systems for several states, offered identity theft services to license buyers.
Hunters saw antlerless deer opportunities scaled back in the Spokane region following the 2015 blue tongue outbreak that killed hundreds, perhaps thousands of whitetails.
Idaho, Montana and Wyoming prepared plans for hunting grizzlies on the prospects that the bears will be delisted from Endangered Species protections in 2017.
Restrictions were added to baiting rules for Washington deer and elk hunters, but the Fish and Wildlife Commission stopped short of banning the practice and coming into line with many other states, including Idaho.
The auctioning of big-game hunting tags became a hot topic in Idaho as investigations found wealthy hunters influencing politicians. Gov. Butch Otter didn't reappoint two Fish and Game Commissioners who led the opposition to expanding privileges that benefit rich sportsmen.
Fishermen in the Spokane region benefited from lawsuits filed by advocates of wild salmon and steelhead. When the courts blocked releases of hatchery-raised steelhead into Puget Sound streams, the fish that had already been raised were trucked to inland lakes, including 255,000 hatchery steelhead released in Rock Lake, providing a Whitman County a fishing bonanza.
A-run steelhead coming up the Columbia were in short supply this year, probably due to last year's drought and poor ocean conditions. However, Lake Roosevelt produced a bounty of huge kokanee.
Columbia River fisheries management took several step toward preserving native species including lifting size and catch limits for bass, walleye and channel catfish from the mouth of the Columbia River 545 miles upstream to Chief Joseph Dam.
Meanwhile, northern pike gained a foothold in the upper reaches of Lake Roosevelt.
Major wildfires this year included the 5,000-acre Hart Fire that closed portions of the Lake Roosevelt National Recreation Area before jumping the Spokane River Arm and burning north through the Spokane Indian Reservation.
The Snake River Fire, started by careless campers on Aug. 2, jumped the river and charred 11,452 acres in Garfield and Whitman counties.
Recovering gray wolves continued to capture attention in the Northwest, especially in Washington – where 19 known packs are still protected by state or federal laws.
The Profanity Peak Pack was marked for elimination after repeated attacks that left at least 15 dead or injured cattle on a Colville National Forest grazing allotment.
Seven of the 12 pack members were killed by helicopter gunners and one died of natural causes.
The lethal control became a circus as pro-wolf groups protested wolf killing and Ferry County commissioners postured to take over wildlife management from the state because wolves weren't being killed fast enough.
The county sheriff, as well as a Washington State University wolf researcher, leaked information about the pack and the mission. In a rare public announcement, WSU officials apologized for statements by the researcher that led to death threats leveled at state workers and advisers.
A lone Washington wolf made headlines for wanderlust after it was shot in Central Montana. A GPS tracking collar indicated it had traveled 700 miles.
Invasive species and diseases reached red flag status in some areas.
Montana closed 183 miles of the Yellowstone River and tributaries for several weeks starting Aug. 19 as tens of thousands of fish were dying from complications caused by an invasive parasite.
Then invasive mussels were detected in the state's Tiber Reservoir prompting a state of emergency, field surveys, concerns about the Missouri River and a closure on boating on Glacier National Park.
Some ongoing efforts appeared to have success.
Yellowstone National Park reported a record haul of illegally introduced invasive lake trout from Yellowstone Lake.
An aerial effort to eliminate feral pigs prompted a partial closure of the Columbia Basin Wildlife Area in Grant County for the month of August.
But the tide seems to be building.
West Nile Virus was found in mosquitoes at Lake Roosevelt, chronic wasting disease was found in deer shot in Wyoming, bighorn sheep were dying in the first confirmed pneumonia outbreak on the National Bison Range and white-nose syndrome was confirmed in a little brown bat found near North Bend – the first recorded occurrence of this devastating bat disease in western North America.
Trails that beckon and lead hikers, bikers, hunters and other recreationists to adventure remained underfunded in most of the region in 2016 with volunteers trying to pick up slack for decimated federal trail maintenance budgets.
However, there were highlights, such as the reopening of Oregon's 41-mile Timberline Trail around Mount Hood after years of disrepair.
In the Spokane area, big improvements were made to trails at Liberty Lake County Park, Little Spokane River, Mount Spokane and Fishtrap Lake.
Scotchman Peak Trail 65 near Clark Fork, Idaho, was reopened after last year's concerns with aggressive mountain goats, and volunteers rerouted the trail to eliminate steep, eroding sections.
Spokane County acquired 160 acres in the Glenrose area as an addition to Dishman Hills Conservation Area. This advances the prospects for pursuing purchases and easements to create a public corridor for human-powered recreation and wildlife from the Appleway area of Spokane Valley south to the Rocks of Sharon.
The Spokane River Centennial Trail was extended two miles northwest to the Nine Mile Recreation Area on Lake Spokane.
Promoters of a 25-mile bike and walking trail along the Pend Oreille River between Dover and Oldtown, Idaho, gained momentum. Construction of a first segment is set for 2017.
Meetings were held to consider turning a state-owned abandoned railway into an 18-mile rail trail between Colfax and Pullman.
Washington State Parks adopted a plan to develop (and rename) the John Wayne Pioneer Trail – the portion of the abandoned Milwaukee Railroad corridor across Eastern Washington.
Trails led to wild experiences for many users, even on Spokane's South Hill bluff, where hikers had encounters with a black bear and cub and coyotes especially keen on chasing off-leash dogs.
Local journalism is essential.
Give directly to The Spokesman-Review's Northwest Passages community forums series -- which helps to offset the costs of several reporter and editor positions at the newspaper -- by using the easy options below. Gifts processed in this system are not tax deductible, but are predominately used to help meet the local financial requirements needed to receive national matching-grant funds.
Subscribe to the sports newsletter
Get the day's top sports headlines and breaking news delivered to your inbox by subscribing here.
---