News > Pacific NW
Roof collapses at Oregon school gym; no injuries
Jan. 12, 2017 Updated Thu., Jan. 12, 2017 at 8:50 p.m.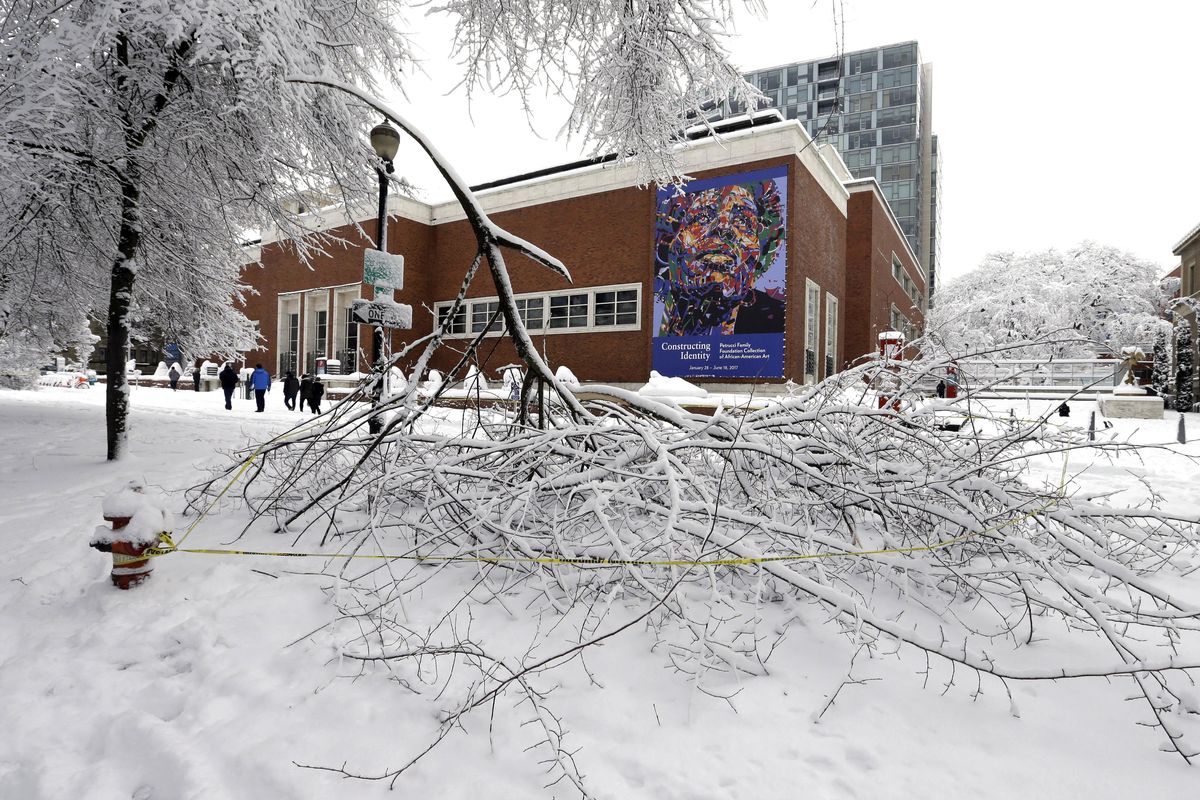 Tree branches, broken from the weight of heavy snow, are scattered on the ground of the park blocks across from the Portland Art Museum in Portland on Wednesday. (Don Ryan / Associated Press)
PORTLAND – A central Oregon district closed all its schools Thursday after a gymnasium roof collapsed at a Bend elementary.
Nobody was in the gym when the roof fell at Highland Magnet at Kenwood School, the Bend-La Pine School District said. There will be no classes for the rest of the week as districtwide roof assessments are conducted.
The weight from 2 feet of snow has strained roofs throughout Central Oregon. Bend firefighters responded to a collapse Wednesday evening, and a FedEx distribution center was evacuated because a collapse was feared, The (Bend) Bulletin reported.
Meanwhile, to the northwest, five people escaped injury west of Portland when the roof of the warehouse in which they were sleeping collapsed. Hillsboro Fire and Rescue spokesman Storm Smith said the three men and two women were wet from flooding caused by fire-sprinkler pipes.
Schools were closed, and more than 5,000 Portland General Electric customers remained without power Thursday as the Portland area recovered from one of the biggest snowstorms in its history.
Almost a foot of snow fell in downtown Portland on Tuesday and Wednesday, putting it in the conversation with similar storms from 1980 and 1995.
The sun was shining Thursday, but the National Weather Service expects freezing temperatures will prevent much melting over the next few days. Roads are unplowed, slippery or marred by icy ruts. Sidewalks are treacherous.
Oregon Gov. Kate Brown and Portland Mayor Ted Wheeler declared states of emergency Wednesday because of the severe winter storm conditions.
The state declaration allows the deployment of the Oregon State Police and the Oregon National Guard to help communities and frees up aid for recovery efforts related to the storms.
The Portland Bureau of Transportation ran plows through the night. KATU-TV reported that eight plow and salt trucks from Seattle arrived around 5 a.m. Thursday to assist.
TriMet, the Portland-based regional mass transit agency, said buses and light-rail trains were running normal weekday schedules but warned people to avoid unnecessary travel.
After a day filled with delays and cancellations, Portland International Airport was experiencing fewer problems Thursday.
Portland General Electric said power outages affecting more than 63,000 customers have been repaired, but the heavy snow continues to bring down trees and branches.
Central Oregon has been hit by several storms as it endures a winter for the record books.
The National Weather Service in Pendleton recorded 24 inches of snowpack Wednesday at the Bend Public Works Department near Pilot Butte. That amount broke the Jan. 11 snow-depth record, which was 16 inches on Jan. 11, 1993.
Fears of roof collapses had been a concern for days, and it happened Wednesday night. Bend firefighters said it occurred at a building that houses trucks and recreational vehicles near the Old Mill District. Debris from the collapse was found 100 yards away, according to a fire department news release.
Earlier Wednesday, the Bend Fire Department said in a tweet that the FedEx building "could literally collapse at any time."
The Bulletin reports that the building is standing, but its north wall is bowed and an engineer concluded the structure is unsound.
Local journalism is essential.
Give directly to The Spokesman-Review's Northwest Passages community forums series -- which helps to offset the costs of several reporter and editor positions at the newspaper -- by using the easy options below. Gifts processed in this system are not tax deductible, but are predominately used to help meet the local financial requirements needed to receive national matching-grant funds.
Subscribe now to get breaking news alerts in your email inbox
Get breaking news delivered to your inbox as it happens.
---