A&E > Entertainment
The 7: Actor Viggo Mortensen displays versatility and fearlessness in non-blockbuster roles
Fri., Jan. 13, 2017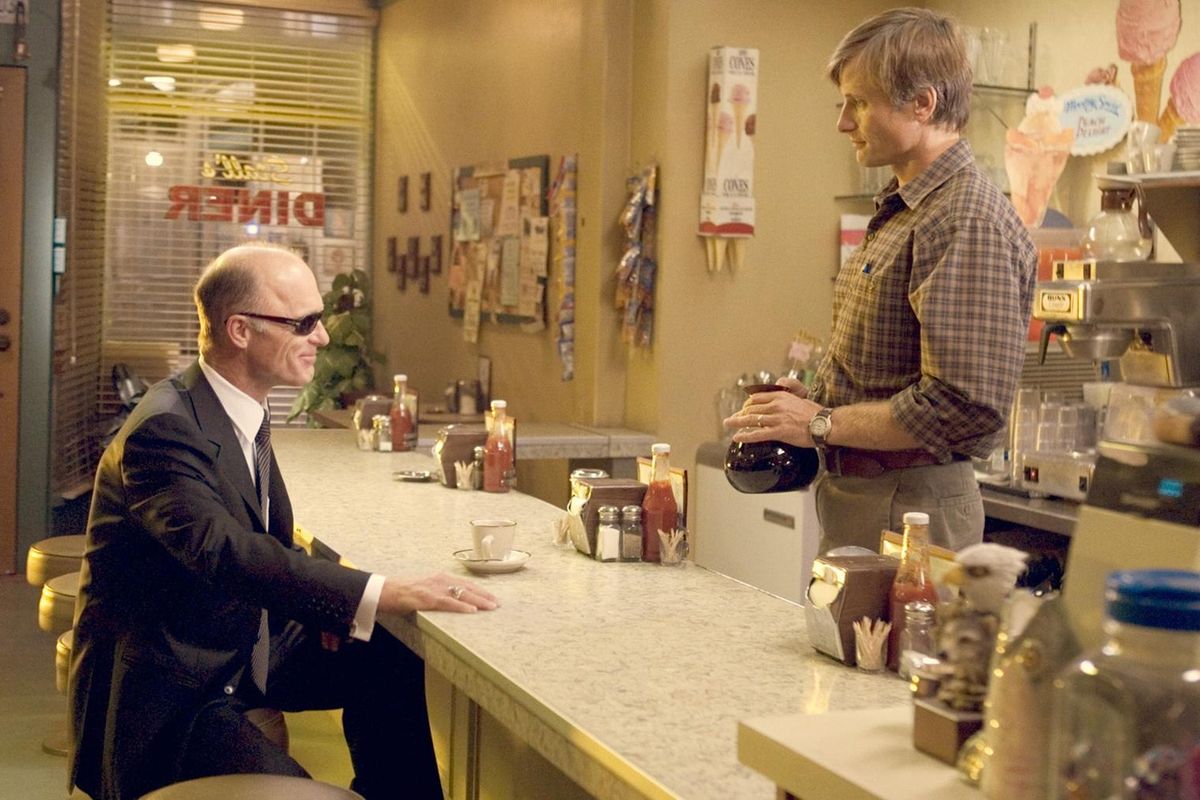 Tom Stall (Viggo Mortensen, right), runs a diner and lives a happy and quiet life until one day he attracts the attention of a mobster (Ed Harris) who believes he is someone else in "A History of Violence." (TAKASHI SEIDA / New Line Cinema)
People will probably be shouting "Hey, Aragorn!" at Viggo Mortensen for the rest of his life. Even if he's churning out classics for the next few decades, Mortensen's iconic work in Peter Jackson's "Lord of the Rings" trilogy is what's going to define his career.
But Mortensen is a more unpredictable, versatile actor than that famous role suggests. Consider his work in last year's "Captain Fantastic," which screens at Sandpoint's Panida Theater this weekend. He stars as Ben Cash, a man who has closed himself off from modern society and is raising his children in a commune in the woods. The performance has earned Mortensen a lot of critical praise and a Golden Globe nomination.
Mortensen is a sometime Pacific Northwest resident – he has a ranch in Sandpoint and is often spotted in Spokane – and he'll be on hand at the Panida screenings for Q-&-A sessions following the film. To illustrate how versatile he is, here are seven nonblockbuster Mortensen films that you might want to check out.
"The Reflecting Skin" (1990) – Directed by British novelist and playwright Philip Ridley, this twisted, violent oddity is about a young boy who is convinced vampires have quietly moved into his sleepy Idaho town. Although Mortensen doesn't appear until late in the film, his performance as the boy's troubled brother is visceral stuff. The film is unavailable on DVD in America, but it has been uploaded to YouTube.
"The Indian Runner" (1991) – Inspired by the Bruce Sringsteen song "Highway Patrolman," Sean Penn's melancholy directorial debut stars David Morse as a small town sheriff whose life is upended by the sudden reappearance of his lose cannon brother (Mortensen). In a cast that includes Dennis Hopper, Patricia Arquette, Sandy Dennis and Charles Bronson, a young Mortensen holds his own.
"Carlito's Way" (1992) – Brian De Palma's New York crime saga is so overloaded with great character actors that it's easy to forget Mortensen is in there. He has a small but pivotal role as a paraplegic gangster who attempts to rat on Al Pacino's crime boss, and his pivotal scene with Pacino tidily encapsulates the desperation and machismo that defines all of De Palma's gangster films.
"A History of Violence" (2005) – Mortensen teamed up with Canadian provocateur David Cronenberg for a string of singular, carefully crafted films in the mid-2000s. Based on a graphic novel by John Wagner and Vince Locke, this weird thriller stars Mortensen as a rural cafe owner who may, much to the surprise of his family, have a past. It's as bizarre, bloody and sexual as you'd expect from Cronenberg, but it's also darkly funny.
"Eastern Promises" (2007) – Cronenberg and Mortensen's second collaboration, the story of Russian mobsters in London, is perhaps even better than "Violence," and it's no less brutal. Mortensen, nominated for an Oscar here, is as quiet as he is threatening, and his nude fight sequence in a bathhouse is among the most graphic depictions of violence ever depicted in a wide release film. It's not for the squeamish.
"The Road" (2009) – The very notion of adapting Cormac McCarthy's terse, Pulitzer Prize-winning novel seemed a fool's errand, but director John Hillcoat accurately captures the author's bleak, desolate landscapes. Mortensen does good, quiet work as McCarthy's unnamed protagonist, the last remaining moral compass in a world ravaged by disease and cannibalism. The film is currently streaming on Netflix.
"The Two Faces of January" (2014) – Here's an overlooked, picturesque mystery, based on a novel by Patricia Highsmith. Oscar Isaac is an American working as a tour guide in 1950s Athens, and his chance encounter with an on-the-lam couple (Mortensen and Kirsten Dunst) enmeshes him in a tricky plot of murder and deception. The film is currently streaming on Netflix.
Local journalism is essential.
Give directly to The Spokesman-Review's Northwest Passages community forums series -- which helps to offset the costs of several reporter and editor positions at the newspaper -- by using the easy options below. Gifts processed in this system are not tax deductible, but are predominately used to help meet the local financial requirements needed to receive national matching-grant funds.
Subscribe to the Spokane7 email newsletter
Get the day's top entertainment headlines delivered to your inbox every morning.
---