Sports > Outdoors
Outpeople: Alice Busch guides special needs students on the slopes
Sat., Jan. 14, 2017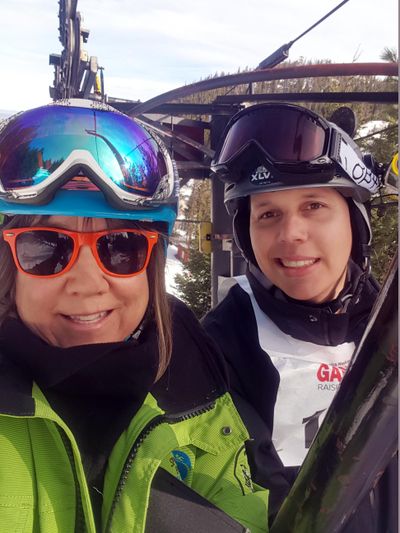 If you frequent Mount Spokane's Ski and Snowboard Park during the winter ski season, it's hard not to notice the folks in the lime green jackets. They're the people you see dispersed all throughout the resort, working tirelessly to guide and instruct individuals with disabilities as they negotiate the snowy terrain on skis, snowboards and adaptive ski sleds.
For Alice Busch, the Therapeutic Recreation Director for Spokane County Parks and Recreation, it's not only a dream job for her to manage the program, it's also become a pleasure for her to experience the joys firsthand as an adaptive ski instructor in the program. Joys that only a special needs program can provide.
"It's such a pure joy to see people experience a skill that they probably thought they couldn't do," said Busch. "The confidence and self-esteem boost that they get is amazing, not to mention seeing parents swell with pride and love when their kids are having fun and challenging themselves," she adds.
In addition to the joys, managing the county's adaptive ski program also comes with its challenges. The program is volunteer based and the work of an adaptive ski instructor, while rewarding, can be very tiring.
"It's always challenging when it comes to finding enough volunteers to train as ski instructors," she said. "It can also be difficult to convince people that skiing and snowboarding are possible for many different populations."
While Busch now spends a large chunk of her winter months with skis under her feet, she never dreamed as college student, enrolled in Eastern Washington's Therapeutic Recreation Program, that skiing would someday become a major focus in her life.
"I never even learned to ski until I was a junior in college, thanks to my roommate, born on skis and unwilling to leave this farm girl alone until I tried it."
Not long after, everything else fell into place.
"I fell in love with it and learned more each year skiing with the parks program," Busch said. "Shortly after my graduation, I was hired to be the Coordinator of the Powderhound program in 1986 and then was hired as the county's Therapeutic Recreation supervisor in 1989."
Busch has seen a lot in her 30-plus years helping folks with disabilities on the slopes, but there's one image in her mind that sticks out amongst the rest.
"If there's one thing that I love seeing the most, it's seeing all those empty wheelchairs sitting at the base of the mountain."
If you're interested in becoming an Adaptive Ski Program volunteer, you can contact Alice Busch at (509) 625-6245.
Local journalism is essential.
Give directly to The Spokesman-Review's Northwest Passages community forums series -- which helps to offset the costs of several reporter and editor positions at the newspaper -- by using the easy options below. Gifts processed in this system are not tax deductible, but are predominately used to help meet the local financial requirements needed to receive national matching-grant funds.
Subscribe to the sports newsletter
Get the day's top sports headlines and breaking news delivered to your inbox by subscribing here.
---