News > Crime/Public Safety
With four more captures, sheriff's K-9 Laslo retires on high note
March 1, 2017 Updated Wed., March 1, 2017 at 10:56 p.m.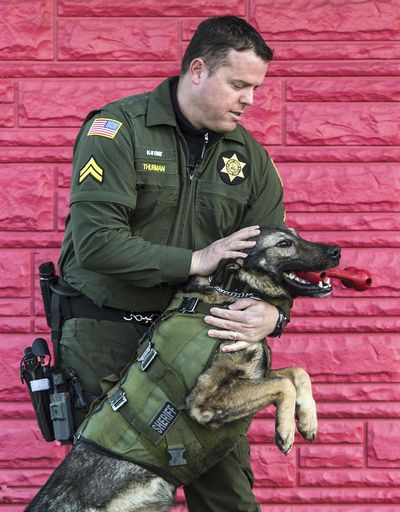 K-9 Laslo's last days with the Spokane County Sheriff's Office were busy. On Saturday night, a day before the prolific police dog retired, he helped capture four suspects, adding to a list of nearly 500 apprehensions.
And it wasn't the first time Laslo had encountered one of those suspects.
Michael T. Namet, 25, may have recognized Laslo as the same dog who chased him up a tree in June 2014 near the Avista substation in north Spokane. In that case, Namet was suspected of trying to steal copper wire from the substation along with another man.
On Saturday night, Namet was one of three people who allegedly tried to burglarize storage units in Post Falls before driving into Washington in a stolen car. They fled on foot after the car got stuck in a ditch in Liberty Lake, so police and deputies established a perimeter and used a loudspeaker to warn residents to stay indoors, according to a Sheriff's Office news release.
Laslo and his handler, Cpl. Jeff Thurman, found Namet in a backyard in the Greenacres community. Namet complied while the other two suspects – Teresa A. Rutter, 39, and David A. Kropp, 44 – tried to hide behind a shed, the release said.
"Suddenly," the release said, "Rutter stood up in an attempt to flee but K9 Laslo quickly made contact and brought her to the ground."
The dog jumped on Kropp, too, as Thurman ordered them to show their hands and waited for backup to arrive.
Deputy Mark Gregory, a Sheriff's Office spokesman, said he didn't know the full extent of Laslo's contact with the three suspects, but each was given medical treatment before going to the Spokane County Jail.
All three suspects face a charge of possessing a stolen vehicle. Rutter and Kropp also were wanted by the state Department of Corrections.
In a separate incident Saturday night, at about 8:30 p.m., Thurman watched a vehicle pull out of a parking lot "in a reckless manner" onto East Trent Avenue, then speed up and round a corner onto North Park Road in Spokane Valley, the release said.
Thurman pursued the vehicle with his lights and sirens on, but the suspect, later identified as John M. Fay, continued driving until his vehicle slowed down on North Dora Road just north of Trent. The release said Fay's vehicle emitted a plume of smoke and a smattering of oil, then rolled into a curb and came to rest.
Fay, 53, tried to run but Laslo quickly caught up to him, the release said. He struggled to get free by pushing and hitting the dog. Another deputy arrived to assist in the arrest.
Fay was given medical treatment and booked into the Spokane County Jail on charges of attempting to elude a law enforcement vehicle, obstructing an officer, resisting arrest and driving with a suspended a license. He also had a misdemeanor warrant for driving with a suspended license.
According to the release, Fay told deputies he ran because he didn't have a driver's license and acknowledged he "should have stopped."
Sunday was Laslo's last day on the force and Thurman's last day as a corporal and K-9 handler. Thurman has been promoted to detective, and he adopted Laslo as a family pet.
Local journalism is essential.
Give directly to The Spokesman-Review's Northwest Passages community forums series -- which helps to offset the costs of several reporter and editor positions at the newspaper -- by using the easy options below. Gifts processed in this system are not tax deductible, but are predominately used to help meet the local financial requirements needed to receive national matching-grant funds.
Subscribe now to get breaking news alerts in your email inbox
Get breaking news delivered to your inbox as it happens.
---