News > Health
For Spokane's John Patrick Lynch, a battle becomes a memoir
UPDATED: Thu., March 23, 2017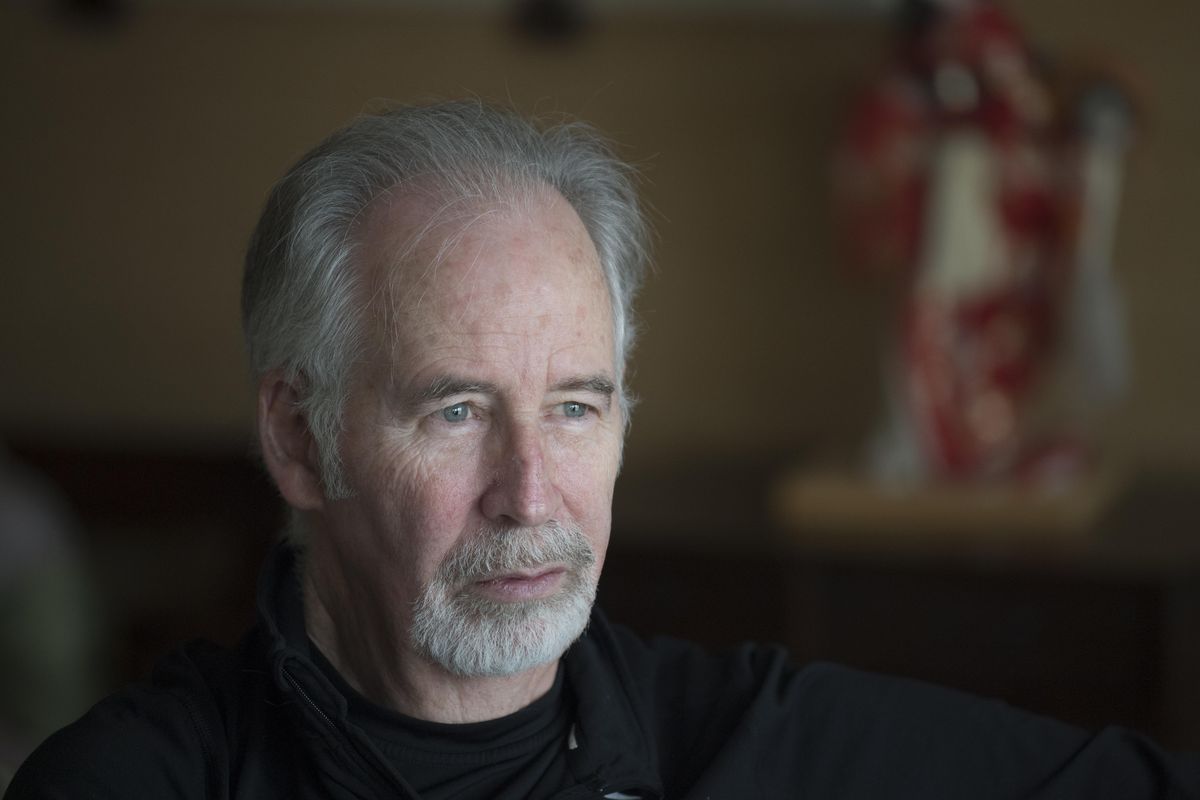 Retired attorney John Lynch has suffered with rheumatoid arthritis since he was a child. He has written a book about his experiences. (Jesse Tinsley / The Spokesman-Review)
At first he shrugged off the soreness and swelling in his hands.
As an active 11-year-old playing on a parochial school tackle football team, John Lynch already knew pain was just something you played through.
"I wanted to be a linebacker for what was then the Baltimore Colts," he said.
Then the inflammation and pain spread to his knees and feet. He didn't tell anyone, but in May 1959, his mother, a nurse, noticed the swelling and took him to the doctor, where he was diagnosed with rheumatic fever.
This wasn't something he could play through. He was given penicillin and confined to bed for the rest of the summer. But months of bed rest didn't cure his painful symptoms.
In his recently released memoir, "Tales of an Old Katfish," (The Rheumatoid Arthritis Project, 2016) Lynch, 69, writes, "… the inflammation continued to wage unrelenting war on my joints."
It wasn't until his sophomore year at the University of Washington that he discovered the cause of his ongoing discomfort: juvenile rheumatoid arthritis, now known as juvenile ididiopathic arthritis. This chronic, inflammatory autoimmune disease causes the immune system to attack the joints and other parts of the body and can cause permanent deformity.
And Lynch's dreams of playing for the NFL?
"That fell off the radar after I was diagnosed," he said.
The "Katfish" in the book's title refers to "Kids and Teens' Families Investing Support and Hope" for children with juvenile arthritis. Every year kids across the nation attend Katfish summer camps where they get to hang out with those who know exactly what they're going through.
At the time of his diagnosis the only treatment was high dose aspirin, which didn't offer much relief. Still, Lynch said, "I didn't become a recluse. My personality kept me in the game."
Indeed. He earned a bachelor's degree in chemistry from UW, an MBA from University of Oregon, and a law degree from Gonzaga. He married his wife, Vivian, in 1973, and together they raised two children, Monica and Matt.
The disease often goes through cycles of remission and then flares up again. Lynch established a thriving legal practice but admitted, "In the '90s my disease really interfered with my family and my law practice."
Yet he refused to let arthritis sideline him. Water became his refuge. He couldn't run. Walking was often painful, but he could swim. In the water he felt strong again.
"I was an active kid and I'm an active adult."
He took up long distance swimming and lake crossings at age 62, and competed in the swim portions of several triathlons.
Lynch laughed. "Now that I know I can do it, I won't do it anymore."
Over the years, he's tried many different treatments for rheumatoid arthritis. The medications were expensive and often came with problematic side effects. The advent of self-injected biologics helped tremendously. Currently, he's using Remicade and receives infusions at his doctor's office.
In 2001, motivated by his own struggles with the disease, he became involved with the Arthritis Foundation and was soon a foundation advocate. In 2004, he established his own nonprofit, The Rheumatoid Arthritis Project (juvenilearthritisproject.org/).
"This is why I'm here – to raise awareness about this insidious disease."
The book project began after he retired in 2009.
"I felt I had the perspective, the time and the inclination, but it took a lot longer to write than I imagined," he said. "I want it to be a guide to getting through life with something like this. I want young people especially to see they can have a good life despite what they're going through. To know they can have a meaningful life and successful relationships."
Proceeds from the sale of the book go entirely to the nonprofit.
In addition to his own story, Lynch includes short profiles of others who are living with arthritis.
"I didn't want it to just be about me. There are other stories that should be told, too."
Stories like 14-year-old Christina McCarty's, whose artwork graces the cover of "Tales of an Old Katfish." Or Isaac Bawden, 9, who runs cross country at his school and plays on a soccer team.
Lynch is doubtful a cure will be found in his lifetime, but at the recent Jingle Bell Run (an annual fundraiser for the Arthritis Foundation) a little girl came up to the registration table and picked up a copy of his book.
"She was 11 and had braces, and she said, 'I want to be a pediatric rheumatologist,' " he recalled. "Maybe, she'll be involved in the cure."
Until then, Lynch plans to press on.
"For the rest of my life I want to raise awareness about juvenile arthritis."
Local journalism is essential.
Give directly to The Spokesman-Review's Northwest Passages community forums series -- which helps to offset the costs of several reporter and editor positions at the newspaper -- by using the easy options below. Gifts processed in this system are not tax deductible, but are predominately used to help meet the local financial requirements needed to receive national matching-grant funds.
Subscribe now to get breaking news alerts in your email inbox
Get breaking news delivered to your inbox as it happens.
---