News > Family
Elder abuse cases on the rise
Sun., May 7, 2017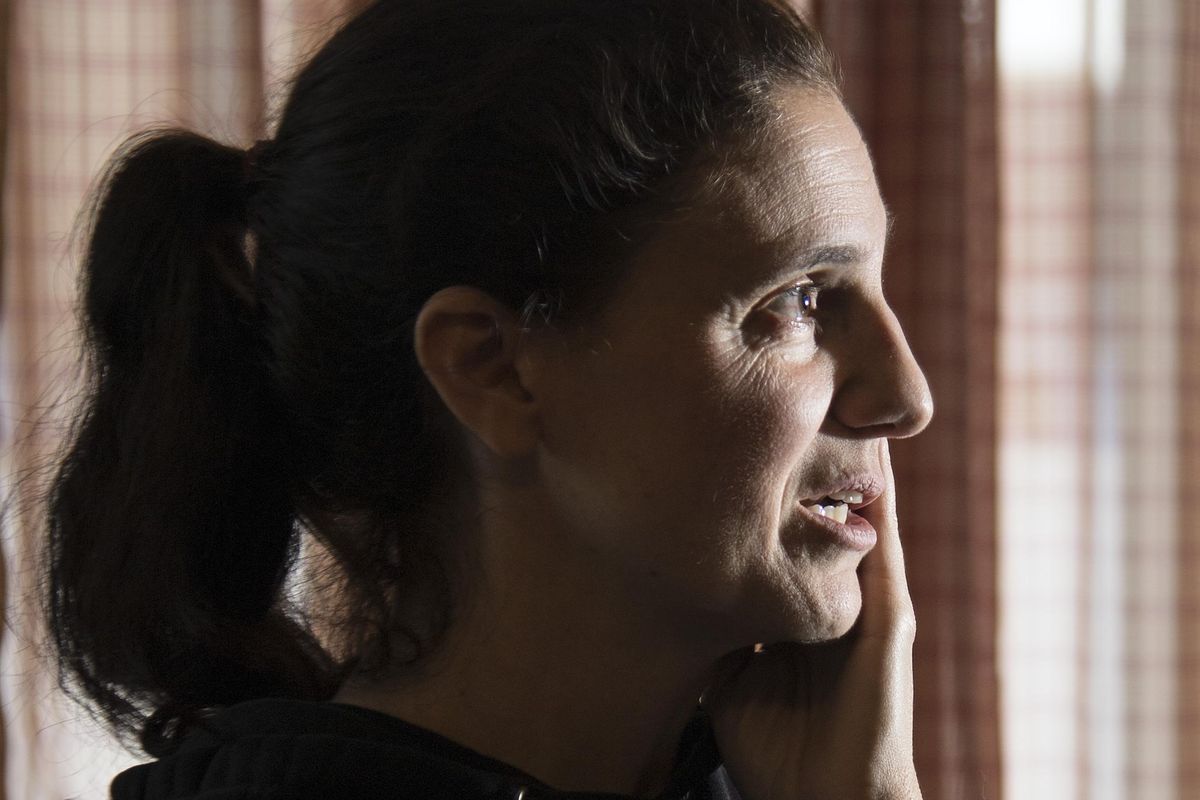 In the last year of his life, Mary Ressa was concerned that her father might be the victim of elder abuse. She reported it to the state, and the investigation was inconclusive. (Colin Mulvany / The Spokesman-Review)
Mary Ressa recalls her father as vibrant and active, up until a cancer diagnosis in 2013 at age 89.
During the last year of his life, there were several changes she found alarming, including a sudden switch to a different church parish rather than one he'd attended for 30 years. She also had concerns about his finances and that he was becoming isolated, Ressa said.
Eventually, Ressa contacted the state's Adult Protective Services because she was concerned her father might be the victim of elder abuse by another relative. The agency investigated, but the findings were inconclusive, Ressa said.
Despite that outcome, she doesn't regret her decision to file a report, and her father eventually came to live in her family's Mead home under hospice care during his final weeks. She urges other people in a similar situation to follow their instincts.
"At first, I didn't see it," Ressa said. "I couldn't believe it was happening; you want to give someone the benefit of doubt, but at some point your gut is telling you that the suspicion is beyond doubt."
"You don't have to prove it; it's not your job to prove it. If you suspect it, you should report it."
In hindsight, Ressa believes one problem in protecting a vulnerable adult is that people in authority might get only bits of information, and from those not be able to see the larger picture. When relatives are involved, officials also might assume the situation is only a family spat, she added.
"Oftentimes, it looks like a fight between relatives, so it's hard for outsiders to distinguish that," she said. "But I think if you're talking about preventing and awareness, if you know there are signs, you don't hurt anything by reporting."
Reports of abuse against vulnerable adults are on the rise in Washington state based on data collected over the past eight years.
In 2008, Adult Protective Services received nearly 14,400 reports and found reasons to investigate slightly more than 12,000 of them. The state agency last year had more than 42,000 reports, of which 28,285 were determined worthy of investigation. Those investigations covered more than 35,000 allegations, as one investigation may contain different types of abuse against an elder.
"We think it's a combination of an aging baby boomer population combined with an improved awareness of adult abuse among the public," said Chris Wright, a spokesman for the Washington state Department of Social and Health Services.
Also, people generally are staying alive longer, so there are more vulnerable adults than in years past, according to Pat Stickel, APS field services administrator in Spokane for Eastern Washington. "We're also getting the word out about what Adult Protective Services does and can do," he added.
A large number of the agency's 2016 investigated cases – 25 percent – were for financial exploitation. Other categories of abuse fall under abandonment, improper restraint, mental abuse, neglect, physical abuse, self-neglect, sexual abuse, and personal exploitation.
Personal exploitation is defined as an act of forcing, compelling, or exerting undue influence over a vulnerable adult causing that person to act in a way that is inconsistent with relevant past behavior, or causing the vulnerable adult to perform services for the benefit of another.
Stickel said reports of adult abuse in Eastern Washington have almost doubled in the past five to six years.
"Sixty to 70 percent of people we investigate as alleged perpetrators are actually family members," Stickel said. "They typically come to us referred by another family member or sometimes a professional. We investigate financial exploitation far more than any other."
"It's not uncommon to have multiple allegations within one investigation," he added. "Mental abuse can sometimes go hand-in-hand with financial exploitation or even neglect. Someone might say, 'You're not going to see your grandkids unless you loan me money.' "
Some cases involve overt yelling and swearing at a vulnerable adult. Too often, people being investigated are adult children or grandchildren taking money from their elderly parents or grandparents, Stickel said. The victim might be showing signs of cognitive decline or lessening of a support system among friends and family.
Anyone can file an APS report – whether a professional contact, family member or acquaintance – if serious concerns arise about the welfare of a vulnerable adult, Stickel said. Unless there is a court action, law enforcement is needed, or a reporting party agrees, names of people making reports remain confidential, according to the APS website.
If a report is made in good faith, reporting parties also can't be held liable for any damages resulting from reporting, the agency website says.
APS investigates allegations of abuse, neglect and exploitation of vulnerable adults as defined under state statutes, and provides protective services to those adults if needed and wanted. Statutes defining a vulnerable adult have several criteria, but a person only has to meet one of those, Stickel said.
"The term vulnerable adult can apply to anybody over the age of 18," Stickel said. "It could be somebody with a developmental disability. It could be somebody in a licensed facility, like an assisted-living facility or similar arrangement. The majority of our clients are people who are over age 60."
"The majority of our investigations are in people's homes, but we do go to facilities too."
While similar to Child Protective Services, he said statutes governing APS are different.
"We have to have client consent to provide protective services," he said. "The only protective service where we don't have to have that consent is if we feel they can no longer make those decisions because of dementia or some other cognitive issue, then depending on the circumstances, we may petition the court for guardianship."
In less extreme cases, support might be as simple as connecting an elderly person who can no longer manage payment of bills to an official called a protective payee, Stickel said.
Other types of protective services might be to refer professional case management services, to assist in entering a care facility if that's what the person wants, or to file in court for a vulnerable adult protective order. The agency goes through the state attorney general's office to file those requests.
"One red flag we often see, and it doesn't necessarily mean something bad is happening, but we call it a stiff arm when a caregiver or a family member repeatedly tells people who come by to visit that they're in the doctor's office, sleeping or sick," Stickel said. "There are repeated excuses why they can't be seen.
"We have to question whether this person is being purposely isolated," he added. "When we get a referral and if it fits our criteria in statutory definitions, and that person is considered a vulnerable adult, we're required to go out and see the victim face to-face. We typically will go unannounced."
Depending on the severity of danger based on initial reports, the investigator might have to go immediately, or within 10 days.
"If we have any indication of a dangerous situation, we'll go out with law enforcement," he said.
Ressa hopes that people remain vigilant if they're around a vulnerable adult, and that they advocate for that person. She equates elder abuse to similar issues with some domestic abuse cases.
"Someone with Adult Protective Services told me it's like if the police are called in and the wife has a black eye and you ask her, 'Did he do that to you?' and she says 'no' they can't do anything unless someone witnessed it," she said.
"How do you prove emotional abuse of a vulnerable adult other than the person saying that this happens?"
She's also learned that elder abuse can go unnoticed for a while because many adult children are busy with their own lives. "They don't have the kind of contact they've had to see something going on with an elder relative, so it allows other people to move in."
For most people who go through aging and end-of-life decisions, they rely on close relatives, family, even neighbors to make decisions, she added.
"That's not wrong," Ressa said. "It's wrong if you're not following the person's intention or you're doing something for personal gain.
"Some people don't report adult abuse because they fear retribution, or that it could be you'd lose a friendship," she added. "Filing a report can mean a loss of inheritance. It becomes self-serving, without consideration of what's happening to the vulnerable adult."
Local journalism is essential.
Give directly to The Spokesman-Review's Northwest Passages community forums series -- which helps to offset the costs of several reporter and editor positions at the newspaper -- by using the easy options below. Gifts processed in this system are not tax deductible, but are predominately used to help meet the local financial requirements needed to receive national matching-grant funds.
Subscribe now to get breaking news alerts in your email inbox
Get breaking news delivered to your inbox as it happens.
---