Neighbors decry vulgar signs at 'bikini barista' stand in Spokane's Hillyard neighborhood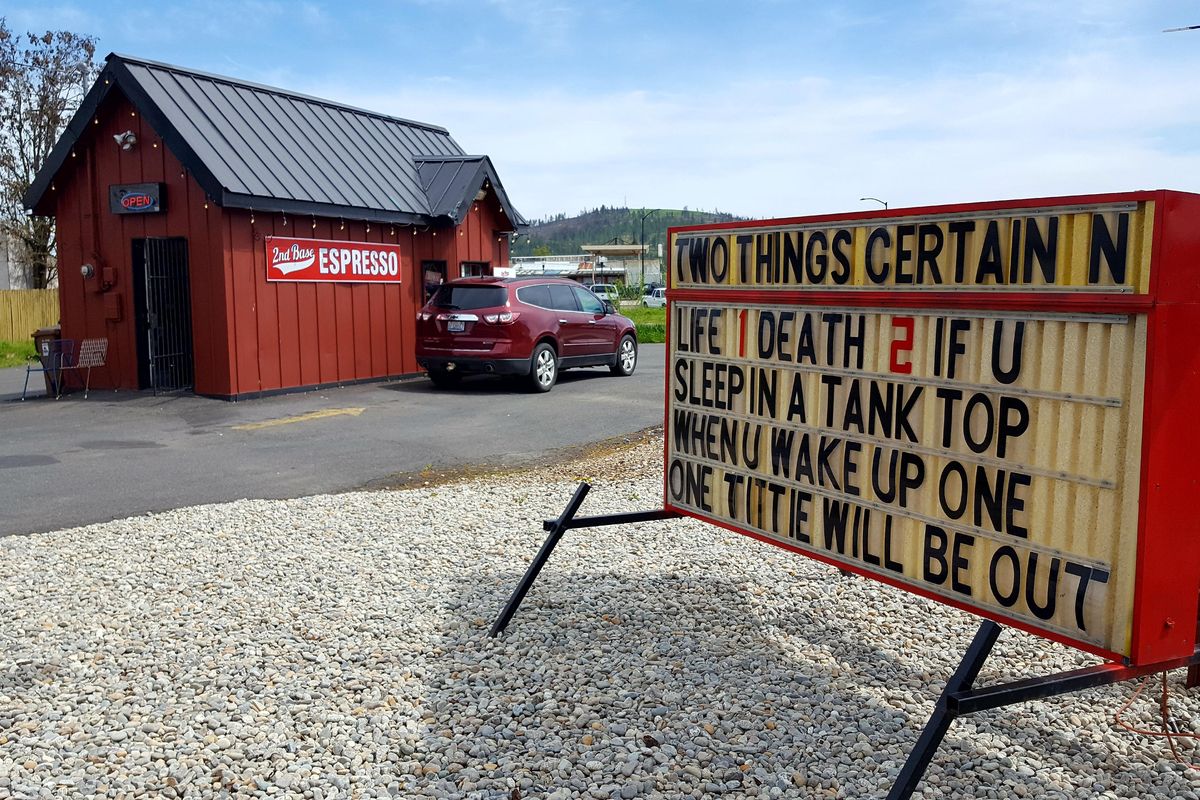 Alicia Hoover stood at a bus stop in Spokane's Hillyard neighborhood and squinted at a street sign a block away.
"Two things certain in life," the sign read on Tuesday afternoon. "1. Death. 2. If u sleep in a tank top when u wake up one (breast) will be out."
Hoover, who was on her way to a doctor's appointment nearby, was confused – and a little offended.
"I don't know how that sells coffee," she said, shaking her head. "There's no reason for it."
The sign is supposed to be an advertisement for 2nd Base Espresso, a "bikini barista" stand on the corner of East Sanson Avenue and North Haven Street. It greets drivers with a new provocative or vulgar message every few days.
The business, where scantily clad women serve jolts of caffeine out of a drive-thru window, has a reputation for pushing the limits. Earlier this week, it came under fire on social media for a racist sign reading, "Why can't u play Uno with Mexicans? They take all the green cards."
Approached by a Spokesman-Review reporter on Tuesday, a nearly naked woman pulling shots of espresso identified herself as the business owner. She said her name is Jeana and refused to give her last name.
Jeana said she's responsible for the signs and offered no apologies for what she considers harmless humor. She declined to comment further.
On Monday, KXLY reporter Drew Reeves said the owner of 2nd Base Espresso called police when he arrived to ask about the signs.
"The owner filmed us while we did our story. She threatened to have our car towed and sue us," Reeves wrote on Twitter. "Police informed us the coffee stand owner tried to file harassment charges against us. That did not happen as we did nothing illegal."
A spokesman for the Spokane Police Department did not immediately respond to a message seeking to verify Reeves' account.
2nd Base Espresso relocated to Hillyard more than two years ago. It previously operated on the corner of East Sprague Avenue and South Dollar Road in Spokane Valley. In both locations, residents decried the stand's main billboard featuring a picture of a woman wearing only a G-string and angel wings.
The owner "loves to push the envelope," said Dave Griswold, president of Hillyard Community Futures, a group that does long-term planning for the neighborhood. "She puts up signs that are right on the edge. She's trying to run a business, and she runs it a little roughshod."
City Councilman Mike Fagan, who represents northeast Spokane, said he occasionally receives complaints about bikini barista stands across the city, mostly from parents upset about the images exposed to their children.
Fagan, the most conservative member of the City Council, said he's "a believer in the First Amendment," but the signs at 2nd Base Espresso often cross the line. A year ago, for instance, a sign there featured the F-word, apparently in violation of city code.
"Some of the messages I've seen in the past couple of weeks have been absolutely obscene," he said, noting that the Northeast Youth Center is within walking distance of the coffee stand. "You don't even see that kind of messages on the XXX stores, or that kind of innuendo."
In 2013 and 2015, Fagan proposed city ordinances that would keep businesses with naked or nearly naked workers away from schools, parks, places of worship, libraries and day care centers. Both of those proposals failed, as did a ballot measure with the same goal in 2015.
Not everyone minds the signs at 2nd Base Espresso, and some find them entertaining.
"I think it's all just in good humor," said Jim Solomon, who has owned United Hillyard Antique Mall with his wife, Deana, for 29 years. "It's just comical to see what comes up next."
Keith Esperum, who lives a block north of the business on East Rowan Avenue, said he doesn't mind the bikini baristas, who can't easily be seen from the road.
"But when they put vulgar signs up," he said, "that's when I have a problem with them."
Esperum, 59, has 10 grandchildren and said he doesn't want them exposed to the "light porn" on display at 2nd Base Espresso.
"I'm an old biker, you know, used to a rowdy lifestyle," he said. But the signs at the coffee stand are "beyond risqué" and "just plain old raunchy."
---