Kendall Yards grocery store will feature chefs, local products and urban vibe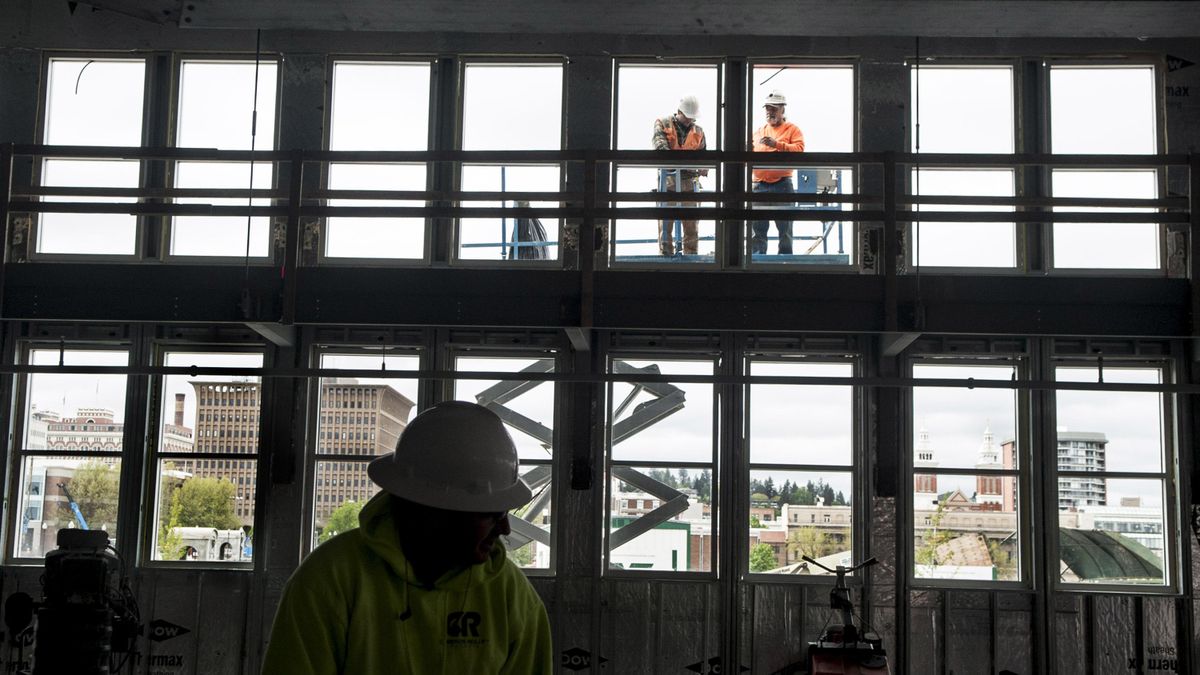 If downtown Spokane is a bit of a food desert, there's an oasis on the horizon.
A new grocery store in Kendall Yards will cater to Spokane's growing downtown neighborhoods with sales of fresh local foods and space for customers to hang out.
The owners of My Fresh Basket Marketplace are aiming for a soft opening in mid-June for the store at 1030 Summit Parkway, with a grand opening in late July.
The 28,000-square-foot market is about half the size of a regular grocery store, and it will have a distinctly urban vibe, said Dave Yount, the store's project manager.
He envisions customers stopping by the store to pick up ingredients for that night's dinner.
"It's kind of what we call a 'day market,' where you can get your produce fresh," he said.
"Fresh is the buzz word on what we're trying to do in all areas of the store," Yount added.
My Fresh Basket will feature local products and an organic section along with grocery store staples. The store also has hired two chefs who will put together entrees that can be eaten on site or ordered to go.
An outdoor patio will have plug-ins for laptops and phones. The store's mezzanine level will have additional seating, with lounge-style chairs.
The goal is to create a cozy, Starbucks-like gathering spot for customers, said Dan Petek, a spokesman for My Fresh Basket.
"This is a store that will appeal to people from a lot of different economic groups," he said.
My Fresh Basket's target customers are residents of nearby neighborhoods, including Kendall Yards, West Central and the growing number of downtown apartment and condo dwellers, Petek said. The area is something of a "food desert" with limited grocery offerings, particularly within walking distance, he said.
But Petek also thinks the store will become a destination for its ambiance and specialty products.
"People may come from the Valley because they can't find the hand-carved meat they're looking for anywhere else," he said.
Kendall Yards developer Jim Frank said he had conversations with Fred Meyer, Whole Foods and URM before finalizing an agreement with My Fresh Basket, which is owned by local investors.
The chains wanted larger stores with parking exclusively reserved for their shoppers.
"I really like Fred Meyer as a grocer. … They're very innovative," Frank said. "But they wanted a 100,000-square foot store with a big parking field. We wanted a store that was more neighborhood in scale."
About 50 new parking spaces will be added with the store. My Fresh Basket customers also can park in about 250 nearby parking spaces that are shared with other businesses, including a clinic that is closed during peak grocery shopping hours.
The idea of a one-of-a-kind grocer appealed to Frank, who said retail centers start to look the same if they all have the same stores.
"We wanted someone local who understood the vision for Kendall Yards," he said.
Frank also has fielded inquiries from national restaurant franchises about locating in Kendall Yards, a mixed-use neighborhood emerging on an old industrial site overlooking the Spokane River.
"We've turned them all down," Frank said. "We wanted the restaurants to be local, and we wanted them to be unique."
My Fresh Basket draws on a number of trends in the grocery business, including people's desire to eat healthier but still have the convenience of fresh prepared foods, Yount said.
The market's prices should appeal to a range of customers, he added.
A prime rib sandwich from the deli will cost about $10, while prices for staples such as bread, milk and eggs will be competitive with other grocery stores, Yount said.
My Fresh Basket will offer grocery delivery service, another emerging trend in the industry. In addition, people will be able to buy groceries online and pick up their assembled orders.
The store also will get traffic from events such as cooking demonstrations, classes for kids and specialty dinners, where the chefs will interact with the guests as they prepare a multicourse meal for a small group of diners, said Petek, the store's spokesman.
"We've looked at stores all over the country" for ideas, he said. "If you want to buy a frozen TV dinner, there are a lot of places to get that. …This is a place to enjoy food, eating and being with other people."
My Fresh Basket will employ about 100 people, most of whom have been hired, Yount said.
Crews are working from 6 a.m. to 11 p.m. daily to get My Fresh Basket ready for the mid-June opening. On Wednesday, contractors were working on the non-slip floor in the prepared foods area.
Construction on the building should wrap up in early June, allowing about two weeks to stock the store before the soft opening, Yount said.
Vandervert Construction Inc. of Spokane is the contractor; Shoesmith Cox Architects of Seattle is the architect; and Phillips Enterprises Inc. of Langley, Washington, is the interior design firm.
---