News > Spokane
Snowy, wet winter and spring boost dandelions, kills roses; toll on wine grapes yet to be known
May 21, 2017 Updated Sun., May 21, 2017 at 10:04 p.m.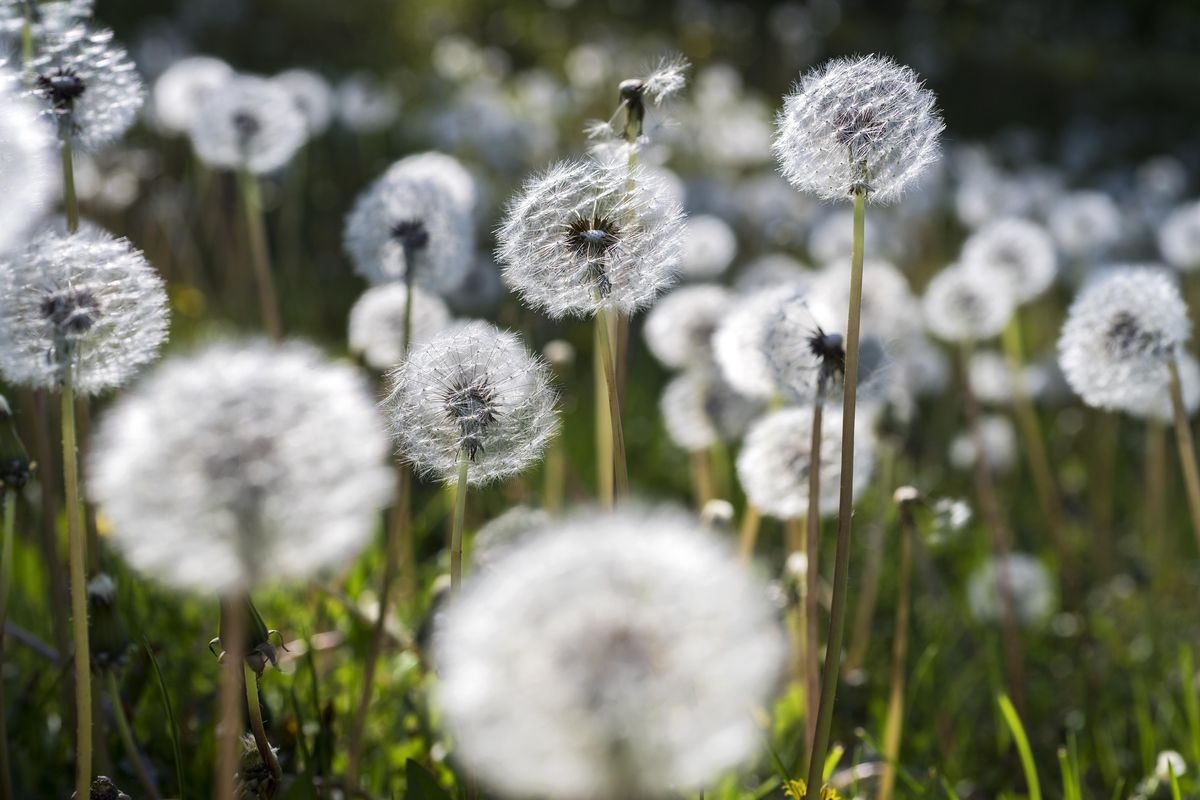 A sea of dandelions go to seed in a neighborhood common area near at the corner of 37th Avenue and Custer Street, May 10, 2017, in Spokane, Wash. (Dan Pelle / The Spokesman-Review)Buy a print of this photo
Winter seems to leave its mark on spring every year. This year, it's a bumper crop of dandelions.
The darn things are sprouting up all over the place with healthy leaves and vigorous roots.
"It's wet," which is perfect for dandelions, explained Janis Saiki, plant manager of the Friends of Manito organization.
In addition, the heavy covering of snow last winter acted like a mulch to protect low-growing plants from damage.
Pat Munts, the small farm and urban agriculture coordinator for WSU Extension in Spokane, agreed.
She said the dandelions loved all of the moisture they've had since the ground thawed.
In addition, the plants "really develop without heat stress," she said.
Munts, who writes a gardening column for The Spokesman-Review, said dandelions have been spreading as people turn away from chemical herbicides.
They're not all bad. Honeybees need them as an early source of nectar, she said.
It isn't just dandelions that are blooming. The wetness of late winter and early spring was great for moss, lawn violets and tulips, which have been fat and happy this season.
Also on the positive side, the blooms on early flowering plants have lasted longer than normal, including tulips and daffodils.
The old saying "April showers bring May flowers" will hold true this season. Look for an excellent show from irises, which are just opening now.
A little-known tip about lawn moss: Tide granulated detergent is effective at knocking back the moss for at least one season, but the stuff tends to come back the following year. The detergent is also effective if spread over moss on roof shingles.
From root to branch
Apple and crab apple trees are blooming profusely.
It is possible that those trees reacted to hot and dry weather in the previous summer by setting more flower buds.
To the contrary, rhododendrons, which are just opening now, appear to be more sparse than normal.
Munts said some rhododendrons were damaged by the cold. Butterfly bushes may also be damaged, she said.
"A lot of people are losing drought-tolerant plants," things like ornamental onions and crocosmia, Saiki said.
It is obvious that the cool, wet spring has slowed plant growth and delayed flowering by a couple of weeks or more.
In the vegetable patch, cool-weather crops like lettuce, spinach and peas are maturing more slowly than usual.
Since Oct. 1, Spokane has had 22.25 inches of precipitation, the most on record through early May.
Part of that precipitation includes the water content in some 61.5 inches of snow this past season.
December, January and February were all colder than normal. January was a huge 9.3 degrees colder than usual.
All of those cold temperatures caused the ground to freeze. When winter was winding down, it was marked by rounds of freezing and thawing.
A toll on roses
As a result, hybrid tea roses took a beating, said Andrew Smith, of Northland Rosarium, 9405 S. Williams Lane.
Many roses around the region died. Black rose canes are seen all over the city, which is the result of cold kills.
Other roses had substantial cane damage.
"Everyone has been saying that everything is dead," Smith said.
Northland specializes in hardy rose varieties raised on their own root stock, as opposed to roses grafted onto the root stock of another plant.
Roses that have damaged canes come back from the plant crown and root area, but grafted roses will send up shoots of the host root stock, usually a mundane species variety as opposed to a showy tea rose.
Northland's roses stay true to type, Smith said.
David Daniels at Wabi Sabi Japanese Gardens, 1719 S. Pines Road, said the severity of the winter will likely lead to plant losses, but that is nothing compared to the devastation he saw when the November 2015 windstorm knocked down his pine grove and ruined some of his valuable garden art.
Daniels specializes in Japanese maples, hostas and evergreens.
"I always lose a couple of trees," he said of the typical winter.
Munts said that evergreens may show winter damage, especially the true Atlas cedars that have become popular in landscapes because of their bluish needles.
Fingers crossed for local wine
Outside of Spokane, wine grape growers and vintners are keeping their fingers crossed that winter damage hasn't hurt this year's grape crop.
Debbie Hansen, winemaker at Cougar Crest Estate Winery in Walla Walla, said she is seeing bud damage in her vineyards.
"In some cases, as much as a third of the buds were hurt," she said.
However, since growers typically thin fruit from grapevines to concentrate flavors, the loss of flower buds may not be a problem.
"I am not going to panic until I see what June brings," she said.
The apparent damage was caused by an extended period of time when temperatures were in the single digits at midwinter.
She said she fought the cold with fans to dissipate the damaging temperatures, but she still sees damage.
Keith Pilgrim, winemaker and owner of Terra Blanca Winery and Estate Vineyard, said he is seeing limited damage to his vines on Red Mountain, which is just west of Richland.
Terra Blanca and Cougar Crest both have tasting rooms for retail sales in downtown Spokane.
Pilgrim said Red Mountain did not get as cold as other growing areas.
"Red Mountain made it through the winter relatively well," he said.
Local journalism is essential.
Give directly to The Spokesman-Review's Northwest Passages community forums series -- which helps to offset the costs of several reporter and editor positions at the newspaper -- by using the easy options below. Gifts processed in this system are not tax deductible, but are predominately used to help meet the local financial requirements needed to receive national matching-grant funds.
Subscribe now to get breaking news alerts in your email inbox
Get breaking news delivered to your inbox as it happens.
---