A&E > Books
A long-lost Dashiell Hammett story has been reissued
Tue., Nov. 28, 2017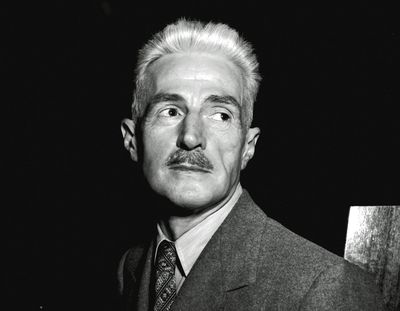 NEW YORK – The publication of a long-lost Dashiell Hammett story was itself an act of sleuthing.
"The Glass That Laughed," a brief, hallucinatory work about a fratricidal killer haunted by his victim's face, will run online Wednesday in Electric Literature. The story ran in the November 1925 issue of True Police Stories, a magazine billed as an "organ of the New York Police Department," and soon disappeared. Its rediscovery was made possible by social media. Hammett's granddaughter and literary trustee, Julie M. Rivett, told the Associated Press that she saw a posting on a Hammett reading group on Facebook that referred to a story no one had heard of before.
"It took a team of Hammett fans to bring this story to light," she said.
"The Glass That Laughed" was first spotted by Daniel Robinson, a fireman and author who had purchased a copy of True Police Stories at an auction and noticed the Hammett story. Unable to find the story in any Hammett bibliography, he contacted crime fiction author-blogger Kevin Burton Smith, who also was unfamiliar with "The Glass That Laughed."
"He posted a query to the Facebook page of the Dashiell Hammett Reading Group, with the hope that I'd see the news, which I did," Rivett said.
In an introduction that will run in Electric Literature, Rivett and Hammett biographer Richard Layman write that Hammett was suffering physically and financially at the time "The Glass That Laughed" first ran. He was 31, ill with tuberculosis and supporting his wife and child with VA disability payments and a variety of writings, from detective stories to poetry and criticism. He was still a few years away from writing such classic novels as "The Maltese Falcon" and "The Glass Key" and from meeting playwright Lillian Hellman, who became his longtime partner.
"He was desperate for a paycheck, however small," according to Rivett and Layman.
The story begins with stark images of slanting moonlight and an empty carafe as Norman Bacher wakes up, stares in his bedroom mirror and wonders if he sees the face of his murdered twin Eric.
"In the dim light, hair rumpled, face paler than ordinary, the face in the glass was too like Eric's not to startle Norman," Hammett writes. "He brushed a hand across his forehead and blew his breath out sharply. What had for an instant been a dark stain on the mirrored brow was only a pendant lock of hair. He studied the face in the glass until his pulse was steady. Then he went for his water and returned to bed. But he could not sleep."
The story's reissue comes the same week as the publication of "The Big Book of the Continental Op," the first comprehensive collection of Hammett's fiction featuring the unnamed private investigator from the Continental Detective Agency. The new book includes another Hammett rarity, "Three Dimes," a 1,367-word fragment about a teen employee at a stationary store who is suspected of pocketing sales.
"We cannot know what circumstances prevented him from finishing the tale," Rivett says of Hammett, who died in 1961. "But the fact that he did not physically abandon those few pages suggests he valued their potential."
Local journalism is essential.
Give directly to The Spokesman-Review's Northwest Passages community forums series -- which helps to offset the costs of several reporter and editor positions at the newspaper -- by using the easy options below. Gifts processed in this system are not tax deductible, but are predominately used to help meet the local financial requirements needed to receive national matching-grant funds.
Subscribe to the Spokane7 email newsletter
Get the day's top entertainment headlines delivered to your inbox every morning.
---