Sports > WSU basketball
For third consecutive year, Washington State men picked to finish last in Pac-12 preseason media poll
UPDATED: Thu., Oct. 12, 2017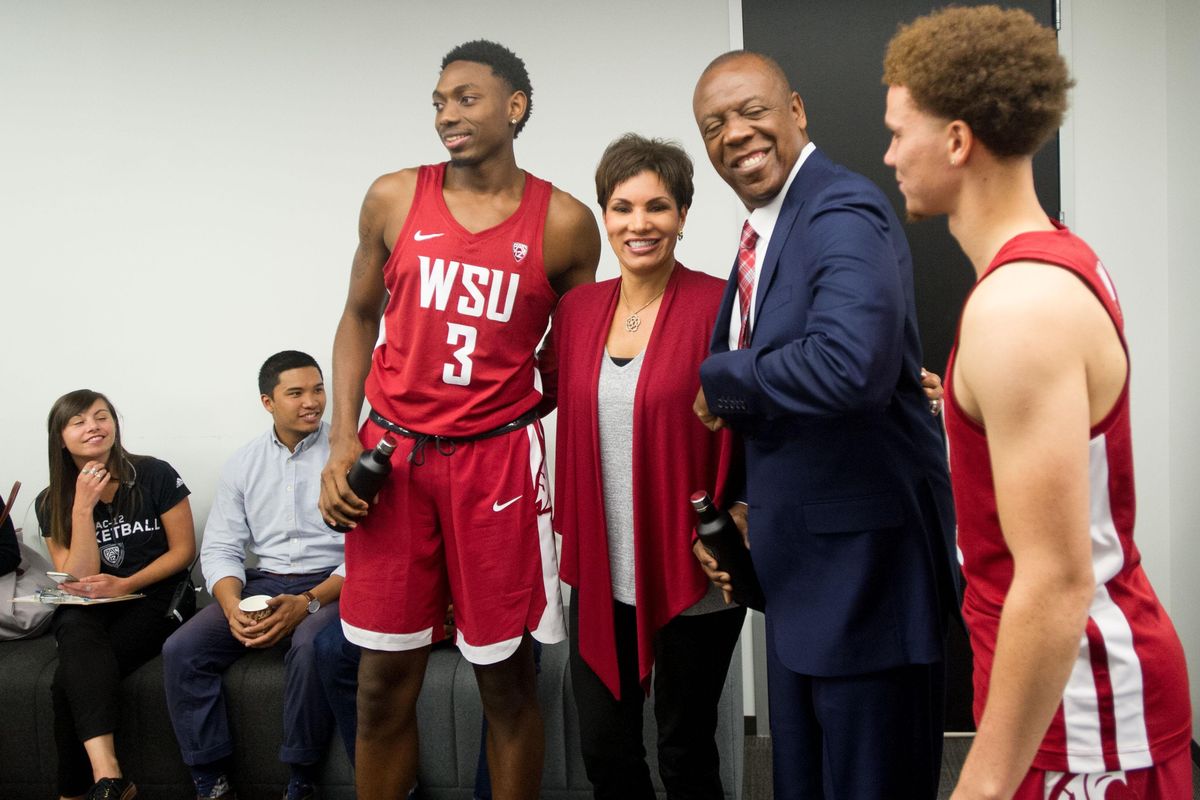 WSU head basketball coach Ernie Kent, center, laughs with players Malachi Flynn (22) and Robert Franks (3) before taking a group photo with WSU alumna and Pac-12 Network reporter and analyst Cindy Brunson after taking questions during Pac-12 Men's Basketball Media Day on Thursday, October 12, 2017, at the Pac-12's headquarters in San Francisco. (Tyler Tjomsland / The Spokesman-Review)
SAN FRANCISCO – Ernie Kent and the Cougars won't have to look hard for bulletin board material this season. Not that it's ever been a problem for Washington State under its fourth-year head coach.
The Cougars were picked to finish dead-last in the Pac-12 preseason media poll for the third year in a row, collecting just 33 points – 13 fewer than 11th-place California. The Cougars were pegged 12th with 30 points last season and were also last in 2015 with 65 points. In Kent's first season, WSU was picked to finish 11th, slightly ahead of Oregon State.
So for the fourth year in a row, the Cougars will try to be overachievers. It isn't exactly uncharted territory for them.
"I don't really listen to the media when it comes to stuff like that," said junior forward Robert Franks, who joined Kent for Media Day along with Malachi Flynn. "One of our coaches always says, 'stay paranoid,' so it's just another chip that can be on our shoulder, but at the end of the day we've got to lace up our shoes the same way everybody else in the Pac-12 laces up their shoes night in, night out."
Just glimpsing at the Cougars on paper, it would appear Kent's club could be in for another long year. WSU loses four starters from a team that won six games in conference play last year, including Josh Hawkinson, who left with more double-doubles than anyone in school history.
That core four, which also incuded Ike Iroegbu, Charles Callison and Conor Clifford, provided 44.2 points per game to the Cougars. It's easy to see why WSU would struggle a year later without that type of production – let alone the leadership.
"That's difficult for people to see all the programs in this conference," Kent said Thursday during Pac-12 Media Day in San Francisco. "I had three guys last year that redshirted that would've made all the difference in the world with our program last year, but we kept them on that bench and I'm glad we did because it's going to give us even more depth on this team."
Kent was talking about guard Milan Acquaah, forward Arinze Chidom and guard Jamar Ergas. That trio joins the only returning starter, Flynn, who averaged 9.7 ppg and had 91 assists in 2016-17. Franks, Viont'e Daniels, Jeff Pollard and KJ Langston all played between 20-30 games, but combined to score just 12.5 ppg.
WSU's offense falls on the shoulders of Flynn, a sophomore who'll need to be a point-scoring floor general for the Cougars this year. It isn't a new role for the native of Tacoma, who was asked to do plenty for Kent's offense last season as a true freshman, starting all 31 games.
"With Ike leaving our program, all of that totally falls on to Malachi in terms of what I call the point guard leadership," Kent said. "But along with that, we have (Acquaah) that sits there, that nobody saw last year because he redshirted. Those are two really good guards. Both can play the point. Both can play the off guard spot."
Drick Bernstine, a Divsion I transfer from North Dakota, is battling an injury, "but he should be back for Pac-12 play," Franks said. Bernstine showed a knack for scoring in the post at UND and the Cougars will need it without Hawkinson's 15.5 ppg.
Kent also brought in two transfers from Tyler Junior College in Texas – Kwinton Hinson and Davante Cooper – and upon learning three-star recruit Roberto Gittens wouldn't be eligible to suit up, the WSU coach added Carter Skaggs, "another 6-5 big wing that is one of the best shooters on this team right now," according to Kent.
"With the pieces we have in place, it's difficult for everybody to understand where we're at, but at the same time," Kent said, "having built these programs before at St. Mary's and Oregon, we're on pace for where we need to be, and it's time to make a push."
The media expects Arizona to win its third regular-season conference title in four years. The Wildcats, who were Pac-12 regular season and conference tournament champions last season, received 22 of 23 first-place votes. The lone voter who didn't choose Arizona picked USC to win the league title.
Behind the Wildcats, the Trojans were chosen to finish second with 251 points. The remaining teams were picked to finish in this order: UCLA (223), Oregon (203), Stanford (182), Arizona State (146), Utah (129), Oregon State (125), Colorado (112), Washington (71), Cal (46) and WSU (33).
Local journalism is essential.
Give directly to The Spokesman-Review's Northwest Passages community forums series -- which helps to offset the costs of several reporter and editor positions at the newspaper -- by using the easy options below. Gifts processed in this system are not tax deductible, but are predominately used to help meet the local financial requirements needed to receive national matching-grant funds.
Subscribe to the sports newsletter
Get the day's top sports headlines and breaking news delivered to your inbox by subscribing here.
---