Sports > EWU football
Eastern Washington faces different challenge in North Dakota State
Fri., Sept. 8, 2017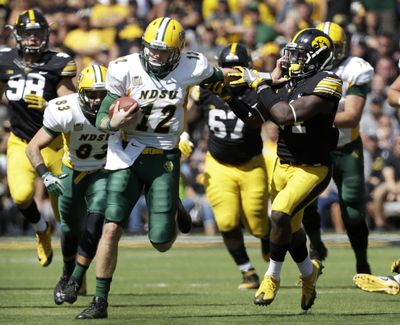 Eastern Washington football coach Aaron Best isn't one for empty flattery.
When he calls North Dakota State "a physical team with a running game like no other," he means it.
He also means to emulate it. A good start would be a win over the Bison this weekend at Roos Field.
The Eagles could use it. They're coming off a 56-10 opening loss at Texas Tech, and if history is any guide, another loss would be crippling. Not since 2004 has an Eastern team started the season 0-2 and still made the postseason.
No one is panicking, even though the Eagles had some more misfortune heaped on them this week as smoky skies forced them to practice away from Roos Field.
"It's just another bit of adversity," wide receiver Terence Grady said.
"We just need to send a message, go out there and show that we're a solid team and a contender for a national championship."
On offense, the biggest question will be how the Eagles deliver that message. Under former coach Beau Baldwin, Eastern went pass-heavy against most teams, especially against FBS teams and top-tier FCS programs.
Last year in a 50-44 overtime loss in Fargo, quarterback Gage Gubrud threw the ball 40 times while the running backs got a collective 14 carries. Last weekend in Lubbock, the Eagles were more balanced, with 36 passes and 36 rushes (25 of those by the backs).
But the passing game was rarely in sync and the running game netted only 2.2 yards per carry.
NDSU's defense is ready for anything, although starting linebacker Nick DeLuca is questionable with a knee injury.
"Last time, right out of the gate, they're a run-n-gun team. They're quick off the pace," NDSU linebacker Matt Plank said. "Last time we gave up a lot of points to them, but I think this year we're trying to make a statement."
NDSU cornerback Jayllan Wimbush was more emphatic.
"Yeah, we kind of wet the bed in the second half last year. We're coming back with a vengeance," Wimbush said.
Eastern's defense also needs to make a statement after giving up 626 yards at Texas Tech. The pass rush and open-field tackling need improvement. The Eagles also must contend with a more mobile quarterback in junior Easton Stick.
The Bison offense has no identity crisis. It's power football, move the chains with a run-heavy set that's complemented by Stick's solid arm and mobility.
Comparing the Bison to Texas Tech, Best said, "This is a different kind of outfit coming to town, with a running attack and stingy defense."
Both were on display in NDSU's opener, a 72-7 home win over Mississippi Valley State that saw the Bison rush for a school record (in 14 years as a Division I school) for rushing yards (498) and total offense (683 yards).
Local journalism is essential.
Give directly to The Spokesman-Review's Northwest Passages community forums series -- which helps to offset the costs of several reporter and editor positions at the newspaper -- by using the easy options below. Gifts processed in this system are not tax deductible, but are predominately used to help meet the local financial requirements needed to receive national matching-grant funds.
Subscribe to the sports newsletter
Get the day's top sports headlines and breaking news delivered to your inbox by subscribing here.
---