News > Business
Wood products to bring 150 jobs to Spokane Valley
Sept. 26, 2017 Updated Tue., Sept. 26, 2017 at 12:37 p.m.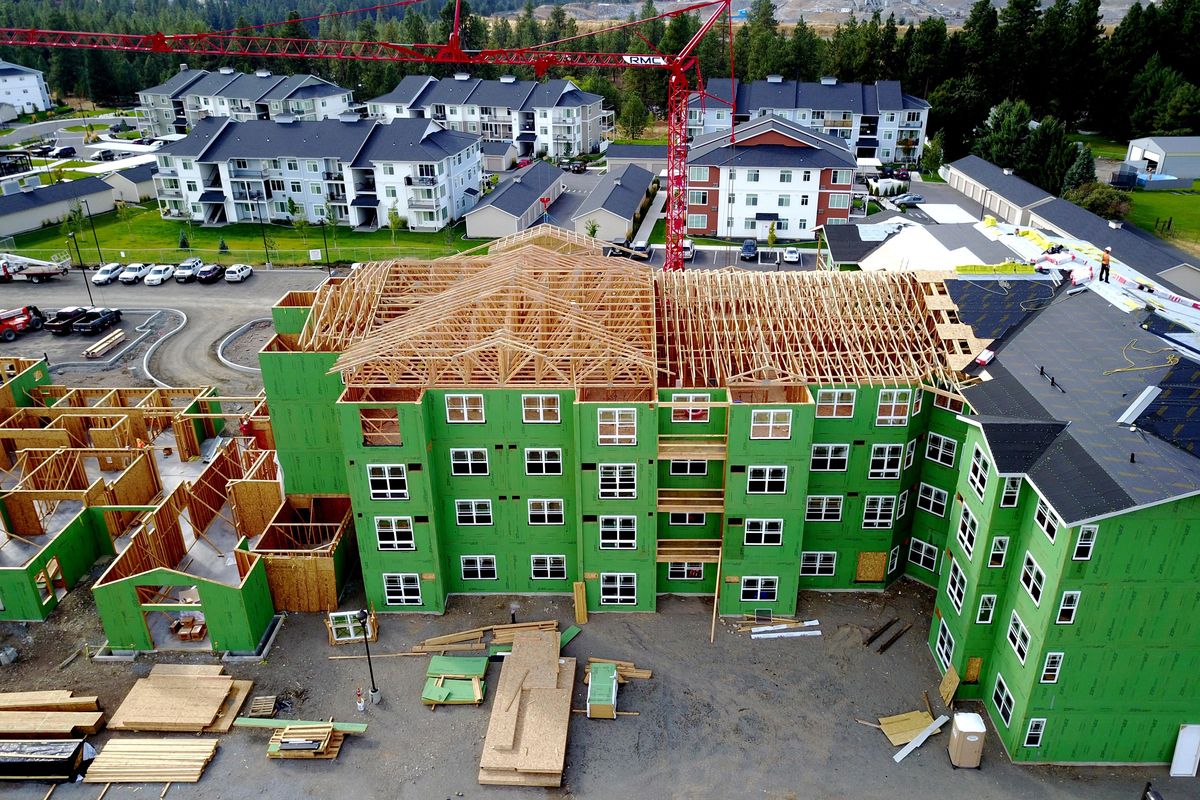 Katerra is building a senior-living complex along Mission Parkway in Spokane Valley. (Jesse Tinsley / The Spokesman-Review)
A new factory planned for Spokane Valley is part of a California company's efforts to streamline the U.S. building industry, making construction faster and cheaper.
Menlo Park-based Katerra plans to open a 250,000-square-foot manufacturing facility near Interstate 90 and Barker Road early next year. The plant will make engineered wood products, employing about 150 people initially with potential for growth.
The factory will produce cross-laminated timber and glulam. The engineered products can replace concrete and steel in wooden high-rise buildings and parking garages. They also can be used for other applications, such as walls and flooring.
The environmentally friendly products are made from wood scraps, which are compressed and glued together in layers, forming structural panels and beams.
The products can be made from the small-diameter trees crowding Eastern Washington forests, which foresters are eager to thin to reduce wildfire intensity.
"Spokane is strategic because of the timber resource, the workforce and the location," said Fritz Wolff, one of Katerra's co-founders. "It gives us access to the major cities of the Northwest."
Wolff, of Spokane, is the chairman of the Wolff Company, started here in 1949 by his grandfather, Alvin J. Wolff. The privately held company is a large developer and operator of apartment complexes across the West.
In 2015, Wolff and two others founded Katerra with the intention of using advanced manufacturing methods to transform the building industry.
"Construction remains one of the most stagnant major industries in the world, still using many of the methods first deployed in the 19th century," Michael Marks, Katerra's executive chairman, wrote in a recent piece for a trade publication.
Marks brought a tech manufacturing background to Katerra, including a stint as interim CEO at Tesla, the electric car maker. Jim Davidson, another Katerra co-founder, had worked in technology investment and venture capital.
The Wolff Company became Katerra's founding client, testing the construction methods in its apartment complexes.
Katerra, which refers to itself as a technology company, has raised more than $200 million since its founding and employs more than 850 people.
"We helped them scale up," Fritz Wolff said.
Bringing manufacturing methods to construction
Traditional building construction is mired in processes similar to having a custom-made, or "bespoke," shirt sewn by a tailor or ordering a one-of-a-kind automobile, Wolff said.
Clients work with architects, engineers, contractors and subcontractors, usually from different firms, to design, engineer and construct the building. It's a slow, cumbersome process, and it's hard for clients to get accurate estimates for the building's final cost, Wolff said.
Katerra employs its own architects, engineers and contractors, bringing the specialties under one roof. The company's Phoenix factory makes building kits for new structures, including floors, trusses and countertops.
For Katerra's customers, choosing a building is similar to ordering a new car with custom features, Wolff said.
"We're taking a controlled manufacturing approach to construction versus a bespoke approach, where every building throughout the world is (one of a kind) with no repetition," he said.
Sophisticated tracking systems keep tabs on labor costs and building inputs, such as the price of sinks ordered from Wisconsin or paint purchased overseas. Clients get quick and accurate information about the building's cost early on, Wolff said.
In Wolff's previous experience, "it would take six to nine months to design and actually know the price for an apartment building," he said. "Today, with Katerra, we can get to pricing for an apartment within a week."
Katerra's approach also reduces the construction timeline, Wolff said.
"Once the foundation is poured for a three-story garden apartment, traditionally it's been a four- to five-month process," he said. "With buildings in Spokane and Spokane Valley, we have demonstrated the ability to get to the same level of completion in two weeks."
Two local projects under construction by Katerra are Pine Valley Ranch, a Spokane apartment complex, and River House Senior Apartments, in Spokane Valley. On Monday, a giant crane was moving panels and trusses into place at River House.
Forbes and the Wall Street Journal featured articles on Katerra last spring. Most of the company's work to date is with multifamily developments, but executives anticipate expanding into other areas of construction.
"What Katerra is doing is very interesting," said Michael Cathcart, executive director of Better Spokane, a newly launched economic development group. "They're quickly becoming one of the larger multiple-family developers in the country. … It's a transformational process for the construction industry."
Other companies have done some aspects of what Katerra is doing, Wolff said.
However, "we're the only ones we know of in the U.S. who have put it all together," he said.
Spokane Valley plant first of several
The Spokane Valley factory is the first of several engineered-wood plants Katerra expects to open around the country. Additional announcements will be made later this year.
"We (are) investing a lot in engineered wood products," Wolff said. "It helps drive down the time and cost of construction."
Using cross-laminated timbers, for instance, is faster than pouring concrete for some construction applications, Wolff said. The technology is tested and proven, he added.
In Europe, engineered wood products have been in widespread use for two decades. In Portland's Pearl District, the city recently approved permits for a 148-foot-tall cross-laminated timber building.
"Wood is a renewable resource, much better for the environment," Wolff said. "From a beautification standpoint, it's a premium product."
Katerra will use the engineered wood products made in Spokane Valley for its own projects and also anticipates selling them in the marketplace, Wolff said.
Katerra will break ground this fall on the factory, which will occupy 29 acres in Spokane Valley. The company is buying the industrial land from Centennial Properties, a subsidiary of Cowles Co., which also owns The Spokesman-Review.
In addition to Katerra's Spokane Valley plant, a spinoff of Vaagen Brothers Lumber Co. plans to open a cross-laminated timber operation in Colville in late 2018.
Todd Mielke, CEO of Greater Spokane Incorporated, said the new manufacturing jobs are an exciting development for the region.
While Katerra is forecasting 150 jobs initially, the plant could grow to 200 or 300 in the future, he said. The company also plans to open a distribution center at some point, which will add another 50 to 75 jobs.
"We couldn't be more pleased that they've chosen the Spokane region," Mielke said.
Engineered wood products are a natural fit for the region, he said. Washington State University helped develop the local manufacturing method used for cross-laminated timber, and the raw material is abundant, Mielke said.
"It's an amazing opportunity for the Spokane area to be in the center of this evolving technology," said Better Spokane's Cathcart. "It will put a lot of the spindly logs and trees we have in Eastern Washington to good use, utilizing a resource right in our backyard."
Local journalism is essential.
Give directly to The Spokesman-Review's Northwest Passages community forums series -- which helps to offset the costs of several reporter and editor positions at the newspaper -- by using the easy options below. Gifts processed in this system are not tax deductible, but are predominately used to help meet the local financial requirements needed to receive national matching-grant funds.
Subscribe now to get breaking news alerts in your email inbox
Get breaking news delivered to your inbox as it happens.
---