Sports > High school sports
Longtime coach Sue Doering has left a mark on Colfax volleyball, community
Wed., Sept. 27, 2017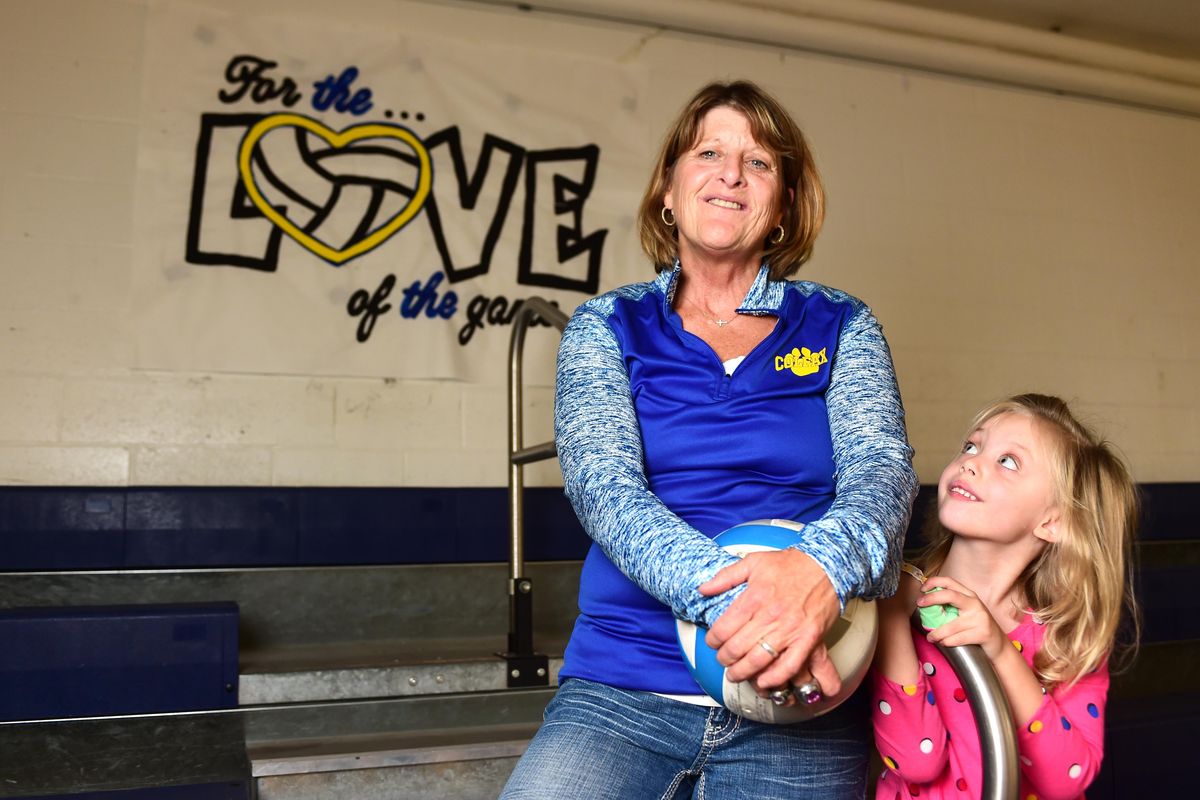 Veteran volleyball coach Sue Doering, with granddaughter Emma Dorman, 4, is finishing 29 years with the Colfax Bulldogs. (Jesse Tinsley / The Spokesman-Review)
COLFAX – Sue Doering walked into Top Notch Café and was immediately greeted by retired Colfax High boys basketball coach Bob Bafus.
Bafus was with his daily coffee klatch. For a moment, the scene of Doering, the longtime Colfax volleyball coach, and Bafus chatting away represented nearly 1,500 wins and 15 state championships.
Doering will join the retired ranks after this her 29th season at Colfax, 33rd overall as a head coach and 38th in coaching. She retired from teaching last spring.
This farming-based community has seen its share of state championships in multiple sports in the last five decades. No sport, though, has been more successful than volleyball.
And no coach has more wins than the 59-year-old Doering. She entered her final season with an 807-193 record. Combined with four seasons in her first job at Deer Park, she will finish with more than 900 victories.
That puts her atop the who's who among high school volleyball coaches in the region, a list that includes the late Linda Sheridan of Shadle Park, Judy Kight of Mead and Mitch Santos of St. Maries.
Wyoming-born and a Bonners Ferry graduate, Doering has done nothing but coach winners since playing for Pam Parks at Eastern Washington University.
Doering was returning what she thought was her most talented team at Deer Park when she made a late decision the summer of 1988 to take the coaching and a teaching job in Colfax.
"God brought us to Colfax," she said.
She will leave having left an indelible mark.
Colfax had won one state title before she arrived. Doering-coached teams have captured 13, the most recent coming in 2015.
Those aren't the lone feats, though. In 28 seasons, her teams have finished state runner-up six times, taken third twice and fourth three times to go with four various other trophies. At Deer Park, she had a state runner-up and a fourth.
Just twice did her teams not qualify for state – once at Deer Park and once at Colfax.
"I'm good with it coming to an end," Doering said. "I'm tired. I know it's time to do something else. I think I've got the competitive bug out of my system."
Although Doering said she probably should have stepped down a decade ago, she decided in 2015, when Carmen Gfeller was a freshman, to coach the multitalented athlete through her senior year.
"She's the best pure hitter I've ever coached," Doering said.
The 6-foot Gfeller has given the University of Montana an oral commitment to play basketball.
Gfeller represents the conundrum Doering has faced when she's considered retirement. Every team in the last decade has included ties to past teams or includes second-generation athletes.
"We have two freshmen on varsity who are second-generation kids," Doering said. "There's always another kid, another reason to keep coaching."
Retired Colfax farmer Scooter Brannan, 90, has had a granddaughter play for Doering and currently has a great-granddaughter in her program.
He frequently shows up to practice and hands out candy afterward.
"I've never had a better friend than her," Brannan, choking back tears, said of Doering.
Brannan thinks a street should be named after Doering.
Doering and her husband, Eric, have lived in Lewiston the last two years. They bought a furniture business there. They bought another business in Boise nearly a year ago.
It's time for Doering to coach employees.
Of all the things Doering has loved about raising a family in Colfax, what she appreciates most was living in a community that cared about its kids and passed school bonds and levies.
And lest anyone should think that all Doering was about was winning and her sport, she has been a proponent of her athletes playing multiple sports.
When an athlete would confide in her about not wanting to play another sport, Doering usually convinced them to stay involved.
It's no coincidence that when Colfax won six straight volleyball titles, the girls basketball team captured four straight in the same stretch. The sports shared many of the same athletes.
"I'm a believer in three-sport athletes," Doering said.
She mostly stayed away from club volleyball but encouraged any of her standout players to find teams to play.
Doering coached both of her daughters and each played on state title teams. Her youngest, Kinsey, was on what Doering calls her best team in 2008 when the Bulldogs finished 34-2.
The year Colfax captured a 10th state title under Doering, her oldest daughter, Megan, coached her first state title at St. John-Endicott.
Doering has never coached an undefeated team. But that was never the goal. She always scheduled as many bigger schools as possible and play each year in the Linda Sheridan Crossover Classic. Colfax's lone loss this season is to Gonzaga Prep.
She has fond memories of many teams. She calls her 2004 team, also a state title winner, her most unselfish team.
"I'm going to miss the kids," she said, wiping away tears. "There are so many things I loved about coaching the kids. I loved the thought of competing under pressure and executing under pressure. I loved to take a group of individuals and make them a cohesive unit – and with girls that's not always easy."
Many of Doering's players over the years have been daughters of farmers. And she coached three daughters of Dr. William Mellor.
He played an important role in Doering's life in 2004 when she was diagnosed with breast cancer just before the season started.
After having surgery to have a lump removed, she coached through the season, missing just one match.
"He (Dr. Mellor) told me volleyball would take care of itself that year and that I needed to take care of myself," Doering said. "I relied heavily on four seniors. They had strong leadership skills and were very smart."
Doering waited until late in the season to start a chemotherapy program.
That team, by the way, captured a state title.
Doering had eight chemo sessions and finished with radiation. She's been cancer free since.
The Bulldogs are 12-1 this season. They will challenge for another state title come early November.
She will leave a healthy program. Young talent returns next year and more talent is on the way.
Doering dismisses any notion that the program will slip without her direction.
"Somebody can come in here and do what I've done," she said. "There are always good athletes here. It hasn't been all me."
Local journalism is essential.
Give directly to The Spokesman-Review's Northwest Passages community forums series -- which helps to offset the costs of several reporter and editor positions at the newspaper -- by using the easy options below. Gifts processed in this system are not tax deductible, but are predominately used to help meet the local financial requirements needed to receive national matching-grant funds.
Subscribe to the sports newsletter
Get the day's top sports headlines and breaking news delivered to your inbox by subscribing here.
---