A&E > TV
Stream on Demand: 'Florida Project' comes to Amazon, while 'Troy: Fall of a City' hits Netflix
Wed., April 4, 2018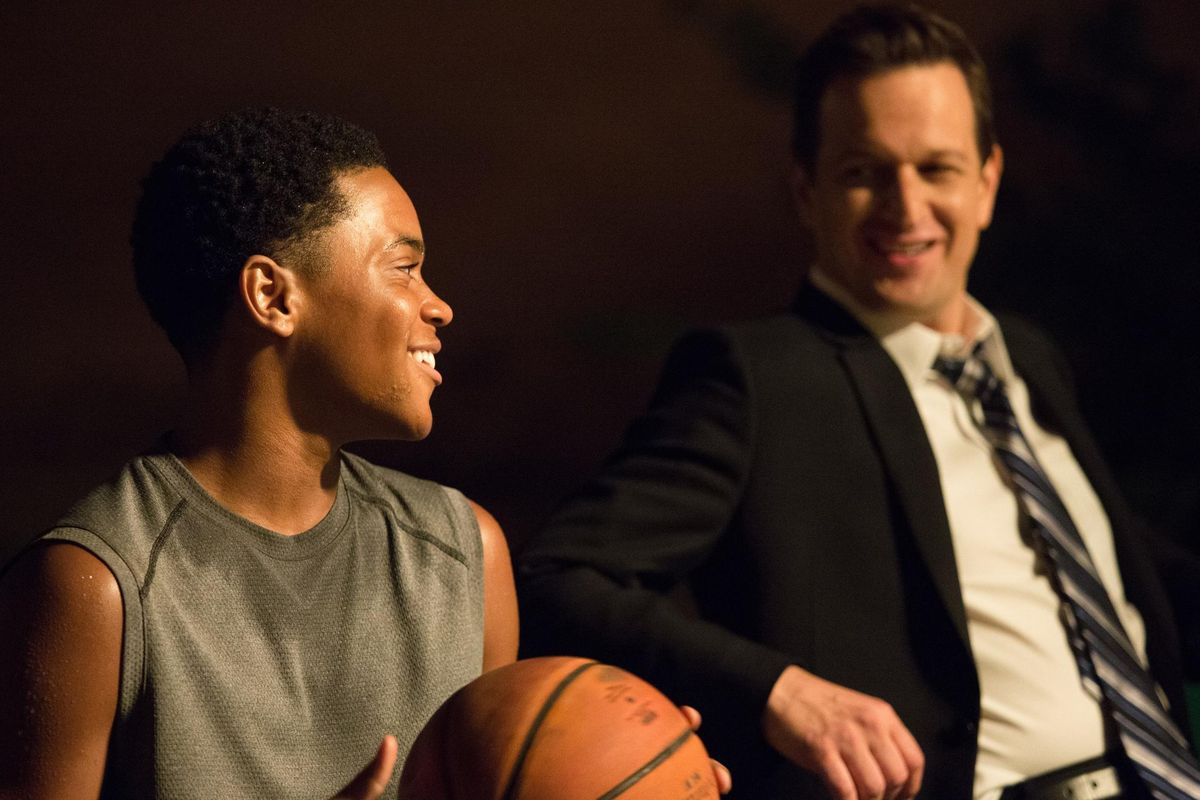 Michael Rainey Jr. and Josh Charles in "Amateur." (William Gray / Netflix)
What's new for home viewing on Video on Demand and Netflix, Amazon Prime, Hulu, and other streaming services.
Top streams for the week
Willem Dafoe earned an Oscar nomination for his performance as the manager of a low-rent hotel in "The Florida Project" (2017, R), a powerful and moving look at the life of an unemployed (and perhaps unemployable) single mother and her precocious daughter (the amazing Brooklynn Kimberly Prince), who mimics her mother's aggression. Director Sean Bake is compassionate without pulling his punches on the self-destructive actions of his characters, and he presents it in vivid day-glo squalor. Streaming on Amazon Prime Video.
"Troy: Fall of a City - Season 1," a coproduction of Netflix and the BBC, brings lavish production values and cable-level sex and violence to the classic tale of love in the time of the Trojan War. Eight episodes streaming on Netflix.
More family oriented are the animated films "Despicable Me 3" (2017, PG), with reformed supervillain and adoptive dad Gru lured back into crime by his brother for one last heist, and "The Iron Giant" (1999, PG), a sweet sci-fi fairy tale of a boy and his giant robot buddy in comic book color. Both now on Netflix.
Pay-Per-View / Video on Demand
Ed Helms and Owen Wilson are brothers in search of their birth father in the comedy "Father Figures" (2017, R) and "Insidious: The Last Key" (2017, PG-13) is the fourth installment of the horror franchise.
Available same day as select theaters nationwide is mystery thriller "Spinning Man" (2018, R) with Pierce Brosnan and science fiction thriller "The Humanity Bureau" (2017, R) with Nicolas Cage.
Netflix
A woman (Abbi Jacobson) tries to get help for her brother (Dave Franco), a relapsed heroin addict, in the drama "6 Balloons" (2018, not rated), which comes direct to Netflix from the SXSW Film Festival. Also debuting is "Amateur" (2018, not rated), a drama about the pressures on high school athletes starring with Sharon Leal and Josh Charles.
"Let Me In" (2010, R), the haunting American remake of the icy Swedish film about an adolescent vampire (Chloe Grace Moritx) who befriends a bullied boy, is even more devastating than the original.
Foreign affairs: the heady science fiction drama "Orbiter 9" (Spain, 2017, not rated, with subtitles), about a deep space voyage that isn't what it appears, and award winning prison thriller "The 4th Company" (Mexico, 2016, not rated, with subtitles), inspired by the true story of juvenile inmates who are drafted into a death squad, both make respective stateside debuts on Netflix.
Also new: Johnny Depp is Captain Jack Sparrow in "Pirates of the Caribbean: Dead Man's Chest" (2006, PG-13), the second film in the comic adventure franchise; the original "Friday Night Lights" (2004, PG-13) with Billy Bob Thornton; "Terminator 3: Rise of the Machines" (2003, R) with Arnold Schwarzenegger and Claire Danes; Oscar-winner "L.A. Confidential" (1997, R), based on the James Ellroy novel and starring Russell Crowe and Kevin Spacey; Michael Mann's "Heat" (1995, R) with Robert DeNiro versus Al Pacino; David Fincher's dark serial killer thriller "Seven" (1995, R) with Brad Pitt and Morgan Freeman; Brian De Palma's "Scarface" (1983, R) with Al Pacino; Oscar-winning foreign language film "Life Is Beautiful" (Italy, 1997, PG-13, with subtitles) with Roberto Benigni.
Kid stuff: "The Boss Baby: Back in Business: Season 1" brings the characters of the animated comedy to the small screen.
Streaming TV: Netflix hopes "Fastest Car: Season 1" will attract fans of "The Grand Tour" and the new edition of "My Next Guest Needs No Introduction With David Letterman" features Jay-Z.
There's also plenty of international TV now available, from popular British murder mysteries "Death in Paradise: Season 6" and "Father Brown: Season 6" and medical drama "Doctor Foster: Season 2" to a pair of Spanish crime dramas: "La Piloto: Season 1" (with subtitles), about an air hostess caught up in drug smuggling, and the caper thriller "Money Heist: Part 2" (with subtitles).
And there are more foreign shows to peruse: "Chosen" (China, with subtitles), a three-part thriller miniseries; "Dandy: Season 1" (Mexico, with subtitles), about an undercover agent in a drug cartel; fashion industry melodrama "Velvet Colección: Season 1" (Spain, with subtitles); medical drama "Wake Up: Complete Series" (Taiwan, with subtitles); and offbeat Scandinavian mystery series "Fallet: Season 1" (Sweden, with subtitles).
True stories: "Ram Dass, Going Home" (2018, not rated) catches up with the spiritual guru 20 years after suffering a life-altering stroke. Also new: Oscar-nominated "Abacus: Small Enough to Jail" (2016, not rated) looks at the only financial institution to be prosecuted after the 2008 financial crisis.
Stand-up: "Seth Rogen's Hilarity for Charity" is a fundraiser variety show featuring sets and sketches by (among others) Tiffany Haddish, Sarah Silverman, Michelle Wolf, John Mulaney, Michael Che, Kumail Nanjiani, Sacha Baron Cohen, and Craig Robinson & The Nasty Delicious. Also new are international stand-up specials "Fary Is the New Black" (France, with subtitles) and "Todo lo que sería de Lucas Lauriente" (Argentina, with subtitles).
Amazon Prime Video
Daniel Radcliffe plays an FBI agent who goes undercover in the American white supremacist culture in "Imperium" (2016, R), a thriller inspired by a true story.
Colin Farrell is a surgeon confronted with an impossible choice in "The Killing of a Sacred Deer" (2017, R) from Greek filmmaker Yorgos Lanthimos.
Also new: "Hustle & Flow" (2005, R) with Terrence Howard as a pimp who wants to be a rapper; Gus Van Sant's "Drugstore Cowboy" (1989, R) with Matt Dillon; Martin Scorsese's "The King of Comedy" (1983, PG) with Robert De Niro; John Carpenter's "Escape from New York" (1981, R) with Kurt Russell; cult horror film "Circus of Horrors" (1960) from England.
True stories: "Chavela" (2017) looks over the life and career of androgynous Mexican singer Chavela Vargas; "The Departure" (2017, not rated) profiles a Buddhist priest whose devotion to suicide prevention takes a personal toll; "A Suitable Girl" (2017, not rated) follows three young women in India struggling against pressures to marry; · "By Sidney Lumet" (2015, not rated) surveys the career of the acclaimed American filmmaker.
Streaming TV: the second and final season of "The Missing" takes on a new case of a missing girl.
Foreign affairs: "Elite Squad: The Enemy Within" (Brazil, 2010, with subtitles), once the highest-grossing film in Brazil, is a cop thriller about police corruption in Rio de Janeiro.
Amazon Prime and Hulu
"The Conspirator" (2011, PG-13), directed by Robert Redford, takes on the story of the sole woman (Robin Wright) charged with helping John Wilkes Booth assassinate Abraham Lincoln (Amazon Prime and Hulu).
Before "Community" and "Atlanta," Donald Glover co-wrote and starred in the crime comedy "Mystery Team" (2009, R) (Amazon Prime and Hulu).
Also new: comedy The Big Wedding (2012, R) with Robert De Niro and Diane Keaton as the long-divorced parents of the groom (Amazon Prime and Hulu); eerie zero-budget "Paranormal Activity" (2009, R), which helped revive the "found footage" horror genre (Amazon Prime and Hulu); Sam Raimi's snowblind crime drama "A Simple Plan" (1998, R) with Bill Paxton and Billy Bob Thornton (Amazon Prime and Hulu); "Man in the Moon" (1991), the coming-of-age drama that introduced Reese Witherspoon (Amazon Prime and Hulu); offbeat crime thriller "Miami Blues" (1990, R) with Alec Baldwin (Amazon Prime and Hulu); Jonathan Demme's gangster comedy "Married to the Mob" (1988, R) with Michelle Pfeiffer (Amazon Prime and Hulu); New York bohemian indie "Desperately Seeking Susan" (1985, PG-13) with Madonna (Amazon Prime and Hulu); conspiracy thriller "Marathon Man" (1976, R) with Dustin Hoffman and Laurence Olivier (Amazon Prime and Hulu).
True stories: "Project Nim" (2012, PG-13), about a seventies experiment in raising a chimp like a human child, is more revealing about human behavior (Amazon Prime and Hulu).
Hulu
The four-part "National Treasure: Kiri," produced by Hulu in partnership with BBC, is a crime drama about the disappearance of a young black girl who is about to be adopted by a middle-class white family and the media frenzy surrounding the case.
Three movie essentials are new to Hulu:
Martin Scorsese's "Taxi Driver" (1976, R), a landmark of seventies cinema with Robert De Niro as an alienated cabbie in the cesspool of seventies New York City;
"Dr. Strangelove" (1964, PG), Stanley Kubrick's cold war satire of mutually assured destruction;
David Lean's epic "Lawrence of Arabia" (1962, PG) with Peter O'Toole, which won seven Academy Awards including best picture.
Foreign affairs: "Grave of the Fireflies" (Japan, 1998), a devastating animated drama of two orphans in the final days of World War II in Japan, is presented in both Japanese language (with subtitles) and English dubbed versions.
True stories: "Dina" (2017) profiles the romance between two challenged adults (one is developmentally disabled, the other suffers from Asperger's) with compassion and a sense of humor. Actress turned filmmaker Sarah Polley turns the camera on herself and her family in "Stories We Tell" (2012, PG-13).
Streaming TV: the fourth season of the pirate adventure "Black Sails" arrives from Starz.
Also new: crime thriller "Texas Killing Fields" (2011, R) with Sam Worthington, Jeffrey Dean Morgan and Jessica Chastain; "50/50" (2011, R), a comedy with Joseph Gordon-Levitt as a young man facing a cancer diagnosis; "Spanglish" (2004, PG-13), a comic drama from James L. Brooks featuring Adam Sandler in a rare mature role; "Roxanne" (1987, PG), Steve Martin's updating of "Cyrano de Bergerac" as a modern romantic comedy.
HBO Now
The original documentary "King in the Wilderness" (2018, not rated) looks at the final 18 months in the life of Civil Rights activist Martin Luther King.
Regina Hall, Queen Latifah, and Jada Pinkett Smith star in the female buddy comedy "Girls Trip" (2017, R).
The sixth season of the investigative documentary series "Vice" is now underway with new episodes every Friday night.
Arriving Saturday night is the HBO original drama "Paterno" (2018, not rated) starring Al Pacino as former Penn State football coach Joe Paterno.
Showtime Anytime
The family-friendly "A Dog's Purpose" (2017, PG) imagines the many lives of a canine as it is reborn until it is reunited with its master. Dennis Quaid and Peggy Lipton star.
True stories: "Operation Odessa" (2018, not rated) documents the stranger-than-fiction attempt by a Russian mobster, a Miami playboy, and a Cuban spy to sell a Russian nuclear submarine to the Colombian drug cartel.
FilmStruck/Criterion Channel
TCM Select pick for the week is the biblical epic "Ben-Hur" (1959, G) with Charlton Heston. It's available through Sept. 28.
Star of the Week: Gary Cooper is celebrated with eleven films, including the comedy "Ball of Fire" (1941) with Barbara Stanwyck, Oscar-winner war drama "Sergeant York" (1941), and "The Fountainhead" (1949), adapted by author Ayn Rand herself. Director of the Week: Pier Paolo Pasolini is feted with seven features including "The Gospel According to St. Matthew" (Italy, 1964, with subtitles).
In a lighter vein is a collection of fish out of water comedies including the nostalgic "My Favorite Year" (1982, PG) with Peter O'Toole, the charmingly eccentric "Local Hero" (1983, PG) with Burt Lancaster, and Jim Jarmusch's delightfully deadpan indie classic "Stranger Than Paradise" (1984).
At Redbox: "Father Figures," "Insidious: The Last Key," "Looking Glass"
Sean Axmaker is a Seattle film critic and writer. His reviews of streaming movies and TV can be found at http://streamondemandathome.com.
Local journalism is essential.
Give directly to The Spokesman-Review's Northwest Passages community forums series -- which helps to offset the costs of several reporter and editor positions at the newspaper -- by using the easy options below. Gifts processed in this system are not tax deductible, but are predominately used to help meet the local financial requirements needed to receive national matching-grant funds.
Subscribe to the Spokane7 email newsletter
Get the day's top entertainment headlines delivered to your inbox every morning.
---