Who is 2018 Felix Hernandez? And where did his fastball go?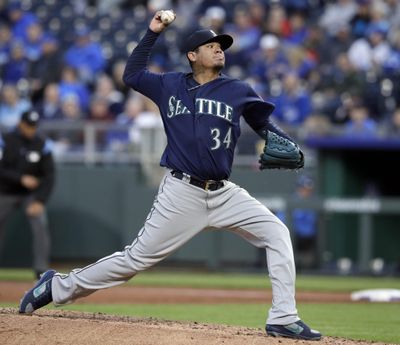 TACOMA – Shutout Felix. No-command Felix. And then this Felix.
Who is this 2018 Felix Hernandez?
Change-ups, sinkers, curveballs and sliders – he used those pitches more than he did his four-seam fastball in an 8-3 win over the Kansas City Royals on Tuesday.
What we know is that Hernandez is in this his-fastball-isn't-what-it-used-to-be stage, but he proved he can still be effective without it.
Hernandez lasted 5 2/3 innings, throwing 91 pitches and allowed three runs on six hits with one walk (the final batter he faced) on Tuesday. Results that weren't as good as his first start but not as bad as his last and certainly better for the recently turned 32-year-old.
"Oh man, this was really important to me," Hernandez told reporters afterward. "I was happy. I wasn't happy with the homer to (Mike) Moustakas, a curveball stayed up. But it was really good to bounce back."
Let's break this down.
Hernandez threw his four-seam fastball five times, according to pitches tracked through Brooks Baseball. Though, take pitch-tracking sites with a slight grain of salt.
But five times – out of 91 pitches.
He hasn't abandoned his fastball like that in a long time. He used it three times when he only recorded one out and eight runs in a start against the Astros on June 12, 2015, according to Brooks records.
Before that, in a more telling example, Hernandez used it five times in back-to-back starts against the Red Sox and Blue Jays in June 2008 – both were Mariners wins and he combined to allow no runs in 14 innings.
Back then his fastball averaged 95 mph. On Tuesday night it averaged 90 mph, though Brooks also says he used his new cut-fastball twice.
"We talked about it before the game that he needed to get his curveball going and get everything set off of that," Mariners manager Scott Servais said. "He was much more in control (Tuesday) and it started with the curveball and get that going early and we got good results."
Hernandez seemed to want to set the tone early with his fastball. But he needed 25 pitches in the first inning and Whit Merrifield hit a double off of it and so he went right to his secondary pitches.
He threw two first-pitch fastballs to batters – the first two he faced. From there on, it was all his secondary pitches, mostly his sinker.
Hernandez went first-pitch sinker to six consecutive batters from the end of the first inning to the start of the fourth as part of a stretch when he retired eight consecutive batters.
"(In the first inning) they were tough outs. But after that I talked to Mel (Stottlemyre Jr.) and he was like, 'Get some quick outs and you'll be fine.' "
How?
"With a good sinker," he said.
He relied on his sinker 33 times, compared to 19 change-ups and 19 curveballs. But after fastballs to the first two batters he faced, Hernandez went first-pitch secondary to each of the next 21 batters.
"I think there will be nights Felix has a better fastball or better change-up, but we had a game plan and we stuck with the game plan and he executed it and got good results," Servais said. "Nice to get him back on the right track again."
The wonder has been what to expect from the former Cy Young winner, and this might be it. Hernandez might be a little closer to Jamie Moyer than Randy Johnson. There certainly still could be nights where his fastball command is better.
He lacked that last week in San Francisco, when he allowed eight runs in four innings, walking five batters. That was after 5 1/3 scoreless innings on a pitch-limit on Opening Day win against the Indians.
Tuesday he didn't issue a walk until the final batter he faced and his biggest mistake was a middle-of-the-plate hanging curveball to Moustakas, who crushed it for a two-run home run.
"We talked about going out in the first inning and if you got to use all of your stuff, use it," Servais said. "Work through it. He got through the inning, which was a big deal for us, and then we got our offense going."
"First inning is the key for me," Hernandez said. "If I can get out of that, I'll probably have a good game. We wanted to throw the fastballs down and away and then hit them with the curveball and change-up. It was a good plan."
That means fewer strikeouts. No more 9.5 strikeouts-per-nine-innings like he averaged in 2013 and again in 2014. Through three starts it's at 4.8 (his lowest for a season is 7.2 in 2016).
---